Forum Staff Recognized in Local and National Contests
At the 2023 Scholastic Press Association of Chicago (SPAC) high school journalism awards ceremony last week, The Forum won four excellent achievements, three superior achievements, and co-Editor-in-Chief Eden Raviv was named Chicago Journalist of the Year.
Eden, a senior at Latin, was also awarded an excellent achievement from SPAC, which is at Northwestern's Medill School, for her editorial on the relationship between Latin's faculty union and administration and a superior achievement for her in-depth feature on heritage language speakers at Latin. That story was also recently named the Best Story of 2022 by Headliners in Education.
Upper School English teacher and faculty advisor to The Forum Lori Kloehn said, "An outstanding Editor-in-Chief, Eden makes decisions with compassion and care, and those decisions are guided by her endless curiosity and fierce intellect. Eden is as strong a journalist as we have ever seen at Latin, and the entire school community is better because of her dedication and hard work."
Regarding her Journalist of the Year award, Eden said, "I think it's really just a testament to the hard work of all the people around me that make The Forum something that can be recognized at this level."
Co-Editors-in-Chief junior Eliza Lampert, senior Armaan Shah, and Eden—as well as former Editors-in-Chief Marin Creamer '22 and McKenna Fellows '22— were recognized with an excellent achievement for their special coverage last year of the five pillars Latin's Diversity, Equity, and Inclusion strategy: Representation, Accountability, Inclusion, Professional Development, and Curriculum.
News Editor and junior Annie Hallinan was honored with an excellent achievement for her spotlight of Latin's record-breaking freshman diver, Julia Steffen.
Features Editor and senior Will Baiers received a superior achievement for his passionate opinion piece in support of the performing arts.
Staff writer Cherish Curtis, a freshman who both wrote about and took a series of memorable photographs of Latin's first Big Game at DePaul in December, received a superior achievement award.
Cherish said, "Winning this award is an acknowledgement of my passion, and I think it really opens the doors to other incoming freshmen who want to do something great in their time at Latin. I want this to be something that shows them that they can do it and not feel discouraged because of seniority."
Finally, The Forum received an excellent achievement for the website as a whole.
Co-Advisor to The Forum Charlie Gofen '83 noted that Digital Editor and sophomore Sofia Grimm "deserves special recognition for adding terrific design elements to the site this year."
The Forum staff's work has been recognized by not only SPAC but also Student Newspapers Online (SNO), Scholastic Arts and Writing Awards, and the Journalism Education Association (JEA).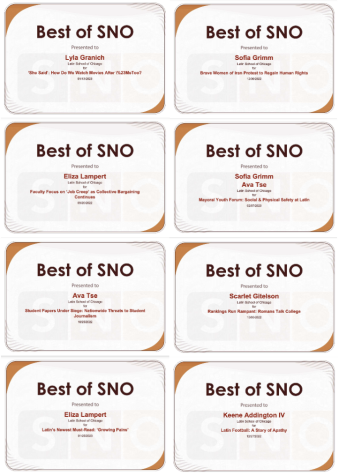 Thus far, eight articles originally published by The Forum have been republished in Best of SNO, a bulletin highlighting the most exceptional articles within the SNO network of high schools. The following students were recognized: News Editor and junior Ava Tse (student publication censorship, mayoral youth forum), staff writer and freshman Scarlet Gitelson (college rankings), Sofia (female-led protests in Iran, mayoral youth forum), staff writer and freshman Lyla Granich (films in the era of #MeToo), guest writer and senior Keene Addington IV (Latin's history with football), and Eliza (collective bargaining update, 'Growing Pains').
Eliza also received an honorable mention in the 2022 Scholastic Awards for her editorial on the rise of antisemitism.
Additionally, at the fall JEA/National Student Press Association (NSPA) convention, editors took part in live writing contests, where they were given approximately one hour to write on a particular subject. Media Editor and senior Ryan Rose won an honorable mention in Sports Writing, and Will won an excellent recognition in Review Writing. At the spring 2022 JEA/NSPA convention, Eliza won an honorable mention in News Writing.
"I think we're really lucky at Latin that even though we don't have a journalism class available to all students, there are a lot of students who care and are willing to put in a lot of time and energy to make the paper run," Eden said. "Our advisors play a critical role, too—their passion and dedication inspire us all to learn and improve."
View Comments (3)
About the Contributor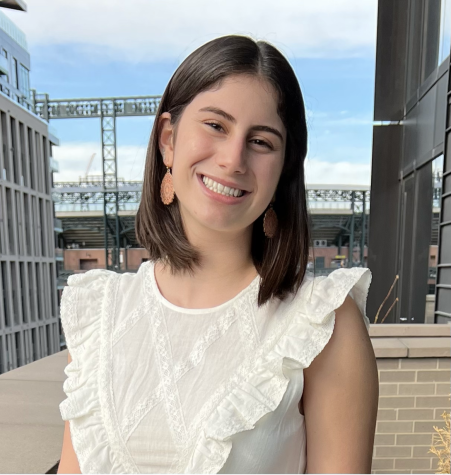 Eliza Lampert, Editor-in-Chief
Eliza Lampert ('24) is a junior at Latin and is looking forward to serving as one of this year's Editors-in-Chief. During her time writing for The...