Student Papers Under Siege: Nationwide Threats to Student Journalism
While administrative attempts to censor the works of student journalists have long threatened student-run newspapers, LGBTQ+ issues are currently at the forefront of the fight against censorship. Most notably, a Nebraska public high school shut down its newspaper, The Viking Saga, three days after two June opinion pieces responded to the school principal's demands to use its transgender students' legal names in the bylines of their publication.
Regarding LGBTQ+ journalism coverage, junior Stephen Legendre, a co-head of Latin's LGBTQ+ affinity said, "It's important to encourage students to publish articles including or surrounding LGBTQ+ topics because it's important that people feel seen." Aside from queer representation in journalistic works in general, Stephen said, "Taking away queer visibility pressures queer students to close off an entire part of their identity while also further enabling cis straight students to believe the typical narrative that being queer means being 'other.'"
Contrary to popular belief, Northwest High School's shutdown of The Viking Saga probably does not violate the students' First Amendment rights. The U.S. Supreme Court ruled in Hazelwood School District v. Kuhlmeier in 1988 that school newspapers are limited forums for young journalists, meaning that schools may exercise editorial control when they deem an article inappropriate. (And students at independent high schools may have even less constitutional protection than their public school peers.)
"I think the Nebraska school is an example of people not understanding how important visibility is and using that to push bigoted narratives," Stephen said. "What [the situation at Northwest High School] was is a principal knowing that providing the student a platform to express their gender meant acknowledging that transgender people exist."
There appears to be a recent trend in student press censorship. University of Chicago Laboratory High School's publication, The Midway, and Latin School's Forum are among the only independent high school newspapers in central Chicago that do not undergo any degree of censorship by their administrators.
Francis W. Parker School's student-run newspaper, The Parker Weekly, has been subjected to an administrative approval process since the spring of 2019. "In the past, our relationship with the administration has been very strained," co-Editor-In-Chief of The Parker Weekly Harry Lowitz said. He said he regards the censorship as "a major inconvenience because it got in the way of some very important and very impressive reporting." The censorship is "also logistically challenging," he added, "as the process got in the way of print deadlines and timely briefs."
Student journalists already have a variety of obstacles to overcome when writing, especially in Chicago. Many public schools in the city don't have journalism programs, and publishing online brings about a whole new set of issues.
Latin senior Daniel Braun, co-head of The Worldly Roman and a student in Latin's high school journalism course, said, "Young writers could feel discouraged if they are being censored and might not want to write anymore. You feel more passionate when you are writing the whole, complete story." However, he noted that he had concerns about completely uncensored articles, too. "The drawbacks are the negative effects it could have on faculty, staff and students if the reporters are not respectful," he said.
Parker's editor Harry Lowitz said, "There absolutely need to be boundaries about what a school newspaper can and cannot publish, and although these decisions can be difficult, [The Weekly Editors] feel well equipped to make them." Harry continued, "It was sort of an insult when [our] administration believed we needed to be kept in check."
In July 2021, Francis W. Parker School appointed a new Head of Upper School, Chris Arnold. While The Weekly's editors have lately come to an agreement about the degree of administrative censorship exerted over their paper, Harry said, "There is some vagueness about the power of the administration in dealings with The Weekly, which is a little unnerving, but mostly we are thankful that we have been trusted to take this responsibility on ourselves."
Upper School librarian Gretchen Metzler said, "Do I think that articles need to be evaluated and looked at critically? Absolutely, because all information needs to be evaluated and critically observed. But I don't think that the word 'censorship' should come into any form of journalism, regardless of who's creating it."
Censorship may be extreme, but do student journalists, high school journalists in particular, deserve the same degree of freedom as adult journalists? Or is there too much room for error?
With a rate of two local newspapers closing per week, the student press has more responsibility to cover community issues than ever before. Combined with social media's spread of misinformation, reliable news sources play a role in communities' access to critical information.
And student newspapers serve another purpose. Ms. Metzler believes that student criticism of adult communities is invaluable. "As a person who's had things written about my professional work in The Forum, sometimes you have reactions, but that's part of the process. I need to hear what students are saying, and it helps me think more critically about my work in this space."
Another Latin faculty member, Upper School English teacher and Diversity, Equity and Inclusion (DEI) Curriculum Coordinator Brandon Woods, said he agrees with Ms. Metzler about student feedback. "The benefits [of uncensored newspapers] are authenticity and honesty, and instead of getting a muted view of the student perspective, you might learn some hard truths about yourself and the school," he said. "As long as the students are being guided well and are being guided by journalistic integrity, I trust our students."
Mr. Woods said, "I think that school newspapers should have a great, great degree of freedom, no matter who it makes uncomfortable."
View Comments (1)
About the Contributor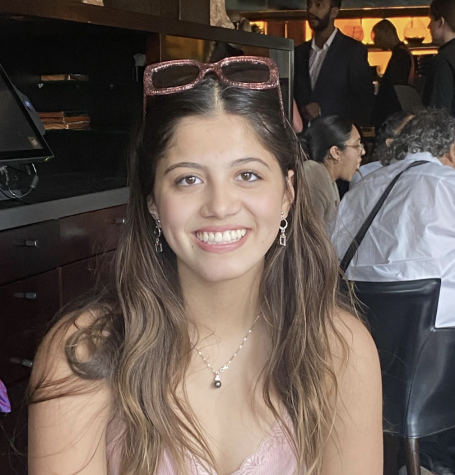 Ava Tse, News Editor
Ava Tse ('24) is a junior at Latin and is ecstatic to serve as a News Editor this year. This year marks her third year of writing for The Forum, and...