Freshman Julia Steffen Breaks School's Diving Record, Twice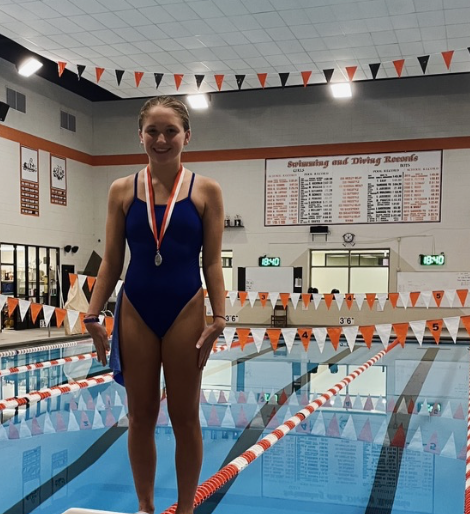 Latin freshman Julia Steffen began her diving career only a year ago, but she has already rewritten the school's record board, breaking a 12-year-old record at the Independent School League tri-meet on October 30, and then topping that point total a week later at the sectional meet.
The previous girls 1-meter diving record was 254.95 points, set in 2010 by Kristina Harris '12. Julia has now crushed that record twice, scoring 333.75 points at the ISL meet, and then scoring 351.55 points at sectionals.
"It's really exciting," Julia said, regarding breaking the school record. Additionally, Director of Aquatics Danielle Carlson said, "I was not surprised at all when Julia broke the school record." Like Julia's teammates, Coach Danielle was amazed. "After seeing her dive for the first time, I knew it was not a matter of if, but rather a matter of when," she said.
"It amazes me that Julia's just a freshman," senior captain Elro Starr said. "She's already beaten the record, and she impresses me so much every time we see her compete."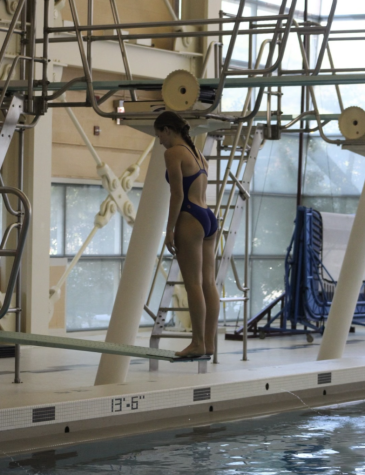 Julia's progression this year has also been impressive. "I did gymnastics for 11 years," Julia said, "and then I had a stress fracture in my back and was having some other back problems, so I switched over to diving." Julia began her diving career in September of 2021. She has had great success, which can be attributed to her background in gymnastics and her hard work during club season at the University of Illinois at Chicago (UIC).
Given that neither Coach Danielle, who also serves as the head coach of both the boys and girls swim teams, nor Assistant Coach Caroline Kirkland is trained in diving, Julia needed a coach. Kendall Crabbe, Latin's current diving coach, was hired from Windy City Diving so that Julia could have support from an expert while at meets. "I have a bunch of different coaches, but Kendall usually just comes to my meets," Julia said.
"She's very coachable and just really does a great job listening to feedback," Kendall said. "I just saw her grow so much over the season, and I was really impressed and proud of her."
While Julia hopes to dive in college, Kendall brought up more immediate goals for her. For a diver to make it to State, they must rank first in their section, and then after all sections have competed, they rank all remaining scores. "I would not be surprised if next year that's a pretty easy goal to meet to make it to State," Kendall said.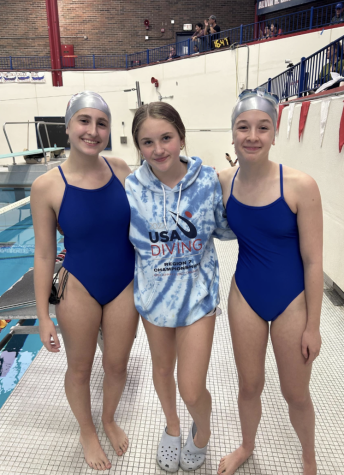 Having Julia as a diver on the aquatics team has been a refreshing, exciting experience for the swim team. "It's definitely a new experience for our team, but I think we've all really enjoyed learning more about diving and watching Julia's dives," teammate Isabella Carney, a sophomore, said.
Similarly, teammate Kate Weiskirch said, "It's nice to be able to compete with other school's diving teams. The team is very supportive of her, with loud cheers at her meets. We were the only team that showed up to watch all of diving at sectionals."
Isabella said, "Julia has really put us ahead." At any swim meet with diving, points are awarded for both diving and swimming. If a team doesn't have divers, while their opponent has both swimmers and divers, the former is already behind. "[Julia's] definitely a huge asset to our team points-wise, particularly in meets with more than two schools," she said.
"She is an extremely talented athlete, and I think she can achieve anything she dedicates herself to," Coach Danielle said. "Every adjustment and late night was worth it for adding Julia to our team."
Leave a Comment
About the Contributor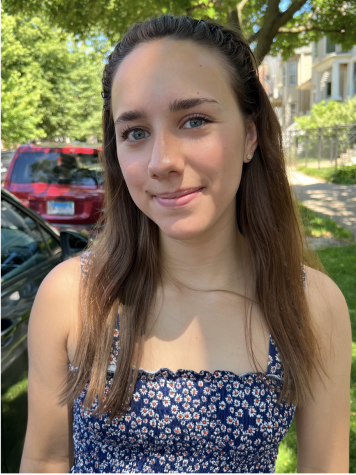 Annie Hallinan, News Editor
Annie Hallinan ('24) is a junior at Latin who is thrilled to be one of The Forum's News Editors this year. In her articles, Annie has covered the Chicago...