It's So Simple To Not Be Antisemitic
Latin's annual Halloween costume parade has five guidelines: no fake weapons, no masks, no "provocative costumes," nothing that makes fun of a person or group, and no cultural appropriation. Everything went according to plan, and the costume parade featured Camilla Cream from the book A Bad Case of Stripes, Tom Brady's divorce, and cows.
At Jones College Prep, though, a public high school just 10 minutes away from Latin, their fun-and-games Halloween parade quickly turned sour. A student showed up to school in what the administration called a "military surplus uniform," goose-stepped across the stage, then finished with a salute.
Jones senior Riley Ablin, a former Latin student, said, "It's so upsetting to see somebody dressed as a Nazi and goose-step across the stage as the Nazis did when some of our ancestors were killed in the Holocaust."
Jones College Prep Principal Joseph Powers, who was removed from his position following the Halloween scandal, said in an email, "It certainly appears [upsetting other students] was not the intent of the Halloween costume."
The student faced a brief out-of-school suspension and returned to the building on Monday.
This is where I, as a Jewish student, have to hit the pause button. I went to a Jewish school for 11 years. Because of this, I never experienced blatant antisemitism from my community. And now, as a student at Latin, a school with a large Jewish population, I don't see it here much, either. But it's everywhere. Even if it wasn't the "intent" of the student, this offensive costume can't be written off. In a video of the costume parade, students are audibly booing and screaming.
A junior in high school should know that such a costume is highly inappropriate, especially given that Holocaust education is required in Illinois. Nazis murdered millions of Jews and are a significant reason why Jews are a smaller part of the world's population than we were before World War II.
Similar callous displays, presumably meant to attract laughs, have continued to target a whole spectrum of identities, not just Jews.
Dr. Powers' email received a great deal of backlash from the Jones community. Students planned a walkout but ultimately chose to stage a "sit-in" in the lobby of the school to avoid punishment, according to Jones junior Celia Pincus.
At the sit-in, Riley spoke to the school about the importance of education regarding both the Holocaust and antisemitism as a whole.
"
"The only way to break the cycle of ignorance is through education, because I think that ignorance does [produce] hate
— Riley Ablin
"The only way to break the cycle of ignorance is through education, because I think that ignorance does [produce] hate," she said. "So many kids at Jones probably didn't understand why what this kid did was so horrible. I think if [students] learned in their time at Jones why that was bad, that could break the cycle from having another Nazi at school."
Although Holocaust education is required in the state of Illinois, and in 23 other states, the regulations around it are not very specific. According to Pew Research, 43 percent of people in the United States severely underestimated or were unsure of the number of Jews murdered in the Holocaust.
I don't think that all antisemitic acts are based on hate. I think that many are. But I also think that some stem from ignorance. Because I went to a Jewish school, much of my eighth-grade history class was spent on Holocaust education, but many schools don't allow their students this opportunity. We read novels by and about survivors, including Night by Elie Wiesel and Train by Danny Cohen, and we worked alongside Wiesel's former teaching assistant, Ariel Burger.
Junior Michael Cardoza attended Chicago City Day School prior to coming to Latin. "The Holocaust and the surrounding World War II topic was covered in previous years of elementary school, but we really went in depth come the eighth grade." Michael and his class read Anne Frank's diary and took a virtual tour of the Illinois Holocaust Museum.
But even with a lack of education on the topic, these acts of hate are easily avoidable.
It is so simple to not write threatening, hateful messages in graffiti. It is so simple to not call defcon on the Jews. It is so simple to not repost links to antisemitic films. It is so simple to not be antisemitic. And I can't list every high-profile antisemitic incident from the past few weeks. If I did, I would have to write a novel—hell, a series.
I am not going to write a series. But I am going to beg everybody to educate themselves not only to avoid being antisemitic, which is a large portion of it, but to stand up to those who won't. There are people who don't care. People who have no intention of trying to be better. And at a certain point, it's not even worth trying to persuade them. Having more people who understand what is wrong, though, is part of the solution. A part that we as Latin students can contribute to.
"What happened on Halloween was scary," Celia said. "We can all agree that that kind of hate should not be tolerated anywhere. But now, what I believe is most important is how we move on."
In the next year, 25 percent of the Latin Upper School student body will be going off to college, where consequences for acts of hate might not be so severe. Principals likely aren't going to be fired, and day-stopping protests won't happen after every antisemitic (or otherwise hateful) act. Last week at Brown University, an antisemitic note was found in the Hillel center that made violent threats toward Jews. This incident followed multiple others at the university. No administrators were fired, and no protests were held.
Students, teachers, administrators, parents: Be the people who speak up. Make every community that you join an inclusive one, for everybody.
Additional resources are listed below:
United States Holocaust Memorial Museum
International Holocaust Remembrance Alliance
Anti-Defamation League on the Holocaust
Center for Jewish Studies at Berkeley
View Comments (3)
About the Contributor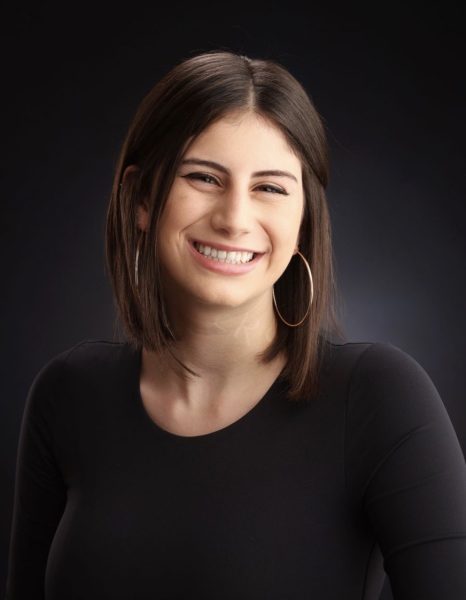 Eliza Lampert, Editor-in-Chief
Eliza Lampert ('24) is a senior at Latin and is overjoyed to serve as one of this year's Editors-in-Chief. During her time writing for The Forum, she...