Latin's Newest Must-Read: 'Growing Pains'
In December, junior Ava Horwitz released her debut book, "Growing Pains," a poetry collection about having to accept losing adolescence and growing up.
"Growing Pains" has been in the works since Ava's freshman year, but she began her writing journey far before that. In kindergarten, she wrote her first book about a dog. And then, in fourth grade, she wrote a 100-page, Harry Potter-esque novel.
Even as a fourth grader, Ava knew she wanted her novel published. "I looked up my odds of getting published, and it was like 2 percent as a little kid," she said. "And that was kind of sucky. But then I just always kept writing after that."
Ava's ultimate goal was to get published, and "eventually I had to do it myself, but I did get published," she said.
"Growing Pains" includes 66 poems broken into three sections: drowning, sprouting, and flowering.
"Water is a very important symbol in the book, and as you follow it, you will see in the beginning, water is tears, it's rain, it's negativity," Ava said. "By the final section, I had this sort of clarity that water in the end is used to bloom my flowers. I wouldn't have flowers unless there was water. You wouldn't have happiness unless you have pain."
Each section corresponds to a specific visual layout. Drowning is black with the words on the left, sprouting is gray with the words in the middle, and flowering is white with the words on the right.
There is something special about every page of "Growing Pains." In the first poem, "Drowning," the words get smaller as she is losing herself to the water, to her sadness. In "Burn Out," the words alternate among shades of red, orange, and yellow.
Ava's book isn't only about feelings of sadness, though. In fact, her happiest section, flowering, is the length of drowning and sprouting combined. She understands she can't change everything, but she can change her mindset.
Upper School English teacher Brandon Woods led an Independent Study Project (ISP) with Ava to help her put her book together. "In terms of some of the dominant themes in the book, she pretty much had those," he said. "My part was helping her bring those out. We did a lot of reading the poems out loud to get that kind of sonic experience and for her to hear it so she can hear those moments when maybe even unconsciously she was talking about those [themes]."
But publishing a book is not only about the words that go on the page; it's also about how they go on the page. It took Ava as much time to get the book and visualizations into publishing shape as it did for her to write and refine the entire book.
"I had to go through a program called InDesign, which is a whole process," Ava said. "I had to individually change every single color of all 122 pages. I had to change the text, the formatting. It took months to get it perfect. There were so many drafts of it."
Ava didn't do this alone, though. In addition to Mr. Woods, she teamed up with Upper School English teacher James Joyce to help put the book together.
"We just went on to InDesign and made a template and made sure it was the right amount of inches wide and inches tall based upon some poetry books that Ava was really into," Mr. Joyce said. "She thought about design a lot, and I helped her with the technical stuff of recreating that in a digital space."
And now, as a result of Ava's hard work, the Writing Center has templates to help students publish their own books if they are interested.
The beauty of "Growing Pains" is that readers aren't bound to a specific order or structure in reading. Mr. Woods said, "Even though there are three parts and they obviously are sequenced for a reason, you can read them backwards, forwards; I would say dive into a page that looks appealing. Because part of the experience is that visual experience."
Similarly, Mr. Joyce said, "I think what I would recommend is that people notice that there are different sections that speak to different parts of the poet's emotional and intellectual developments, and I think it studies a fall and a rise and being hurt and learning from hurt."
Mr. Woods' favorite part of the book is Ava's use of imagery. "That's the comment I probably said most often in reading the poems: how vivid the imagery is. The images that she's able to use … are just incredible. I did not have this maturity as an eleventh grader to reflect on my experiences."
Junior Shiloh Ajiginni said, "It is a lovely read. I think it was cool that she was able to publish something so vulnerable. The book's really relatable with all the stuff about maturing."
"The thing about this book that I think is special is that everyone will have to go through this process in some way or another, and I just articulated it the way I experienced it," Ava said. "It may be different for everyone else, but I think everyone can relate to it in some sort of way."
After three years of hard work, "Growing Pains" by Ava Horwitz is available for purchase on Amazon. It is a thought-provoking and inspiring collection well-deserving of your time.
View Comments (2)
About the Contributor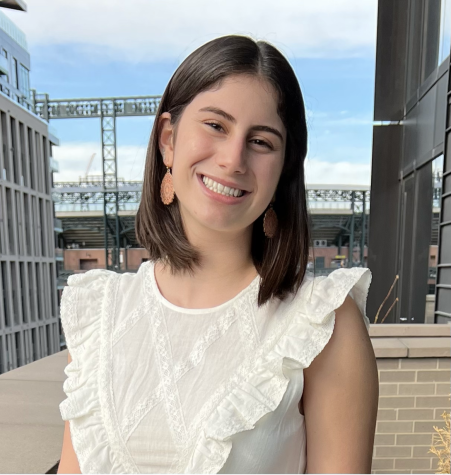 Eliza Lampert, Editor-in-Chief
Eliza Lampert ('24) is a junior at Latin and is looking forward to serving as one of this year's Editors-in-Chief. During her time writing for The...