Ava Parekh Wins the Mile and Mihas Sisters Place Highly at Indoor Track and Field Nationals
This past weekend, Latin's very own Alice Mihas, Ava Parekh, and Marianne Mihas made their way to Virginia Beach, VA to compete in the Adidas Indoor Nationals. During what MileSplit US dubbed a "stacked weekend of indoor track and field action," top athletes from across the country participated in over 100 events ranging from the pole vault to hurdle relays. All three competing Romans notched some notable performances in this high level of competition.
On Saturday, junior Ava Parekh ran a personal best in the 2-mile with a remarkable time of 10:15, breaking a school record while placing third in the nation and first among all juniors. The very next day, Ava returned to the Virginia Beach Sports Center to run yet another personal best and a podium finish—this time in the 1-mile race. Facing multiple NCAA Division I commits, Ava placed first with a blazing time of 4:47. "Coming into this weekend I wasn't totally sure where I would be in either race, so I'm just so pleased with how it went. … I'm so excited to have this opportunity to race at a national meet," said Ava in an interview with MileSplit.
The Mihas sisters, senior Marianne and sophomore Alice, also competed on Sunday. Finishing the championship heat of the girls' 800-meter run at a time of 2:15, Marianne placed 8th in the country among multiple fellow NCAA commits. Her sister, Alice, threw the shot put in the girls' championship heat and placed just inside the top 20 at 19th—an exceptional performance, especially as a sophomore in a top heat at a prestigious meet. Alice said, "It was super cool to be at an event where you know everyone else there is a top athlete in the nation."
With the track season right around the corner in early April, Latin's robust track and field program has already made some noteworthy accomplishments and looks forward to carrying the momentum into the season.
Leave a Comment
About the Contributor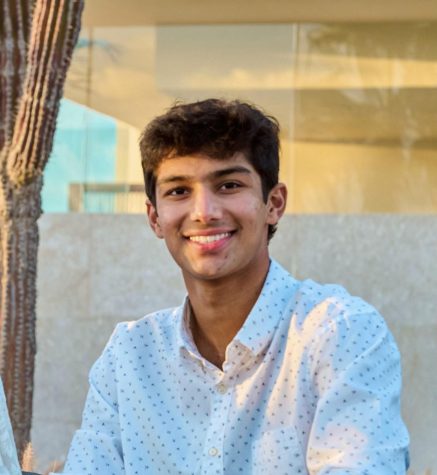 Armaan Shah, Editor-in-Chief
Armaan Shah ('23) is a senior at Latin and is thrilled to be serving as an Editor-in-Chief of The Forum. He has covered a wide range of topics and encourages...