Football and School Pride
Latin, a small, private high school of 490 students, probably wouldn't have enough players to field a football team even if it didn't have concussion-related issues. Meanwhile, schools like Walter Payton and Lane Tech all rally around their football teams, the games which provide a chance for students to hang out and come together as a school.
Are Latin students' school pride hindered by only having access to basketball and soccer in the fall? Do the Latin faculty members who attended athletic colleges feel a stronger connection to their alma maters than those who didn't?
Nowadays, the words 'football' and 'concussion' are constantly used in the same sentence, so much so that people rarely consider the benefits of the sport in a high school environment. To put it simply, as Dustin Mcneely, a player at Rockwall High School, said in a SportsDay interview, "High School Football is important because it shows you how to be a part of something that is bigger than an individual person. You are more than just a football team, you are a family." Not only does football build a supportive community of fans, but it brings the teams together as well.
Okay, but isn't soccer a much more reasonable, safe alternative to football? Doesn't it offer the exact same level of thrill and excitement?
Since the two sports share the same season, it might be the right decision to gravitate towards the less violent option. However, in 2014, the highest average attendance for college soccer was held by the 3,844 fans of UC Santa Barbara. That same year, Ohio State Football saw an average of 106,296 people attend each game. The numbers speak for themselves here; college football has always continued to draw a much greater audience than any other non-professional sport. The same phenomenon applies to high school, though obviously on a much smaller scale. Something about football's intensity and ferocity is much more appealing than soccer's comparative politeness.
Intrigued by the culture of college football, I asked some of Latin's adults about their relationship with the universities they attended, and how that correlated with the schools' athletic prominence. "I follow the sports programs some," responded Mr. McArthur, who went to Williams College. "I feel a very strong attachment to the school, but less so to the sports programs. As the sports are Division III, they are not the most competitive in the world, and have very little exposure outside of the local Western Massachusetts area."
Mr. Tebbens also talked about his school, the University of Delaware. "They get limited TV coverage, since they're a smaller D1 school, but I have a tremendous amount of pride in the school and I do follow their successes. I think that if you went to a bigger sports school, like . . . colleges in the Big 10, you're probably more of a die-hard fan. There's a lot more excitement around their programs."
Obviously, high school sports and the NCAA are totally separate entities. The size, money, and coverage of the two are totally unequal. That being said, football is football, regardless of what age the players are, and the excitement of having a team in high school can't be ignored.
However, since Latin's main focus has always been providing students with a valuable education, endangering students' brains would entirely go against this intention and a Latin football team would do more harm than good. High school football is, though, an amazing thing, and shouldn't be dismissed with a shrug.
About the Writer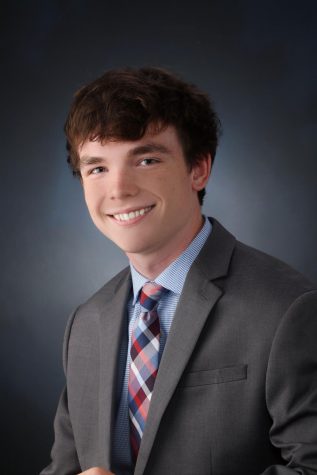 Peter Jones, Editor-in-Chief
Peter Jones ('21)  is a senior at Latin and is ecstatic to be serving as Editor-In-Chief for his second consecutive year. The Forum means everything...