Ta-Nehisi Coates Unveils The Water Dancer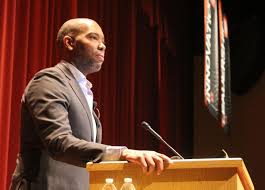 I'deyah Ricketts
Managing Editor

On October 12th, attendees packed into the UIC Dorin Forum to hear National Book Award-winning author Ta-Nehisi Coates discuss his debut novel The Water Dancer. He was one of many speakers who kicked off this year's Chicago Humanities Festival. Coates' take on the contemporary teaching of slavery, his dedication to writing, and his clever Cup O' Noodles metaphor captivated the audience from beginning to end.
Coates was joined in conversation with South Side Bureau reporter, Natalie Moore, to unpack his novel. Infused with humor, their conversation flowed naturally from question to question. Ms. Barker, an English teacher at Latin who invited her Black Voices in America class to the event, thought that the dynamic between Coates and Moore gave "a glimpse into Coates in a more natural way." Since Moore avoiding spoiling the book, the audience was only allowed a peek into Coates' new piece of work. But it was clear that the attendees were excited to dig into The Water Dancer as they gripped their freshly-purchased novels from their seats in the audience.
Coates started off the night by reading a short excerpt from his book. He explained that The Water Dancer follows Hiram Walker, a young slave in antebellum Virginia, who is gifted a mysterious power upon being robbed of the memory of his mother. Coates explained his gravitation toward memory in the book, saying "People make efforts to forget things, and they build castles on the forgetting, and build entire other stories on top of the forgetting. And yet, the thing that they were trying to forget, would repeatedly confront them." In order to find the freedom he's searching for, Hiram must confront and excavate his more painful memories.
From visiting plantations to combing through letters, it took Coates ten years for his story to come to life. He found an instant connection to the stories of people who did or didn't run. Nowadays, "people who say, I wouldn't have been no slave and I would've ran think of themselves individually," Coates detailed. "They don't think about the architecture of the system, that they're tied to other people." The decision between individual freedom and sustaining family ties ran deeper than a simple choice of bravery. Coates acknowledged that for people to run, they had to no longer have anything at stake; it was really just them.
But unlike this dive into historical documents, Coates avoided modern interpretations of slavery as he didn't want to muddle the originality of his own work. Senior Lily Weaver who went to hear Coates "enjoyed listening to him talk about the extensive research he conducted before writing his new book."
Seeing as he's already woken up America's consciousness, Coates decided to tackle a new feat: fiction. "It always felt like I was fighting with my right-hand, but I was a leftie [when writing journalism]. I always felt sort of unorthodox doing it," Coates told Moore. In turning away from nonfiction—which included his well-known works, Between the World and Me and We Were Eight Years in Power—Coates found that The Water Dancer came more naturally. He was inspired by reality, whereas in nonfiction, he was used to reflecting and agreeing upon that reality. Coates' writing reflects a world that he's created, despite it being based on an existing part of the past.
Ultimately, Coates' decision to write a novel came down to him wanting to incorporate more emotion and feeling into a part of history that was often misconstrued by the public. "You would, without fail, run into these people that would tell you the Civil War was about states' rights, taxes, a difference in lifestyles," he explained. "They were having a conversation about myths. They were having a conversation about heroes." Realizing that people couldn't accept the logic history was rooted in, Coates had to reach the public through a new medium.
Knowing that writers had already addressed slavery, Coates wanted to make it new for the reader. "When I say the word slavery, these notions come into your mind: whips, chains, rape, etc," he continued. "There's a way in which by attempting to depict the visceral brutality of a system, you once again, erase the person." Coates was determined to portray his characters in their fullness rather than through the lens of what was done to them. In the context of Latin, Ms. Barker agreed, "We can't just check off boxes that we've covered certain topics because that does a huge disservice to the people that were actually involved." She strives to humanize the voices that she teaches her students about in her English curriculum.
Coates' careful eye for language, specifically calling Hiram the "Tasked," further rejects this mainstream image of "slavery." He reshapes a word that has always been weighed down with its history of oppression and the snatching of black bodies. Senior Briannah Cook appreciates that "Coates rewrites history in a way that challenges how I've always read or heard about it."
When asked about threading the theme of family through his book, Coates told the audience that reading about people being ripped away from their loved ones was the worst part of his research."Some 200 years ago, people would literally destroy black families for a profit, and then talk about how these black people lacked basic morality and family values," Coates stated. "I felt a strong need to react to that." Family becomes front and center in The Water Dancer, but it's not just about those who are bound by blood; it's also about chosen kinship.
With the event coming to a close, Coates offered advice to young writers saying that, "Writing isn't a Cup O' Noodles where you pour water, then boom, analysis." His metaphor not only made the audience laugh, but demonstrated the process behind Coates' work. For him, writing is about sitting with your words rather than letting them fly off of your fingertips and onto a screen, ready to post with one click. Coates doesn't want any tweet to be louder than his writing, and he doesn't want to be louder than his own book.
Instead, he wants The Water Dancer to speak for itself. Just as Hiram pieces together the broken memories of who he is, Coates wants his book to piece together history in a fresh way: through a seamless blend of historical fiction and fantasy.