Pennywise Returns: Review of IT, Chapter 2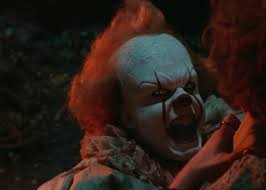 by David Tempone
SPOILER ALERT: This review contains details from the plot of the film
Overall, "IT Chapter Two" is a movie to watch if you want to be scared and have a good laugh. Yes, it's a horror movie and yes, there is blood, but aside from that it's fun to watch. Having jokes thrown around balances out the fear factor. The movie has a cast of naturally funny and talented people. Bill Hader as grown-up Richie Tozier, stars in many movies, from voicing an animated character in "Cloudy with a Chance of Meatballs" to countless skits on SNL. James McAvoy, who plays grown-up Bill Denbrough, starred in the X-Men movies as a young Professor X and a character with dissociative identity disorder in "Split." By the end of the movie, the aspects of horror and fear get overruled by the adults' comic relief, still messing with each other like children even in moments of terror or sadness.
"IT Chapter Two" begins with a disturbing event relevant to our modern day issues, a gay couple being assaulted on top of a bridge. The attackers, locals of Derry, Maine, have no motive for this spontaneous attack, other than to scare them out of Derry. They throw one of the men off the bridge, leaving his partner to chase after him in the water. With all the issues society is having accepting the LGBTQ community, opening with a scene like this gets the attention of all watching.
This event also gets the attention of Mike Hanlon (Isaiah Mustafa), who has waited in Derry for 27 years for a moment like this. He gets to the scene of the crime and under the bridge and reads the words "come home" written in blood. This moment prompts him to call up his childhood friends to tell them them Pennywise is back and that they need to return to Derry.
The Losers Club is faced with the decision of going back to their hometown in Derry, Maine to face their personal childhood traumas, or stay where they are and let their unresolved pasts consume their life as adults.
For a movie based on the novel by Stephen King, there is deeper meaning in most scenes, such as the fact that there is no monster clown named Pennywise at all, that the Losers' own psychological or societal fears are manipulating their minds into believing and seeing things that aren't really there, that the real villain in this story is their own unresolved childhood trauma, which can only be overcome by confronting it. If they don't take action, it could cost them their lives.
In the event of facing Pennywise, the characters as kids and adults remind themselves constantly that what they see isn't real, that if they close their eyes it'll all go away. Stephen King called seeing things that shouldn't be there, "reading minds," and the power to see into possible future events, "shining." These moments of fear come into play in another King story when Danny Torrence roamed the halls of The Overlook Hotel, and constantly reminded himself that nothing the hotel threw at him was real, only for the hotel itself to manipulate his father, Jack Torrence, into a murderous rampage in "The Shining."
King uses these events to show the reader and/or watcher that there is more than just horror in his stories, but the idea that everyone has something that traumatizes them, and that everyone can get help. No one has to be alone when battling the tough times.