Mandarin and Mountains: Sydney's and Izzy's Semester Abroad
<![CDATA[Paige Hosbein  A typical late August day for most Latin students includes a sweaty pre-season practice, lunch with friends, and finally starting summer reading assignments as a symptom of procrastinator syndrome. But for two valiant Juniors, Izzy Martinez and Sydney Burger, their late August looked dramatically different as they embarked on a semester abroad. Although both of their experiences took place on opposite sides of the world—Izzy traveled to SYA China in Beijing and Sydney attended High Mountain Institute in Leadville, Colorado—they both describe their time as incredibly transformative. At SYA China, all of the thirty-four SYA students took classes with each other in a Chinese school but on a separate floor. Izzy described the group as very tight-knit; they even celebrated student's birthdays on Fridays. She took classes in Mandarin, Modern China, Mathematics, and English. Before she embarked on the trip, she did not speak a word of Chinese; now she can speak at the equivalent of the Intermediate High level. Outside of class, she participated in a variety of unique activities—the hallmark of the SYA experience—including learning traditional Chinese dance and volunteering at an old folks home teaching English. Izzy recalls, "One of my favorite SYA traditions was the Wednesday afternoon field trips, when we explored the city's sights instead of attending classes and wrote about what we learned. These explorations allowed me to master Beijing's public transportation system and visit famed historical sites. I also cherished the weekend excursions with my host family – from visiting the Forbidden City to eating family-perfected dishesin little hole-in-the-wall restaurants." Izzy grew extremely close with her host family and SYA friends, and she's even going back to visit them over spring break.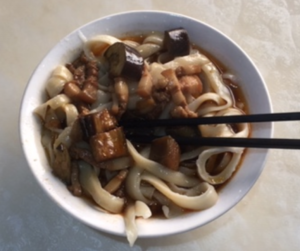 Contrastingly, Junior Sydney Burger attended High Mountain Institute with forty-seven other students from across the nation. After waking up anywhere from 6:15 to 7:00 AM, everyone started their day with a workout; Monday, Wednesday, and Friday they ran and Tuesday, Thursday, Saturday they strength-trained. Next, they would eat breakfast and complete their individual chore in the cabin; for example, Sydney cleaned the showers. The cabins were sustainable and completely off-the-grid, heated by woodstoves and powered by solar energy.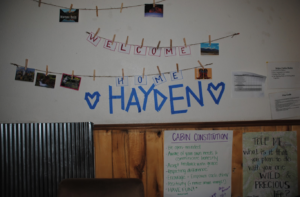 Then, they had two classes that were each 90 minutes long. Sydney noted, "My favorite class was called 'Principles and Practices: The Ethics of The Natural World' where we talked about different inequalities relating to food and the environment." After, they would have an hour lunch, three more classes, dinner, study hall, and lights off at 10:00 p.m. On Saturdays they had science lab and math class, and on Sundays, they would either go on an adventure, such as the sand dunes, or have a solo Sunday of reflection. Unique to HMI, students spend a full third of their semester backpacking and skiing through the mountains of Colorado and the canyons of Utah with their teachers and classmates.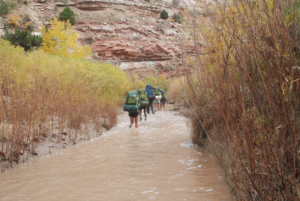 "My favorite memory at HMI was when we were hiking through the canyons of Utah without our watches or our instructor, and we couldn't find the campsite," Sydney said. "We got stuck in trees and had to pass through sinking mud. Most would think that sounds awful, but it was the most fun I had while singing and chanting with everyone. We finally got to the campsite at 10:30 p.m. and cooked the most delicious dinner." To many, a semester away from family, friends, and sports would be a difficult decision — but not for Izzy or Sydney. "Looking back, I definitely would've done the full year, but I wanted to come back for the college process at Latin," Izzy said. "Overall, SYA China is my favorite experience in high school thus far – one that I will most definitely never forget." Sydney concluded, "As students, it is easy to get consumed by the 'Latin bubble' – the daily routine of school, homework, and extra curriculars. Attending HMI made me more aware of the world outside of Latin, and it redefined the traditional classroom definition." As students, we often get consumed by the "Latin bubble" with the daily routine of school, homework, extracurriculars, and friends. By exposing themselves to new cultures, lifestyles, and issues, utilizing their surroundings as their textbook, Izzy and Sydney are redefining the traditional definition of a classroom. ]]>