Rooting For The Romans' Robot
Latin's robotics team, known as Animatores Romani, has qualified for the Illinois state finals and will be competing on March 11 and 12. Latin will be one of 35 teams statewide and one of six from Chicago when the top robotics teams in Illinois face off at Elgin Academy.
Latin did not have a team last year due to COVID and did not qualify for state in 2020. This year, though, out of 169 teams competing statewide, and out of 44 teams competing from Chicago, Latin rose to the top.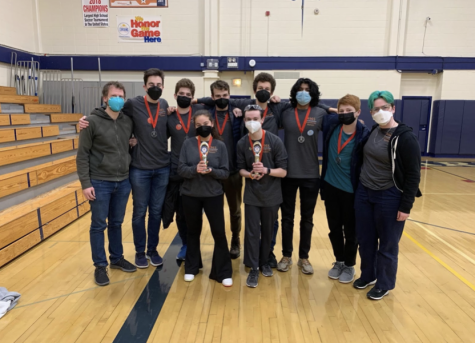 Latin's robotics team currently has 20 members. The team lost several seniors this past year to graduation and will lose several more this year as more students leave for college. There are also no freshmen on the team, and so Animatores Romani are seeking new members. Junior Ava Rosenow, who has been on the team since her freshman year, said, "Join the team, we welcome everyone regardless of experience or ability!!!!"
As of now, Ava is the only girl who competes on the team. She encourages and hopes more girls at Latin and other schools will give robotics a try. "There is no discrimination or bias that causes the small number of girls on the team," she said. "It is just representative of the worldwide lack of girls in STEM, and can also be seen at our competitions, where there are many teams who have zero girls."
In the past three years, Latin's sole robotics team has competed against both of Parker's teams in the final match. In early 2020, at Latin's final competition before the COVID shutdown, Parker defeated Latin and went to state. Charlie Cohen, a senior who has been on the team since he was a freshman, said, "Because of COVID, I had to wait a whole year before competing again, and there is something exceptionally rewarding about waiting two years and then getting to have our rematch, and this time we came out victorious."
The team is supported by two faculty advisors: Upper School Computer Science Department Head Ash Hansberry and Upper School physics teacher Joshua Phipps. Robotics is a student-run effort, but these two teachers bring their patience, enthusiasm and experience to the team.
"I enjoy robotics because I like getting to work with students outside the classroom and seeing the creative designs and ideas that the team comes up with," Mx. Hansberry said. "Mr. Phipps and I really let the students take the lead on the team, but I do enjoy talking through ideas with them, seeing what they come up with, and helping to brainstorm when we have a tricky problem to solve."
It hasn't been easy to get to state—their success has required intense practice and preparation. Team members work three days a week for two-and-a-half hours, some students are at school as early as 6 a.m. to code, and several others are putting in late nights. "Creating this year's robot was a lot of work, but the interesting thing is that you can't even see all of the work that went into it by looking at the robot," Mx. Hansberry said.
There is a lot of trial and error in robotics and a lot of starting over again to get it right. It often requires multiple tries and a lot of patience.
"There were actually multiple different designs of the robot before this that helped the team to try out strategies before ultimately ending up on this design," Mx. Hansberry said.
"What I think makes our team successful is our complete lack of fear in taking apart and rebuilding our robot," Charlie said. Latin's approach is not typical of many teams competing. Charlie added, "Some teams show up to the first competition in November with a completed robot which they use all season, but we completely took apart our robot between competitions."
But Animatores Romani didn't just make small tweaks. "Each robot design was completely different and a significant improvement from the last, and our ability to adapt has helped us be successful," Charlie said.
The team's success has required not just patience preparing the robot for competitions but being calm under pressure at competitions. They have had some tight situations. In two matches, a wheel fell off the robot during the competition. "Both times we have hobbled on three wheels to score points," Ava said.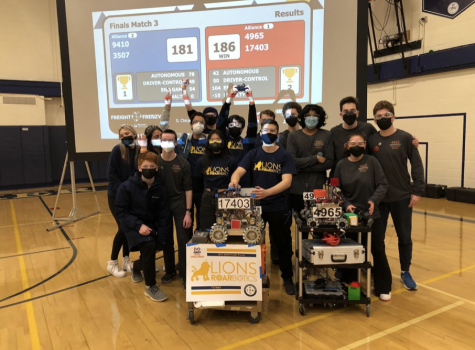 There's always more work to do and improvements to make. If you can't join the team next year as Ava suggested, you can show support by live-streaming the meet. Root for the Romans' robot—it's likely to be new and improved.
State is right around the corner. As Mx. Hansberry said, "The team is trying to make the robot even more reliable before state."
View Comments (1)
About the Contributor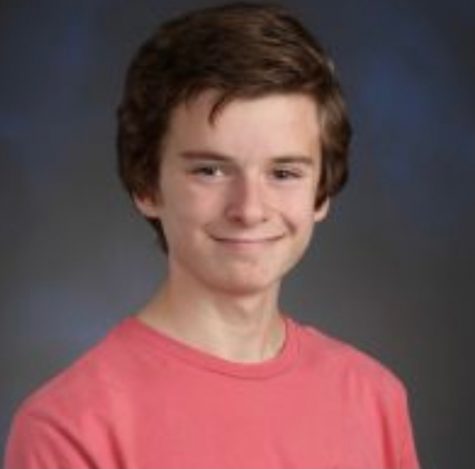 Matthew Kotcher, Arts Editor & Director of Staff Recruitment and Development
Matthew Kotcher ('23) is thrilled to continue to serve on The Forum as the Arts Editor and now as Director of Staff Recruitment and Development. Matthew,...