The Omicron Variant Rises: How is the Latin Community Affected?
It's a new year and yet the world is still in the midst of the COVID pandemic, almost two years later. However, now a new, more contagious variant has developed: Omicron.
So far, the COVID variants have been Alpha, Beta, Gamma, Delta, and now Omicron. The Omicron variant is said to be less severe than other variants, but it has a much higher transmission rate. Double-vaccinated individuals are not as protected as they once were with vaccines almost entirely wearing off after six months, and now, many people ages 12 and up are receiving their booster shots for maximum protection. Additionally, there is news of a new variant that recently appeared in France, the IHU variant, but it has not been found outside of France thus far. With the rise of new variants and the evolving effectiveness of vaccinations, life feels dauntingly like pre-vaccine life, with more mask mandates, businesses and schools going remote, flights being canceled, and more.
In terms of new COVID variants arising, Upper and Middle School Nurse Jill Yacu, a member of Latin's COVID Response Team, said, "As viruses evolve, we might expect them to become more transmissible and less virulent—the pattern that we are seeing with omicron." Nurse Yacu explained, "Of course, we maintain vigilance against variants that represent a greater threat to health, but available data indicates that the Omicron variant is less virulent. Its highly transmissible nature, however, presents a challenge in case management given the fixed resources available to deal with new cases."
Ms. Yacu continued, saying, "It is too early to speculate on the IHU variant or other possible emerging variants. Latin will continue to follow guidance issued by CDC and monitor notifications issued by the World Health Organization."
According to an article published by Healthline on COVID vaccines and the Omicron variant, studies suggest that vaccines offer 30 to 40 percent protection against infection and around 70 percent protection against hospitalization without boosters. However, a third dose increases antibody production and boosts effectiveness against infection to around 75 percent, and 88 percent for severe disease.
Latin students discussed their experiences with the Omicron variant over winter break.
Senior Noah Nijensohn, who is fully vaccinated and boosted, explained, "I had COVID over winter break, and personally, I was mainly asymptomatic except for a light cough. I didn't think I had it until I tested and it turned out positive. While it is a pessimistic outlook, based on the level of transmission of the Omicron variant, I think that the majority of the world will catch it."
Sophomore Maggie Zeiger discussed her confidence in COVID vaccinations after her personal experience. "One of my family members was diagnosed with COVID over winter break, and because we had been exposed for multiple days prior to a positive test, my family decided to wear masks and social distance rather than isolate completely," Maggie said. "Even though the rest of my family had been exposed pretty consistently for a couple of days, since we were vaccinated and boosted, no one else got the virus."
Regarding what life is looking like right now with the presence of the Omicron variant, Maggie said, "Even though flights are being canceled and more restrictions are being put into place, I still think we are in a much better place than we were before the vaccine. This strain is obviously very contagious, but because of the number of people vaccinated (at least in the Latin community), we have still been able to attend school and participate in sports." Maggie continued, saying, "Though it's starting to look like March of 2020 with schools shutting down and a rise in cases, it's definitely comforting knowing that the vaccine is working and will probably prevent us from a complete school or city shutdown."
Noah talked about his view on returning to Latin after winter break and in the midst of the Omicron surge, saying, "Going back to school has been great, and life has somewhat transitioned to normal. Wearing masks has become a norm for life from now on, and I personally have gotten used to it. I have been able to see family, friends, and maintain my hobbies and weekly activities."
Daily life at Latin has changed since students returned from winter break. Not only did almost every member of the Latin community have to get tested for COVID in the Field Gym before officially returning to school, additional guidelines were put into place to minimize the risk of in-school transmission. Students are no longer allowed to combine lunch tables in the Learning Commons, leaving no more than six people per table. There has also been a greater emphasis on wearing masks while on campus.
Freshman Elana Goldwin said, "I am beyond happy to still be at school during this time. I feel as though the masks are becoming normal in a way, which makes me so sad, but as long as I get to be around my friends, I am thankful to be here."
Elana added, though, "I feel like with all of these new variants, we are slowly taking steps backward, and I fear soon we will be remote. Seeing people get stuck in places during winter break because flights were canceled from COVID-19 scares me."
The COVID pandemic and all that has come from it has altered the world in many ways. Nurse Yacu said, "We seem to be entering a phase that may indeed be a transition to the virus becoming part of everyday life: a type of 'new normal.' We will have to adjust our practices and policies as the virus works its way to becoming endemic."
Lower School Nurse Joseph Benvenuti, another member of the school's COVID Response Team, said, "I do believe we are headed towards a place closer to `pre-vaccine life,' but it will be interesting to see what that actually looks like. I think our world has changed forever and can never truly go back to what it was before. There has been a scar left on society from the last two years. What we do with these experiences remains to be seen. I hope some good comes out of all this and we can evolve to a better place soon."
Leave a Comment
About the Contributor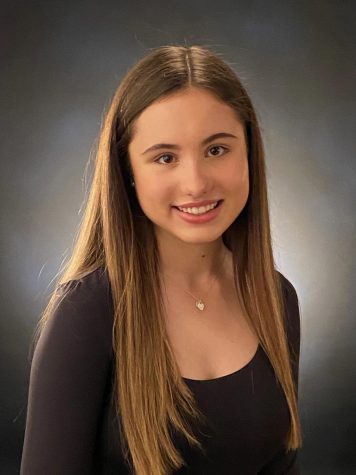 Lily Coleman, Media Editor
Lily "Pickle" Coleman (22') is a senior at Latin and is thrilled to be serving as Media Editor this year. In her time on The Forum staff, Pickle...