What Is Dance Company Up To This Year?
Just like that, Dance Company is fully back in-person, and they haven't missed a beat. The creative, student-centered course—which meets biweekly for two hours after school—has started choreographing pieces for their fast-approaching show this December, and the excitement is real.
"We've been working very, very hard," sophomore Nadia Rivera said. "We have some really good dances and really good music, though the choreography isn't any walk in the park."
Junior Eve Drumm, another dancer this year, added that "​​Dance Company is split up into different 'sessions' in order to choreograph as many dances as possible," and that "most sessions have two pieces, but if the choreographer wants a full group dance, then there's only one."
Having completed several pieces already, the group relished in a shared excitement after seeing the show finally begin to come together. "Especially post-pandemic, it's been really fun to be back in a room with other people, because we all feed off each other's energy," Eve said.
Nadia agreed that the vibrant energy of Dance Company is contagious. She said, "My peers are my favorite part as well, because it's fun to dance with them and connect."
Sophomore Maricruz Figueroa emphasized the importance of collaboration in Dance Company. Considering the tremendous work that has already been put in, she said, "It's really satisfying to see how all the pieces come together."
While the group has undoubtedly reaped the benefits of being back in-person, this year's significant drop in sign-ups has been discouraging. "My freshman year, we had somewhere around 25 people and now we're down to eight," Eve said.
As of earlier this year, the Arts & Cultural Sector of the United States reported a nearly $16 billion financial loss just for the arts alone. Of the survey takers, 11% are unconfident the arts will survive, and 66% "expect severe financial impact."
While show business is gradually starting to return to normal, it seems the pandemic will certainly affect performing arts for years to come. A plausible loss of interest from students at numerous schools nationwide is only one sign of this damage.
Eve agreed she's noticed people becoming more distant from the arts, saying, "It's definitely been a challenge that we've had to navigate, but I don't think it shows in the final products we have so far."
In spite of the pandemic still looming, Dance Company has much to look forward to as the semester's end draws closer. As for the final show, students can expect an assortment of varying performances. "We have some exciting performances, but also some more emotional ones," Nadia said. "So, I would just say, expect variety and many fun dances." Of this mélange, the group is preparing a piece with a Celine Dion soundtrack, another accompanied by an electric K-Pop background, and a collective modern piece, just to name a few.
For students interested in becoming a part of Dance Company, there is plenty of time to consider joining next semester. "Dancing in a team gives a way for people to bond over something that isn't necessarily verbal," Nadia said. "Not only that, but it helps build trust between dancers, and once we have complete and full trust, our dancing becomes that much better."
Eve echoed Nadia, saying, "You don't need to be the best dancer in the world to join. Ms. Durant will make you look good [no matter what]. Even if you don't want to join, come to the show on December 9!"
Leave a Comment
About the Contributor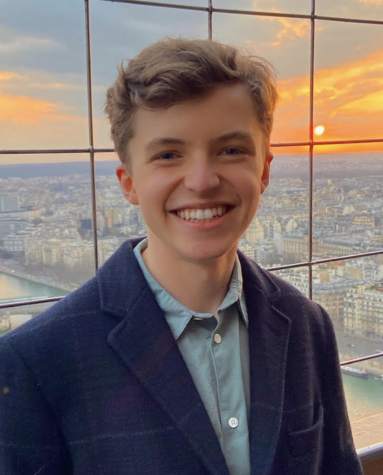 Will Baiers, Features Editor
Will Baiers ('23) is a senior at Latin and could not be more excited to serve as a Features Editor. Will has a passion for spotlighting current events...