A School Year Like No Other: A Recap of the 2020-21 School Year From the Lens of the Latin Community
The 2020-21 school year began unlike any other year in Latin's history: online. More specifically, on Zoom. After the hectic spring and summer of 2020—with the spread of COVID-19, the Black Lives Matter movement, the Survivors of Latin Instagram page, Latin's Demanding Accountability protest, and so much more—the Latin community was entering the new school year with an array of thoughts and emotions.
The school year officially started on August 31 with a fully virtual Zoom schedule, and the first day of school was not without its technical difficulties. The first Zoom link of the year didn't work, there was a brief delay, and a new, functioning link was sent.
Junior Noor Ahmed thought back to this moment on the first day of school, saying, "I was actually going through my email recently and found the one where they were having issues with the Zoom link. I remember thinking oh, ok, so that's what this year is going to be like."
The year was like no other, and the schedules were no exception. The Upper School community started fully remote, and each day there were three synchronous class blocks and three asynchronous ones, meaning that every day three classes were on Zoom and the other three blocks consisted of assigned work. Only a few weeks later, on September 18, Latin created cohort days; these days were a chance for students to attend their virtual classes in the building.
When asked his thoughts on the cohort days, junior Elliot Kovitz explained, "I think the cohort system was ill-fated from the beginning, because having classes with only one grade in person at a time doesn't really work with Latin's model, so that gets my vote for worst schedule."
Carrying similar sentiments, junior Shane Healy said, "The schedule change from remote to cohort days was my least favorite change. I thought it was pretty underwhelming, as not many people showed up, and we had to be restricted to certain areas."
Noor said, "Cohort days were the most confusing for me because there was less communication on which classes were meeting, [and] it just felt a little strange to me to sit in an empty room or gym while most of my classmates were at home."
On November 17, when COVID cases were at extremely high numbers in Illinois, Head of School Randall Dunn sent out an email that read, "There have been four new positive cases of COVID-19 at Latin and based on our research, we have evidence that one case is traced to in-school transmission." After this communication, the Upper School went back to its original fully remote schedule until after winter break.
After break, the school came up with a different plan: saliva screening and a half-day hybrid schedule that was arranged by grade level. Starting the first week of January, students and teachers turned in saliva samples each week to be tested for COVID. The screenings continued until the end of the year because of their success in terms of quick notifications of COVID cases and easier contact tracing. Also, several COVID vaccines started being administered to frontline workers and senior citizens, so the Latin community could feel positive changes coming regarding the spread of the virus.
Upperclassmen were in the building for the first half of the day from 9 to 10:50 a.m., and underclassmen went for the second half, from 1 to 2:50 p.m. There was a two-hour break in between that was meant for lunch, community time, and the commute to and from school.
Elliot explained that he liked this post-break schedule much more than the Cohort days. He said, "It gave my acting class time on the stage, something I missed desperately. It also allowed me to see the seniors in my physics class, for example, something that raised my spirits immensely.
Junior Caroline Cruz shared a particularly fond memory from this post-break hybrid schedule, saying, "Back in February, I was in my precalculus class studying the unit circle, and not many students were coming in, but I was grateful that in this class, nearly everyone was in person." She explained, "There was a point in class when [math teacher Zachary] MacArthur had us sing a song about the unit circle. It made everything feel better, and it was the highlight of my day because it made everything feel so normal again."
Full-day in-person learning for the entire Upper School didn't begin until May 3, and many students' most memorable and best moments of the school year occurred once this final schedule change came into effect.
Dean of Upperclassmen Joe Edwards said, "A small but surprisingly powerful moment for me was the first time I heard the squeak of shoes in the first floor gym when athletics started up practices. Such an ordinary sound to hear in schools, but one that had been missing for far too long."
Freshman Zoe Larsen said, "The moment that stood out to me the most was going back fully in-person every day and seeing all of my field hockey teammates from different grades say hi to me in the halls." She explained, "As a freshman going into school for the first time `normally,' and having people I recognized [who] were more comfortable in a high school environment check up on me and say hi, was the best feeling ever."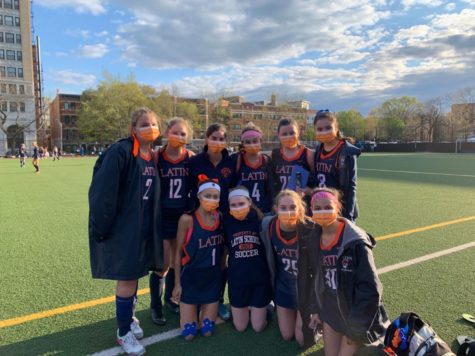 Noor said, "When we came back to school full-time, I saw a friend who I hadn't seen in person for a long time, and we had a conversation before class started. It was a really small thing, but being able to interact with someone casually again just felt so good."
Junior Shalom Ajiginni said, "The end of the year sticks out to me the most. I started going back to school on May 3, and seeing my friends, going to [DEI Director Eleannor] Maajid's room, and using our free moments to make new adventurous memories [were] such happy moments. I think going back to school has helped me grow so much, and even get back in shape thanks to the stairs.
Junior London Bettman said, "The first day coming back for in-person classes and seeing all the arrows everywhere and walking around from class to class was really memorable. It was fun to see friends and teachers for the first time, because I'd only ever seen my teachers on Zoom."
Senior Madison Seda said, "Being in person and seeing some of my friends for the first time in a year was definitely a highlight of this school year. Though we're in abnormal times, being in Ms. Maajid's office and joking with my friends, goofing off in biology, and more feels so natural and makes me happy." They emphasized, "I'm glad I'm able to watch some sports games in person and support my friends!"
Sophomore Anton Schuster said, "The academics of school have been a blur for the past year, but the most memorable and positive things were my swimming and water polo practices and advisory meetings. These were the only times where I could gather with those I knew well, reminding me that friendships are still intact."
These small and seemingly insignificant moments impacted Latin community members in quite positive ways. Nonetheless, all of the schedule changes and the structure of the year in general were not easy for the Latin community.
Elliot said, "The schedule changes were certainly jarring, but I can't say I really hold it against the school, considering the situation."
London said, "The schedule changes were confusing. Every time I'd get used to a schedule it would get changed. It threw me off, and I'm sure it threw off the teachers, too, because they would have to keep changing lesson plans and things like that."
Since the full in-person learning schedule began with only a few weeks left in the school year, Madison said, "I wish I was able to connect more with freshmen and sophomores. It's really hard to get lowerclassmen to come to affinities and such when you aren't able to connect with them in a meaningful way."
Noor noted that "switching the schedule so many times was really stressful for me because I could barely remember which class was which, and I usually have all my blocks memorized, but I eventually gave up trying to figure it out after the second or third change."
Mr. Edwards said, "While I think it has been difficult in some ways for all involved to navigate the various schedule changes, it remains that each step added more and more in-person learning opportunities. He added, "For more than a century, Latin has been a school designed to deliver education to students in-person, and I have appreciated the evolution of schedules in pursuit of that goal."
Caroline said, "Something that I liked about the schedule changes was having a late start (at 9 a.m. as opposed to the usual 8 or 8:25 a.m. from years past), and the two-hour break in between classes. During the two-hour break I could do my homework, meet with teachers, go outside, and do things with my friends."
Additionally, several teachers spoke about their experiences teaching during this unique school year, and how the students are not alone with their feelings about the year.
History teacher Stephanie Stephens said, "Teaching U.S. history was particularly challenging. With so many unprecedented national and global events, which I can't even list fully, meeting the course requirements while keeping class space open for current events was a constant challenge. Also, remaining fully present for my students while taking care of my family and grieving for the nation was difficult emotionally."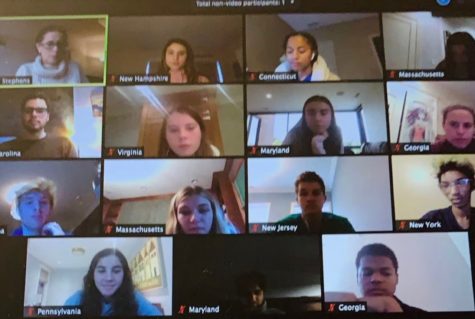 "As for my teaching," Ms. Stephens said, "I knew I needed to fully embrace compassionate grading and allow more flexibility than usual regarding deadlines and revisions. Maintaining strong lines of communication with my students was also needed this year more than ever."
English teacher James Joyce said, " I know that isolation is hard on folks—especially young people." He explained, "Screens are not great communicators, so my delivery of info was slower, which meant my students were going to be moving at a slower pace, too, given my delay." Mr. Joyce added, "It's hard to be a teenager; add classes, it's even harder; add a learning platform that distances everyone, and you've got a really difficult situation. I think everyone did their best. Or did as well as they knew how to do."
In terms of some positive moments from their respective classes, Ms. Stephens said, "One day the sophomores in my Spice class arrived and started playfully teasing each other. They didn't know me that well but felt safe being themselves in the classroom, which seemed beautifully normal, fun, and kind of heartwarming." She spoke about other moments, explaining, "Some of my juniors volunteered to host virtual breakfasts and share music, art, and other special interests, which softened the winter and built the class bond. I also remember returning to school for in-person learning and appreciating students' shoes, and shoelaces, which showcased individual styles and personalities."
With all of the national and global events aside from the pandemic that occurred during the school year, along with a mix of remote and in-person learning, students have mixed thoughts on how it affected their focus on school.
Senior Pamela Cameron said, "I was definitely feeling pulled in a lot of directions during the past year with so much going on in the news and in my life. In the beginning of quarantine, I felt overwhelmed with having to navigate the uncertainty in the news, leading to more difficulty focusing on schoolwork. However, COVID-19 news aside, I think the election news made my classes more engaging as we looked at current events in some of them."
Elliot said, "For me, the one event that really impaired my ability to focus and sleep was the election." He explained, "I feel like we've all been living at a level of stress saturation, where I just don't have the bandwidth for every event to stress me out as much as it should. As such, many of the world-shaking events of this past year got buried under the more mundane concerns of homework and general stress. However, the election carried a lot of weight for me, as I know it did for many, and the prolonged nature of the vote-counting didn't help matters. The week of the election was a week of little productivity and less sleep for me."
Similarly to Elliot, Shane said, "One of the biggest events in the past year was the election. I was so distracted by it that I barely managed to get work done for my classes."
Noor said, "It was a lot harder to keep academics at the forefront of my mind this year, because there was just so much that was happening outside of the little bubble of my house." She explained, "When every week is a spectacle, it's really difficult to try and carry on as usual—especially because these events have had huge impacts in the world. Balancing your mental health while struggling between remote learning was something I had to really sit down and navigate."
Caroline shared, "It was hard to focus on academics this year. There were points in the year where I felt that I had to teach myself, because I didn't understand what was going on in the classroom, and the teacher-student connections over Zoom just weren't working. She explained, "There was a time when I was really sad, however on May 3 it got a lot better. Tests in person were way better than tests online, which shows the positive impact of learning in person."
Mr. Edwards emphasized how academic classes help the community face these global events. "I think the skills and competencies developed by academic work make us more informed citizens of the world who are better equipped to take on the considerable challenges we face as a society."
Regarding sports this year, there were four seasons instead of three due to COVID-driven IHSA rules. Several Latin sports teams also had to quarantine following confirmed COVID cases on their respective teams. Zoe said, "I think that at the beginning of each season, sports were a little bit shaky because of figuring out a safe way to play each of the different sports with COVID-19, but by the end of [each] season there was a solid routine that worked really well.
Anton said, "Sports were handled very strictly, which was good. However, there were some confusing rules, mainly the social distancing. When playing water polo, no masks were allowed, which is hazardous considering how close contact of a sport it is, but somehow we were not allowed to take team photos. I didn't [understand] it."
There were still many great sports moments despite the pandemic. "I'm just glad that we had seasons in every sport this year," Shane said. "It would have been ideal to have some more games that weren't just in the ISL on the schedules, but I can't complain that much. We all had a good time, and that's the most important thing." Shane concluded, saying "Some of our sports teams in particular ended up having terrific seasons, including boys and girls soccer, boys tennis, and baseball. All these squads ended up winning the ISL [conference championship]."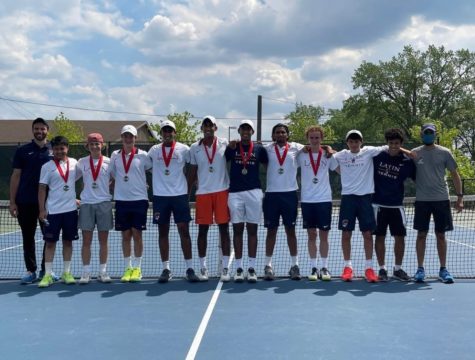 An additional event that fostered some much-needed senior connecting was the senior-only Prom.
Madison said, "Prom was great to see people in my grade I don't normally get to see, either because we don't share a class, or don't see people outside of those classes. They explained, "As someone dating a junior at Latin, I was a little upset that we couldn't go together, but I obviously understand why it couldn't happen." Madison continued, "It felt like a typical Latin event, but with no food and without 20 guys surrounding the DJ and jumping whenever the chorus of a song came around." They concluded, saying, "I'm really proud of Olivia Katz for putting it together; I had a better time than I anticipated."
Pamela said, "Prom was a great way to close the year and see people in my grade I had not seen in over a year. I am so grateful that we were able to have it." When asked if it brought back any sense of normalcy to the year, she said, "The definition of normal has shifted so much this year that I don't know if I can call anything normal anymore, but Prom certainly helped me get more closure."
It is worth highlighting an event that will go down in Latin's history as the moment that sparked change and impacted many community members: the Demanding Accountability protest that took place on July 11. The protest was led by students, with participation from many different members of the Latin community, and everyone was there for a common goal: to demand accountability at Latin.
Senior Madison Seda gave a touching speech at the protest, opening up about parts of their identity. Madison explained what the protest was like from their perspective, saying, "I actually backed out of speaking a few days before, and decided the night before the protest to go ahead with my speech. There were several reasons, but fear of judgment was the most prevailing. It terrified me to think about looking at my peers watching, especially possibly seeing those who were the ones who hurt me throughout high school, and speak my truth. In all honesty, sometimes I have days where I wish I could take back everything, not come out of the closet, and just wait until college to be myself. But those moments come when I'm down on myself and scared of how I'm perceived."
Madison continued, saying, "I'm glad I spoke. Multiple people messaged me days after, telling me how much it stuck with them, and how influential it was to see someone like me stand up for myself and give an honest speech. I spoke about my sexuality; how people gossiped behind my back about it until I officially came out freshman year, being stereotyped for my sexuality by guys making crude comments about me, being told I have a disease, and much more. I also discussed my intersectionality as a bisexual, non-male Latino, and how my intersectionality was something I never embraced until junior year. Madison concluded, "I'm really grateful for graduated and current Demanding Accountability members who helped me edit my speech, and encouraged me to share my story."
Many stories and moments were shared at the Demanding Accountability protest, and the event lingered in the community's minds well into the school year, and even still.
Pamela reflected on this school year and the significance of it being her final year at Latin. She said, "I wish I had taken more advantage of Latin's physical place more, but being away from Latin's physical place allowed me to realize that what makes it so special for me is the people. So despite not being in the building for a while, I feel satisfied with my senior year, considering the circumstances. I am grateful that we are having a graduation I will never forget and that I know I can appreciate more than I would have in a normal year."
After four schedule changes, many impactful national and global events, teaching and learning during a pandemic, and countless other moments, another school year has gone down in Latin's history. The 2020-21 school year in particular will never be forgotten.
Leave a Comment
About the Contributor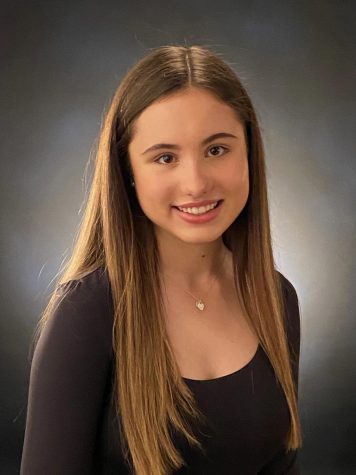 Lily Coleman, Media Editor
Lily "Pickle" Coleman (22') is a senior at Latin and is thrilled to be serving as Media Editor this year. In her time on The Forum staff, Pickle...