Latin Community Members Among First to Receive Vaccine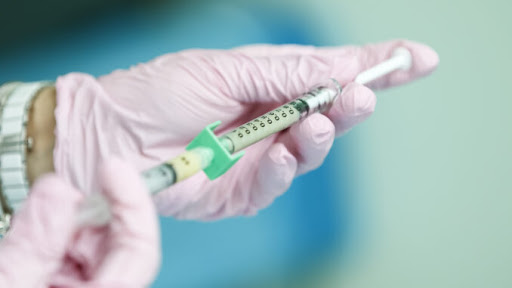 With the development and approval of the COVID-19 vaccine, frontline workers, as well as senior citizens, have already started getting vaccinated. Many parents in the Latin community who are a part of these groups have recently been vaccinated. In receiving the vaccine—either that produced by Pfizer-BioNTech or Moderna—these individuals joined the 3.1% of Americans and 2.9% of Illinoisans who had been vaccinated as of Wednesday.
Dr. Katie Baker, an oncologist and the mother of sophomore Ellie Baker, revealed that she is in the process of getting the Pfizer vaccine. "I feel the vaccines are very safe," she said. "The standards have been high for evaluating the vaccines prior to their release for public distribution." She also mentioned how the vaccine will help ensure the safety of her patients, saying, "The vaccine will allow me to care for my immunocompromised patients and minimize the risk of infecting them."
Orthopedic surgeon Dr. Vineet Shah, father of sophomore Armaan Shah, expressed the same positivity and hopeful attitude regarding the vaccine. He mentioned the struggles of working during the early pandemic and said the vaccine has made him feel safer around patients. "Having spent the last 10 months working in a hospital, seeing patients and performing surgeries has proved to be challenging and trying," he said. "Now that I have had both doses of the Pfizer-BioNTech COVID-19 vaccine, I feel excited, humbled, grateful, and have a renewed sense of hope for 2021."
The vaccine helped Dr. Shah not only in his work life, but also in his personal life. "Receiving the vaccine helps contribute to the success of keeping my family, friends, co-workers, and community members safe," he said. Additionally, Dr. Shah explained how the vaccine is a crucial stepping stone to our "new normal."
"The vaccines will just become another tool in the fight against the deadly disease," he said, "but it is vital that we continue to follow the same protocol of masking, social distancing, and frequent hand-washing. The vaccine reduces your overall risk of COVID-19 but it doesn't mean you should now do every high-risk activity."
With respect to how quickly the vaccine will allow people to resume their normal activities, Dr. Shah was conservative with his estimate. "I don't think we will see major restrictions loosen for large gatherings anytime soon," he said. However, he offered some hope. "Once we have more of the elderly population vaccinated, I plan to visit my parents who live abroad and see my in-laws more often."
Sophomore Ainsley Heaton expressed her gratitude about the vaccine, which she said is especially important to her because of her grandmother's relapse of bladder cancer. She mentioned the struggle with being able to care for her grandmother, given the added risk of spreading COVID. "My grandpa is getting quite old, and it's hard for him to take her to appointments and take care of her at home, as they live alone together," she said. "My mom wants to take care of them, although it's challenging as my siblings and I have to go to school and we participate in sports. Although my sports are socially distanced, I ended up getting COVID from field hockey right before break."
Ainsley talked about how COVID had affected her. "Fortunately, my family did not contract the virus, but, having experienced a hard case of COVID, I urge families to stay safe," she said. "I am a healthy, athletic teenager, and I have to get an EKG before I can fully return to practice." Although only a teenager, Ainsley still experienced significant symptoms, leaving her even more concerned about how the virus could have affected her grandmother.
The promise of the COVID vaccine is that it will save lives, protect our loved ones, and ultimately bring us back to normal. Ainsley noted, "The vaccine would mean my family could help my grandparents, and protect my grandparents and themselves from a virus that wasn't easy to fight."
View Comments (3)