Keely's Kitchen: Cupcakes, Meringues, Carbonara, and Steak!
Red Velvet Cupcakes with Vivie Koo of KooKooBakes – Recipe linked here.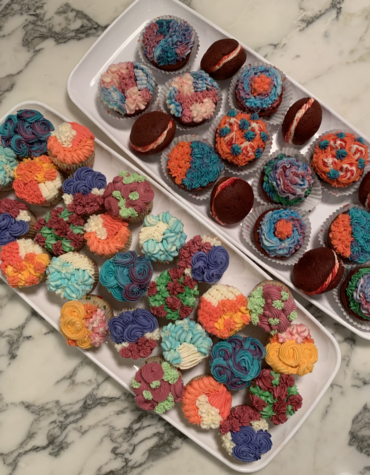 This red velvet recipe is easy, fun, and can be made for any special occasion, whether you want to make cupcakes, cake, cake pops, or, in this case, whoopie pies. Many frostings go well with red velvet, but I think the flavor of red velvet cake and cream cheese frosting is the perfect blend of sweet and tart and is hard to mess up. The sour cream in this recipe creates a richer flavor that complements the cream cheese frosting really well. If you prefer a sweeter taste, use a vanilla frosting instead. When making these cupcakes, I overfilled the tins, so I decided to cut off the tops and use them to make whoopie pies. Pipe frosting on the outer edges of the cupcake tops and lightly press them together to seal; don't sandwich the pies or overfill them because the frosting will be too heavy and spill out. Baking these was an especially fun experience because I had the help of pro baker Vivie Koo, who made the frosting we decorated these beautiful cupcakes with. It is important for your frosting to be thick enough for detailed decorating, and she was sure to put plenty of powdered sugar in the frosting to help it stay upright and sturdy. Thanks to her, we were able to create cupcakes with designs with a variety of colors and details, and of course, they were delicious, too!
Meringues with McKenna Fellows
Recipe for Vanilla Meringues linked here.
Recipe for Lemon Meringues linked here. 
Raspberry Meringues linked here.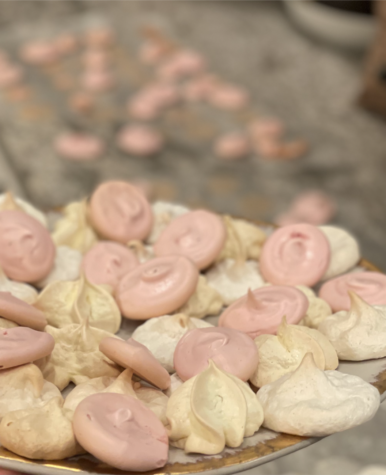 Meringues are a very fun yet challenging dessert to attempt, and are even more fun to make with the help of a friend. I was grateful to be baking with McKenna Fellows. She said, "A lot of trial and error was involved, but it was so exciting to experiment, and the end result made everything worth it. Meringues are a labor of love for sure!" Making the meringues took a lot of getting used to, but once we found ourselves on the right track, the end results were rewarding. I had made meringues before, and they're always hard to nail the first time because of how long each step in the process takes to complete. Whipping the batter, for example, took us longer than expected to form "soft peaks," but once we understood what the end result should look like, the process felt a lot more simple. It is helpful to watch a video along with looking at the recipe because it gives you a better idea of what you should aim for, and as long as you make sure the texture lines up with what the recipe calls for, you don't have to worry about timing. I would say the best way to approach desserts like these is to give yourself plenty of practice attempts to get familiar with the recipe before nailing it.
Carbonara – Recipe for Carbonara linked here.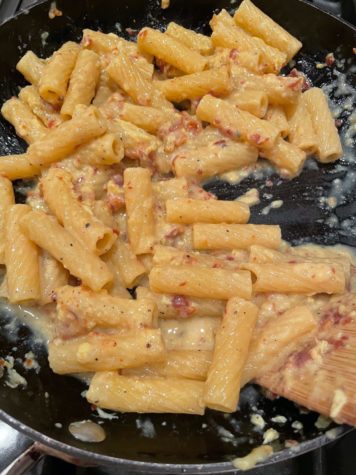 Carbonara is one of my favorite pasta dishes, so I was happy to make it for the first time. The beautiful thing about carbonara, and many pasta recipes really, is that you don't have to be exact with measurements and types of ingredients to have a result you love. You can personalize it and use trial and error to make changes to the recipe. This recipe is great for whipping up a quick, very delicious dinner that you are guaranteed to enjoy. Before starting to cook, make sure you read through each step of the process and have the ingredients ready to use, as the process goes by quickly and the pasta should be served right away. The next time I make carbonara, I would make sure not to add any salt to the sauce, because the pancetta and cheese already give the dish a rich, salty flavor. I would have also cut larger pancetta pieces and cooked them less time. While I love the crispy taste of pancetta, I found that they kept cooking when the sauce was being mixed over heat, making them flake into tiny pieces. The flavor profile of the sauce is heavily based on the flavor of the pancetta because the same pan is used for the pasta, so overcooking the pancetta could make the sauce taste heavily smokey or burnt. The sauce is a thick cheese base with pancetta and egg, and saved pasta water can be used to help it become more creamy. Recipe from Cookbook, "La Cucina"
Steak Au Poivre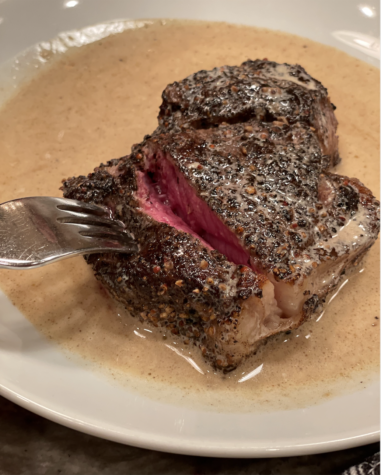 Steak au poivre was probably the fanciest, most flavorful dish I have made. The steak is rich and tangy from the added pepper and cognac, making every bite satisfying. This recipe was surprisingly quick; in total it took me about half an hour to prepare, cook, and serve.
Before cooking, make sure to prepare all ingredients and read through the recipe to get familiar with the process. This recipe moves quickly, and the listed ingredient measurements can be confusing at first, so preparing beforehand will make it easier to follow when you actually begin cooking. The one thing I would make sure to do next time is cook and stir the sauce for a longer amount of time to get a thicker texture. Overall, the flavors came together really well, and the steaks were a huge crowd pleaser. I will definitely be using this recipe in the future for special occasions.
Leave a Comment
About the Contributor
Keely Moll
Keely Moll (22') is a senior at Latin and writes her own cooking column called "Keely's Kitchen." She shares reviews of her favorite recipes and...