Latin's Admitted Students Forced to Make 'Scary' Decision Before Receiving Selective Enrollment Decisions
Chicago Public Schools (CPS) will release selective enrollment acceptances on April 30; however, Latin's $40,000-plus enrollment contract becomes legally binding on April 15, which would force some incoming freshmen to make a decision on Latin registration before they know their selective enrollment results.
As a member of the Lake Michigan Association of Independent Schools (LMAIS), Latin releases admission decisions and sets its enrollment deadlines in accordance with the deadlines of its peer schools. "It's kind of done in the spirit of cooperation and in a neighbor-to-neighbor, good school-to-school relationship," said Associate Director of Enrollment Management Sara Salzman. A uniform deadline across independent schools allows families applying to multiple similar institutions to decide on a school after they have heard back from all of their private options.
Whether or not LMAIS considered cooperating with CPS's delay in decision announcements on behalf of its members is unclear, as they declined The Forum's request to comment on the matter.
This year, applicants to Latin, and also current Latin eighth graders who applied to CPS selective enrollment schools, are left partially in the dark to make a crucial decision. Medha Sharma, an eighth grader at Latin and a CPS selective enrollment applicant, explained that this is a stressful circumstance for a middle schooler. "It's more scary than anything because I don't know which one is the right decision," she said. Medha can take the sure bet with Latin—a $40,485 bet for families ineligible for financial aid—or she can cross her fingers and hope for the best with selective enrollment, which would be free.
The admissions office indicated to The Forum in a follow-up interview that they will work to accommodate families of students already at Latin who are accepted to a selective enrollment school. "As a school we will work directly with longstanding current families applying out to CPS, taking their individual or extenuating circumstances into account," said Ms. Salzman. She gave no indication that Latin would do the same for incoming families.
The level of transparency regarding the communication of this information to Latin families is unclear. Referring to the flexibility shared by Ms. Salzman, Medha said, "I talked to my mom, and neither of us knew about it."
While Latin sets its own date for when enrollment contracts become legally binding, pushing that deadline back may not be so simple at this point in the game.
For starters, Latin's enrollment contract is just that: a contract. According to Director of Enrollment Management and Financial Aid Mark Copestake, making any modifications to the already returned documents "would be a long drawn out legal exercise where [the admissions office] would have to work with the school's legal team to make a modification to the terms of the already created and approved contract." Such a process, Mr. Copestake said, "would be problematic in a number of ways."
There is also Latin's priority of enrolling the strongest candidates. "Selfishly," said Ms. Salzman, "we of course want to fully enroll our class with a great group of kids." Latin's admissions team noted a decrease in the number of applications for ninth grade this year compared to previous years, as did Francis W. Parker admissions, as well as LMAIS schools across the board, particularly city schools, according to Ms. Salzman. "These schools have each seen fewer applications for high school," she said.
Despite falling in line with other independent schools in terms of application quantities, admitting "top quality candidates," and "having a robust wait pool," as reported by Ms. Salzman, the school is still apprehensive about adjusting to a binding date beyond that of most private schools. If Latin loses admitted and wait-listed families to selective enrollment schools after potentially having lost others to competing independent institutions, they may not be able to secure an incoming class of their liking.
"We can't take that lottery as an independent school," said Mr. Copestake. "We need to safeguard our institution."
Latin also needs to start planning for the 2021-2022 academic year. Class size, budgeting, class placement, course registration, and in-person learning details are all dependent on the particulars of the incoming class. "If we allow CPS to dictate the dates in terms of trying to sync with them," said Mr. Copestake, "then all of that stuff will keep getting pushed back and back and back, and then that means we are not going to have enough time to do everything that we need to do to deliver the amazing quality program that Latin delivers."
The school is also unsure about whether the current release date for selective enrollment decisions is subject to change. "[Chicago Public Schools] were supposed to release in early to mid March. That then got pushed to the first week of April, which then got pushed to April 30," said Ms. Salzman. Even if Latin adjusted its binding date to something beyond April 30, it is possible that CPS would change its announcement date yet again.
Though Latin's inability to provide accepted families the chance to make a fully informed decision about which high school their child will attend may only present a temporary dilemma, these constraints reflect further incongruity between Chicago's private and public schools. Both Latin and Parker's admissions teams referred to one another and to all LMAIS members as "peer schools," and working together is "the respectful thing to do," according to Ms. Salzman, even during a pandemic. Typically, it seems, nearby selective enrollment schools like Walter Payton College Prep are not afforded such a distinction.
Forcing families to sign a Latin enrollment contract before they receive a CPS admissions decision may disproportionately affect lower-income families, including those who pay partial tuition. Even those Latin families with children already at the school will be liable for the nonrefundable deposit of $1,500 if they decide on Payton, Northside Prep, or another CPS school after having enrolled their rising freshman at Latin. Outside applicants could be held responsible for full tuition to a school they choose not to attend.
"It's an unfortunate situation," said Ms. Salzman.
Leave a Comment
About the Contributor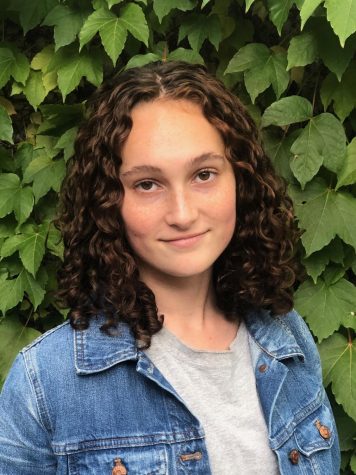 Eden Raviv, Editor-in-Chief
Eden Raviv ('23) is eager to bring relevant stories and perspectives to the Latin community, in her role as Editor-In-Chief. Eden joined ​The Forum​...