Guide to College Recruitment
College applications are intimidating, and even though the process doesn't start for the majority of Latin students until junior year, the looming pressure is undeniable. For athletes hoping to be recruited, that pressure is amplified, as their recruiting process can begin as early as the eighth grade.
For most of the current Roman athletes who have been recruited, or who are in the middle of recruitment, a common thread in their processes is that Latin could have been more helpful. College counselor Alexandra Fields stressed that "it's super important that people know that the college counseling is accessible to them. We want people to know that if they have questions or concerns they can talk to us."
Yet, with college counselors not reaching out to specific students about their college process until junior year, their guidance can come too late. Senior Ava Torterello committed to play volleyball at the University of Arizona the summer after her sophomore year, so when her junior year came around, she had to take the college counseling class despite already knowing where she would attend college. Ms. Fields emphasized the difference between a verbal agreement and a formal offer, and said that what may seem like a tight grip is because they want to ensure students are protected if an agreement falls through.
Junior Ryan Kramer, who is currently being recruited for baseball, said, "The College Counseling department didn't help me at all really my freshman and sophomore year, which could have been really helpful." He believes the added support would have been beneficial. "I feel like if they had told me some of the things I had learned this year [in the college counseling class], I would have been in a better spot."
Ms. Fields stressed, "It's a fairly small number of students who are going to be actively recruited before junior year. For those students, we encourage them to reach out to us via the general [email protected] email address. If this is the situation, then the process is expedited because of their specific recruitment situation. Then we would work with a student providing what they need."
Although the recruiting process can begin as early as eighth grade, the final decision to commit is not on a specific timeline. Senior Natalie Mann committed during the fall of her senior year to Johns Hopkins University to play basketball. From her perspective, the College Counseling Office was beneficial from an application standpoint. "Ms. Fields, my counselor, was amazing. She helped edit my essays, labeled schools for me (likely/target/reach), and answered all of my logistical questions." Senior Peter Bernhardt committed to Kenyon College but began his track and cross country recruiting process the summer before his senior year, a somewhat late start. Peter said the college list his counselor provided was helpful in finding a school that matched him both athletically and academically, yet he still wished that "they told me actually how to communicate with the coaches from these schools."
Junior Nora Goodwillie, who is currently being recruited for rowing, said, "At this point in my process, I have done my research and am getting ready to finalize my decision, so I think it's hard for them to help, because I already have a hold on my process." Still, she added, "It's impossible to go through the recruiting process alone. It's super helpful to get some sort of support or guidance through it." Nora filled the void of advice with support from her team and the Chicago Rowing Foundation, but not everyone has access to outside expertise.
Athletics Director Sonny Lim acknowledged the role, or lack thereof, of the Athletics Department in the recruiting process. "It is one of the programs we want to make improvements on." Mr. Lim defined the department's current help as a "supportive stance," only providing guidance when called upon. "We haven't been very proactive, but we are aspiring to reshape the Athletics Department's role in the recruiting process."
Mark your calendar for May 2 and watch your emails from the Athletics Department, as they are hosting a Positive Coaching Alliance workshop for eighth through 12th graders focused on the recruiting process. This workshop will include a step through the process and a panel including some of the current 12 recruited seniors.
Additionally, look through the Latin guide to recruitment. Even though this page is slightly outdated and the probability that an athlete will make a "DVD" is close to zero, the overall process guidelines remain accurate. Additionally, this link provides the recent history of Roman athletes who went on to play collegiate-level sports. This list is a great opportunity to find a possible mentor and, in a relaxed manner, talk through the process that is individualized to your sport.
The most explicit variation among recruited athletes is the timeline. Some sports block communication between athletes and colleges— "dead periods"—during specific times of the year, and other sports have a specific date when coaches can start directly reaching out. But communication does not have to start from the college, in fact, student-initiated proactive contact is encouraged.
Ava started emailing and visiting schools in eighth grade. She was certain she wanted to play college volleyball, and her early start gave her an advantage. Similarly, Ryan began thinking about recruitment in eighth grade, and although he waited until high school to contact specific schools and coaches, he feels like he has a head start because he began the process so early.
Junior Sam Gibson is being recruited for soccer, and his words of wisdom for aspiring college athletes is to start the process early. "It's never too early to get on a coach's radar."
Exactly how to get on a coach's radar is another question. "There's a lot of back and forth emailing and phone calls," said Peter. Natalie and Ava cite collegiate sports summer camps as a big part of their recruiting processes. Similarly, Ryan emphasized the role of going to showcases to get your name out.
Another critical element to the process is knowing what to show coaches: stats, race times, and so on. These markers are another piece to the recruiting puzzle, but also very individualized. Different sports need to know different things, and at times it can be challenging to know what you need to keep track of. According to Nora, "The workload gets more manageable the further you get into the process." It can be extremely stressful and time-consuming. Nora cited some busy weeks when she spends upward of 3.5 hours dedicated solely to talking on the phone with coaches.
A wide array of students cite making highlight videos as another stress-inducing part of the process. Natalie said, "It is definitely a commitment over time, but if you want to play college sports, it's all definitely worth it." A good support system simplifies the process. As Ryan says, "It really wasn't that much work to be honest. I am lucky enough to have amazing parents who helped film me playing."
While the process in itself can be confusing, asking for help is a great way to simplify the process and understand what you want. Mr. Lim urged athletes interested in being recruited to communicate their interests with the department. Ms. Fields also stressed the importance of thinking deeply about the decision to pursue recruitment.
"Just because you can play college sports, doesn't mean you want to. It's a huge commitment and can really change a college experience." She also added that college counselors "can't assess athletic talent. That is not our expertise. Our expertise is the admissions process, but even though the application process doesn't formally begin until junior year, we're here."
If you're thinking about, starting, or in the thick of the recruiting process, here as some words of wisdom from fellow Romans:
Nora Goodwillie (Junior, rowing) – Don't rush it! You should really just be focused on what your own process looks like, and don't let anyone/coaches pressure you into any situations that you don't want—you have the control.
Ava Torterello (Senior, Arizona Volleyball) – Your time will come! You can really do anything you set your mind to. Never make excuses like "I'm too short," "can't jump high enough," stuff like that, because really anything is possible. I'm 5'7" and people thought, even myself, that I would never play at as big of a school as Arizona, and even in the PAC-12 Conference. You can really do anything if you work hard enough.
Ryan Kramer (Junior, Baseball) – it is never too early to start your own process.
Natalie Mann (Senior, Johns Hopkins Basketball) – Focus on the present and don't get too caught up in the future. Remember, everything that's meant to be will be and you'll end up exactly where you're supposed to. Work as hard as you can, but don't stress yourself out over things that are out of your control.
Sam Gibson (Junior, Soccer) – Start the process early. It's never too early to get on a coach's radar. The future of recruiting with COVID is unpredictable, so don't get discouraged.
Eli Aronson (Senior, Denison Baseball) – Be persistent with coaches. They get billions of emails a day, so if they don't respond they probably didn't see it. The worst thing that could happen is they say no.
Peter Bernhardt (Senior, Kenyon Track and Cross Country) – Be patient. A lot can change really fast. For me, at least, I didn't think I was going to run in college until my junior year. One really good season or one really good race can change a lot. But I'd also say that it's important to be proactive. No one is going to do the work for you, and no one is going to start communicating with the coaches for you. Unless you're the best in the nation, you're probably not going to get nationwide attention, so it's really important to reach out to the coaches at the schools you're interested in.
View Comments (1)
About the Contributor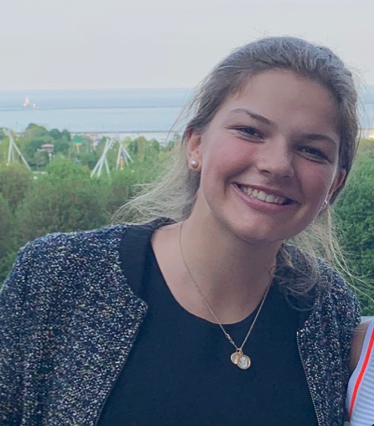 Charlie Williams, Sports Editor





Charlie Williams ('22) is very excited to contribute to ​The Forum​ as a Sports Editor. She has written for ​The Forum​ since the beginning...