The Class of 2021 Can Consent, but Then What?
Sex: perhaps the most cringe-inducing conversation a teacher can have with a group of high schoolers. Some students giggle with their friends out of uneasiness, while others sit silently, hoping to seem sage and knowledgeable about a topic that is equally daunting and mysterious to them. The whole room is uncomfortable, and the students—as well as the teacher—can't wait to get the conversation over with. 
But this feeling is unknown to many in the class of 2021, as none of the current seniors have actually undergone any traditional nuts and bolts sex education curriculum while attending Latin's Upper School. While Latin middle schoolers received a six-class sex ed course—split up by gender for some classes, as the students were too immature to not make jokes, it that's at all indicative of the level of conversions or knowledge that students had as middle schoolers—nearly half of the graduating senior class entered Latin as freshman, and many did not receive sex ed at their middle schools. So even though most seniors can recall the numerous consent workshops, most memorably, the "Don't Drink the Tea" video, the class of 2021 has never actually been taught the basics of what they are consenting to. 
While understanding consent is essential to any sex ed curriculum, it's far from enough to empower young people to make informed decisions about sex. Senior Carter Goltermann hit the nail on the head: "It was sort of just 'if you give consent everything is fine,' and that's not necessarily the case."
The irony here is a little hard to ignore. Upper School science teacher Amy Merrell, who is currently in charge of Latin's sex education program, chuckled at the situation. "I don't want to say it's funny, funny," she said, "because it's also very sad." 
A typical grade at Latin undergoes a 10-class sex ed course that Ms. Merrell teaches in their freshman year. In those 10 classes, Ms. Merrell's goal is twofold: "One is to get everyone on the same page, because half of you come from Latin and then a variety of other middle schools, so the goal is to make sure we have some common language, some common information coming into Latin. Gender, sexuality—let's just all get some words and terminology." The second is to simply increase students' ability to have conversations. "I think everyone can acknowledge that there is some discomfort talking about these things," Ms. Merrell said. "And so, if you're coming in to Latin at [level] zero, I want you to be like at a level one."
But somehow, in the shift of moving sex ed from older grades to freshman year, the current seniors missed the class. In the class of 2021's junior year, Ms. Merrell tried to design short Q&A programming over a series of grade-level meetings and advisories. "I was like, these kids need something. 'What can we do?'" explained Ms. Merrell. She admits that she "knew that it was not going to be enough, but something is better than nothing."
These Q&A sessions were well received, and many seniors found them very helpful, as Ms. Merrell's plan would have given the class of 2021 at least some basic knowledge. But, these conversations began only in February, and come March, Latin went remote, and it became clear that giving the class of 2021 sex ed was no longer a top priority. 
However, Latin has been able to run a consistent consent education program for the class of 2021. Counselor Ashly Lawrence, who is currently finishing her doctoral degree in Counseling and Clinical Supervision and writing her dissertation on female sexual agency, organizes the program.
The program, which is run through a series of speakers and conversations facilitated during community time at Latin, is grade-level specific. According to Ms. Lawrence, "The goals of [the Upper School consent] comprehensive program are to normalize conversations around sexual health and safety by providing inclusive, affirming, and accurate language, and to help empower students to engage in safe and healthy sexual relationships." 
In a regular school year, the seniors undergo extensive consent programming which "focuses on a transition to sexual consent on college campus with a focus on awareness of campus sexual assault resources and how this landscape changes on college campuses," according to Ms. Lawrence. Usually, the entire class watches the movie It Happened Here—a documentary that explores sexual assault on campuses through personal testimonials—and participates in conversations facilitated by the counseling department. This year, the screening will be virtual and on seniors' own time, and they and their parents/guardians will be encouraged to participate in a Zoom conversation unpacking the film on April 29. 
But is more consent programming what seniors need? "A rather humorous misconception that I've heard in the past was a guy who thought that girls used the same 'hole,' to be crude, for peeing as they did for sex and giving birth," said senior Henry Coleman. Maybe some basic anatomy education would be best.
When asked what he wished he'd gotten out of Latin sex ed, senior Eli Aronson responded bluntly: "A class. Just a class, I don't know. We didn't even have a class, somehow."
When asked where they've learned most of their information about sex, seniors cited older siblings, friends, middle school sex ed classes, and, most commonly, the internet, as seniors feel it is less embarrassing to Google questions than ask a peer or adult. Senior Olivia Katz, though, expressed her concern for her class's lack of robust sex education, saying, "I'm lucky to have my older sister and a mom I feel comfortable enough talking to about this, but I know that for a lot of people that's not the case."
Carter, who, as a result of moving schools multiple times, never underwent a formal sex ed curriculum at any school, echoed Olivia's concerns, saying, "When we reached biology, everyone was a bit confused about female anatomy. It's funny but also concerning when you hear certain statements from boys that make you really think they don't understand what a period is or how women have fun during sexual experiences." 
Carter feels that her male classmates may not be as educated as they think they are in the way female bodies work, and that girls are better educated on male anatomy than vice versa. "If female anatomy was talked about more at length, I think boys would probably practice safer sex, because they'd realize how easy it is for girls to get pregnant, and I don't think that's really talked about enough."
Seniors also expressed concerns about the consent education they received at Latin. Oliva recalled the class of 2021's first consent workshop, where students watched the "Tea Consent" video, in which giving consent is compared to whether one should drink hot tea, and suggested that it did more harm than good. "If that's the first experience we had talking about consent, of course it's gonna seem like a huge joke to everyone in our grade when we're watching a funny animated YouTube video." She said she feels that future consent workshops were overshadowed by that video. "I wish that we had more serious conversations about consent. Especially being a girl who is going to college, I think that's really important to talk about, and I'm a little disappointed in the resources we've gotten through consent workshops at Latin."
Carter pointed out the programming's rigidness, and how in many cases it could very well not be practical advice for future college students. She explained, "The consent classes were nice to have, but they put it in such a blunt and obtuse formatting that I don't think is really that rational, because they say 'if you have a sip of alcohol, you can't offer consent,' which I just don't think is practical in the real world." She continued, "I think there are situations that teenagers could use help navigating that weren't touched on."
Multiple members of the class of 2021 emphasized their concern for their own class, and how for many seniors, it may be too late. Some mentioned having friends and classmates who were having sex freshman year, and worry that they were unprepared for that experience at the time. Others expressed concern whether their class has learned basic safe sex practices. "I do think that there are a lot of misconceptions about STIs and how they can be transmitted," said Henry. 
Carter reiterated that sense of concern. "We talked so much about the consent aspect, but we never reached the point of what happens after you give consent, and I think that a lot of teenagers could use a sex ed course to talk about how to prevent pregnancy, how to prevent STDs." 
Henry and Eli both agreed that they were not displeased with the consent education they had received, but question if sex ed and consent were taught cohesively. "I think that it was probably a mistake to not coalign consent speakers and lessons during a gathering or advisory with sex ed," said Eli. 
Henry added, "Latin should make consent a pretty substantial topic in whatever sex ed they do offer to students. I think that understanding consent is a hugely important part of sex ed, and so I'm not complaining at all about how many workshops we've had around it."
Every senior who was interviewed expressed some level of concern for their class. "I think I just worry about our class as a whole," Olivia said. "I know I was able to get some sex ed in other places in my life, but I don't know everybody's sitatuation, and if people aren't getting sex ed from Latin, I don't know where they're getting it from."
Currently, there is no plan to provide seniors with sex ed before they depart Latin. Ms. Merrell noted, "We also have knowledge that you learn things from a variety of sources, too. So I'm not going to pretend that like, 'Oh, you didn't get sex ed with me, so you don't know anything,' because that's just not true."
When asked what information Ms. Merrell hopes the senior class has learned at some point in their high school journey before college, she noted two main concepts. "One, a general awareness of your body and how your body works. Two, I think some kind of sexual autonomy and agency, so that you have some kind of knowledge and you understand yourself enough to know what you want and what you don't want and how to communicate that with someone else."
Ms. Merrell did highlight that priorities are always shifting. "Is it more important to focus on your mental health with COVID and being remote and ending your senior year on a high note and all of that kind of stuff over sex ed? Maybe," she said. 
For the sake of the class of 2021, let's hope they've learned—from whatever source it may be—the basics of what safe sex and consent look like as they depart Latin this May.
"Consent is the first step, but there's so much more once you have consent from two participating parties that should be discussed in a high school setting," said Carter. An understanding of safe sex practices—as well as an understanding of consent—is one of the most important skillls students need coming out of high school to navigate the collegiate world. Olivia finished her thoughts by concluding how important it is for sex ed to be taught in any high school. "Unless sex ed is forced upon you, which I think it should be, nobody is going to the conselor and saying, 'Hi, can you teach me about sex?'"
View Comments (1)
About the Contributor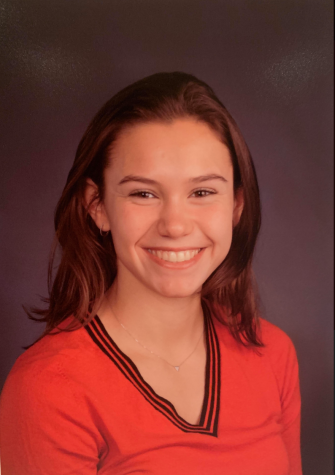 Marianne Mihas, Sports Editor





Marianne Mihas ('21) is one of ​The Forum'​ s first two Sports Editors ever. She is the captain of the cross country and track team as...