Chess Team Wins 1A State Championship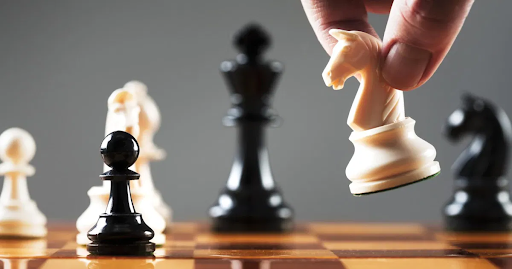 The Latin chess team has won the IHSA 1A State Championship! The tournament, which took place on February 12 and 13, was held virtually, but players had to play from the same location, and coaches had to monitor players to make sure no outside help was used. The Romans competed from the Learning Commons on both days of the seven-round tournament—on the first day, playing from 1 to 8:30 p.m., and on the second day, from 9 a.m. to 7:30 p.m.
For those who don't know how state chess works, here's a short description: Every team has eight players, each of whom plays a board. Your best player plays Board 1, which has 12 potential points attached to it. Board 2 has 11 points, Board 3 has 10 points, and so on. A win gets you all the points, a draw half, and a loss none. The first team with more than 34 points wins the match. Unlike other IHSA state contests, teams from 1A to 6A all compete against each other and are broken into size classifications only at the end of all seven matches played. This year, 133 teams entered the Chess State Final across the six divisions.
The Latin roster consisted of seniors Waleed Bitar (Board 1), Matthew Shrake (Board 2), Mark Miller (Board 3), and William Furlow (Board 4), junior Collin Dwyer (Board 7), and sophomores Eli Elterman (Board 5), Anton Schuster (Board 6), and Max Liss (Board 8). The team is coached by Upper School science teacher Felix Amankona, who spent the entirety of his Friday and Saturday with the team monitoring games. The team expressed its gratitude for him in an interview. 
The team had high hopes for this year. William said, "We knew that we definitely had a chance, because [we were] in 1A with other schools that were like us, and last year we were in 2A." Anton added, "We knew we would do better, because the year before we lost a majority of games to really good seniors. But now those seniors from other schools are gone, and we excelled."
However, given the long weekend, travel plans, and COVID hesitations, the team could not field a full eight-player squad for every round. "We actually ended up playing down a few people at certain points in the match, which was a little disappointing because we were worried that it could affect us, because this year we had a really good chance of doing incredibly well," said Waleed. 
On day one—the shorter game of competition—Latin came to play. "Day one, I would say we showed up," said Waleed. "We didn't get the turnout we wanted, but you know, we were still gonna play our game."
And play they did. Game one for the Romans was an easy 57-11 win. But game two was a different story, with little Latin up against the mighty #4 seed, Evanston Township High School. Although the Romans fought hard, they suffered a 12.5-55.5 loss. William admitted that "by the time we knew we were playing Evanston, we knew we were going to get throttled." Eli added that the team "didn't expect [to do] much better than that." 
Round 3, the Romans fell 29-39 to Aurora Catholic, a stinging loss to the team, which played down a player. "It was pretty hard to see that a team that we should have beat and, you know, that we could have beat, not pan out the way it should have because of COVID," said Waleed. "We tried to get anyone that played chess to show up if they could," added Waleed, but even after finding some new last-minute players, the team was told it could not change its lineup after the tournament had begun and was forced to play with only seven players. "I don't know if we were actually thinking about winning state at this point," said Waleed.
But the team shook off the two losses and tried to spin the situation positively. "It ended up not actually being terrible, because being 1-2 affected our seeding, so the next day we were able to play less good teams and get some wins," explained William. And while chess isn't the classic "hype sport" in William's words, the team members still gave each other support. "The motivation is more 'you got to persist through the long days,'" said Waleed. William added, "After [games], we help each other, analyze our games or, like, bully each other for bad moves that we made, stuff like that" to keep the mood in the room light, energized, and focused.
This positive attitude and fortunate seeding translated into three commanding wins for the Romans, beating Chicago Heights 62.5-2.5, then Bolingbrook 55.5-12.5, and Plainfield North 40.5-27.5. The team was rather content with its performance thus far, Eli pointed out, saying, "At that point, we were pretty happy to be 4-2, because last year we only got three wins out of state."
The Romans' final match of the tournament was against #15 seed Glenbard West. "Going into the fourth match [of Friday], I think we had calculated all the possibilities that there were for us to win," said William. "If we won the fourth game, we knew that there was no chance that we would lose, no matter what any of the schools did."
With the win on their minds, the Romans played their best, but it was far from cruising. Waleed said, "We all knew that essentially if we win this, we won state. So we're all super focused. But as the game goes on, we start losing boards. I mean this super tough team. And then we'd look at the scoreboard, and, you know, it's not looking too hot for us. … I think it's 24 to 0 at this point, they need 10 more points. They were sweeping us at this point," emphasized Waleed. Additionally, 12 hours of online chess is not something to take lightly. "The hardest thing in online chess is just staying focused because there's so many distractions," said Waleed.
But even though the team had lost four boards, it still had a chance to win. Matthew and Mark were able to pull out wins on Boards 2 and 3, so the fate of the game lay in the boards of Waleed and William on Boards 1 and 4. Between the two of them, they needed a win and a draw.
However, Waleed wasn't aware of how close the Romans were to victory. "I was just playing my game, trying to focus. I thought we had already lost the match. So I'm just playing my game for fun at this point," said Waleed.
But William was more aware of the situation. "I kept walking behind Waleed, checking his board, because my opponent had offered a draw, and I was wondering if I could accept or not based on whether or not Waleed was winning, because if he was clearly winning at that point, then I'll accept the draw because then we have a really good chance of winning," explained William. "But Waleed was looking pretty even when my opponent first offered the draw, so I had to reject that."
Nonetheless, Waleed, who ended up winning five of his seven games, was no stranger to challenge, and his team never lost faith in him. "Waleed's opponents greatly varied in strength, as there is no upper bound for Board 1," said Eli. "What I mean by that is schools sometimes have an exceptional player as Board 1 and mediocre players for Boards 2 to 8. This makes Waleed's role as captain and Board 1 a lot more difficult, making his performance even better than what it seems."
It was looking grim for Waleed, but he managed to turn the game around. "I don't even know what he did. He did something nasty to his opponent that gave him the win," said William. Collin echoed William's same sentiment of chess awe. "It looked like he threw the game from my perspective," he said.
Waleed explained it slightly more eloquently, saying, "I actually was planning to take a draw in my game. But like I thought, what did I have to lose? I decided to go into a worse position. But we were both in time trouble. We'd been thinking for 80 minutes now, because I had three minutes on my clock and my opponent had one. And so we're making moves super quickly at this point. So I went into this position that's tough, but it actually turned out it was difficult for him to defend. He made one wrong move. And then I somehow was able to, to just get the win in a super tight position."
While many of the team members had gone home after a long day, the Learning Commons was still an energetic place in the moments after Waleed's win. Waleed described the moment, saying, "I get up, I'm pumped, you know, I give a fist bump 'cause I won my game, and I should not have won my game because it was super close. But then Furlow and everyone else, they're all jumping up and down and Amankona is pumped, and then they tell me that we won state. And so we were just all super happy. I guess something that we never expected." He concluded, saying, "Winning state as a team my senior year is an experience I will cherish for a long time. I started playing my freshman year, and to see where I have and where the team has arrived is truly special. Although I didn't make the memories I intended to make, I gained something that I could've never expected."
Coach Amankona said, "It was an incredible accomplishment for a school of our size since we compete with all the schools statewide," especially in such a challenging year.
Waleed noted that practicing this year was tough, making their run even more admirable. "Practicing as a team online was a challenge, and after a few practices, it became apparent that it wasn't practical, because almost everyone was at a different level, and the teaching was only able to target a few," he said. This forced them to practice and improve by themselves. Waleed said, "I have spent most of my time learning from material from the internet, so I felt that I was still improving."
Now the chess team knows it's time to rebuild, as it is losing its five top players next year (typically, senior Tushar Patel also plays on the team). However, the future of the team looks bright, according to Eli. "With the new publicity from our recent victory, combined with the new increase in chess players largely from streamers and 'The Queen's Gambit,' we hope to see many new players," he said. "While I doubt that we will match this year's performance, I hope that the next few years are great."
Eli emphasized the team would love to find new members for next year, particularly some girls and incoming freshmen. He stressed the low commitment of the team, and that people of any skill level can join the team and learn the game. Coach Amankona echoed Eli's sentiment, saying "We have some strong players like Eli Elterman, Anton Schuster, and Collin Dwyer, but we are going to need more players to join the team and practice hard to defend our title next year.
For now, they are just excited to celebrate the win. "I think we'd get a trophy, at least I hope so." said Waleed with a smile.
Leave a Comment
About the Contributors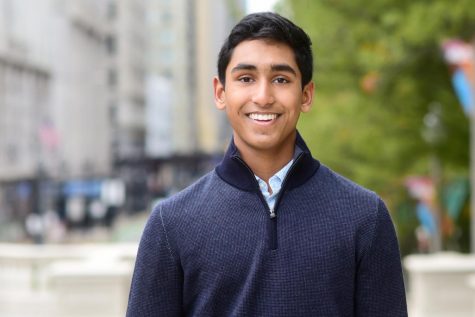 Akshay Garapati, Sports Editor
Akshay Garapati ('23) is excited to be serving his first term as the Sports Editor for The Forum. Previously, he served as the Opinions Editor. Editing...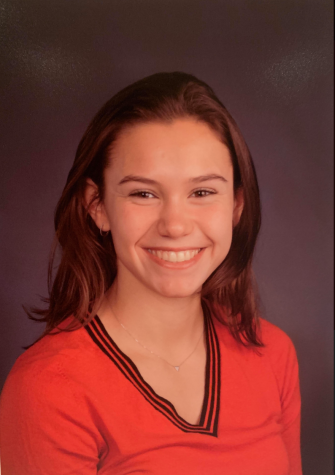 Marianne Mihas, Sports Editor





Marianne Mihas ('21) is one of ​The Forum'​ s first two Sports Editors ever. She is the captain of the cross country and track team as...