Fact or Fiction: Latin's Thanksgiving Curriculum
On a late Thursday each November, American families traditionally come together over turkey, cranberry sauce, and pie to discuss what they are thankful for. Over time, however, more Americans have begun to question the integrity and historical context of Thanksgiving. In recent years, many schools have made changes to their curriculum to more accurately portray the history behind this American holiday; however, it's unclear to what extent Latin has done so.
Upper School history teacher Kristin Gulinski teaches about myths versus reality in history, which can apply to the history of Thanksgiving. "A lot of topics that contain myths can be a misinterpretation of an event," said Ms. Gulinski.
For example, when the pilgrims first arrived in North America on the Mayflower, the Wampanoag tribe taught them basic life skills, and they celebrated by sharing a meal together—the first Thanksgiving. But after the meal, the pilgrims wanted the land to themselves and committed mass genocide of the Native Americans. When celebrating Thanksgiving now, many people do not think about the devastating history of this holiday. Additionally, the pilgrims and the Wampanoag tribe also did not eat turkey at the first Thanksgiving. It is believed that the tradition of eating turkey began during the 1800s because turkey was so easily accessible.
Reflecting on his experience at Latin, freshman James Weiss said, "We never really did anything super prominent relating to Thanksgiving. When I was in the Lower School, we mostly just did turkey hands and that kind of thing. We never talked about the indigenous people."
Similarly, Taylor Hurt '19 explained that while Latin may have touched on the true history of the holiday, it was overshadowed by the various activities accompanied by the lesson. According to Taylor, one of the most memorable events when learning about Thanksgiving was Pioneer Week, which took place in third grade.
"Pioneer Week was the week before Thanksgiving, and we would all come to school in pioneer clothing such as big skirts and bonnets," said Taylor. "Our desks would be apart rather than in clusters. If you did something bad, there was a circle on the whiteboard, and you would have to put your nose there."
Some may wonder how this could be seen as educational since Latin was not teaching the origins and the impact that the original Thanksgiving later had on so many indigenous people.
The Forum reached out to both Lower and Middle School teachers to hear their take on Latin's Thanksgiving curriculum but never received a response.
However, the curriculum does continue to evolve throughout the years. "I can tell you that we talked about pilgrims, hand turkeys, and Native Americans when I was in Lower School from 1977 to 1985. All of the stereotypes," said Middle School American Studies teacher and Latin alumnus Rob Wellen, who graduated in 1992. "Classic whitewashing."
Pioneer Week is also no longer a part of the Lower School's Thanksgiving celebration. "My brother is currently in fifth grade, and when he was in third grade, [Pioneer Week] was not a part of the curriculum anymore," James said.
Taylor hypothesized that Pioneer Week is no longer a part of the Lower School experience because teachers want to advance the curriculum and focus more on the true history of the holiday.
Overall, some in the Latin community feel that the school should continue to develop its Thanksgiving curriculum to make it more politically correct and pay homage to everybody who was affected by the first Thanksgiving.
"I think that the curriculum should be adapted to tell the true story of Thanksgiving and not just the various traditions that go along with it," said James.
Leave a Comment
About the Writer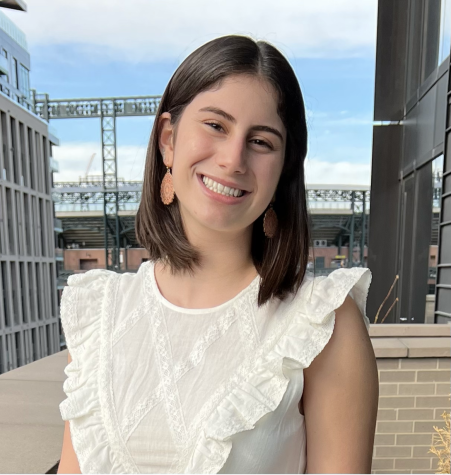 Eliza Lampert, Editor-in-Chief
Eliza Lampert ('24) is a junior at Latin and is looking forward to serving as one of this year's Editors-in-Chief. During her time writing for The...