Divide Develops Between In-Person, Virtual Students
Administrators promised, in early October, to deliver an in-person instruction experience that caters to the needs of students physically attending classes as well as those whose circumstances necessitate continued "e-learning." The resulting model, which launched Monday, consists of socially-distanced students learning in person while a wall of transcendent Zoom people—often displayed on a Smartboard—observe the classroom through a webcam.
Though viable in theory, this blending of virtual and real-life students has led to an unusual sense of division within the student body, as students who physically attend school appear to receive a preferable experience to that of students who take classes from home.
"I felt like, while the teachers did their best to accommodate students' needs, there was still a disconnect between those in person and those attending through Zoom," said senior Bella Campise, who attended classes from her bedroom. "For example, teachers would face the class and address them, so the students online would just be looking at the back of their heads, making it less engaging."
"It almost feels as if I'm watching a surveillance camera trained on the class," echoed Julia Hanson, also a senior. "I feel a divide between in-person and virtual students; I have found it much more difficult to participate and engage with an in-person class through Zoom."
One catalyst of this divide was unreliable technology. Senior Sam Szykowny said, "My partner and I couldn't hear the teachers' instructions, so when we were in a breakout room together it was hard to figure out what we were doing. And we couldn't hear answers to questions when the in-person students would talk."
That said, some classes, likely due to the varying acoustics in larger and smaller rooms, saw more success. "To my surprise," said senior Matthew Shrake, "my classes were run without any major interruptions. The microphones worked very well, as I could hear everything the teachers were saying and almost everything the students were discussing."
According to Head of School Randall Dunn, all students are expected to attend classes in person, except for those—students like Bella, Julia, Sam, and Matthew—who "opted out of remote learning" in advance of the mid-October deadline.
"We know that students are eager for more in-person connection with faculty and with one another," he wrote. "We are concerned about the effects of isolation and now have reconfigured space to enable the presence of an entire grade level on campus. Our external metric [Chicago] is well below 400 cases/day."
In the time since the writing of Mr. Dunn's email, the coronavirus has tightened its grip on Chicago residents. Illinois Governor J.B. Pritzker ordered the closing of indoor dining areas around the state, while Mayor of Chicago Lori Lightfoot announced a curfew on all nonessential businesses. As of November 1, cases in Chicago have risen to 931 per day, more than double the "external metric" that the Latin administration cited.
Even so, in-person school last week—which began with the seniors on Monday and Tuesday—reflected careful, deliberate planning on the behalf of administrators. Students were assigned to socially-distanced desks in large, repurposed spaces like the theater and band room, and ate lunch in spaces like the Field Gym and loggia at tables spaced well over six feet apart. Teachers wore masks and stood across the room from students, attempting to simultaneously deliver instruction to real-life students as well as those at home.
Students, of course, aren't the only ones who face a steep learning curve when adapting to the school's latest education model. "It definitely added another layer of classroom management to what is already rather unfamiliar territory," said Upper School math teacher Chris van Benthuysen. He explained two steps he has taken to ameliorate the classroom divide: first, placing his laptop screen (opened to Zoom) within his line of sight towards the in-person students; second, remaining cognizant of the need for balance between the in-person and virtual groups during discussions.
"It will take several in-person class days for me to feel like I'm comfortable with how best to navigate the hybrid mode," said Tim Kendrick, an Upper School math and economics teacher. "Do I look at the in-person kids? Look at the camera? What's right?"
Leave a Comment
About the Contributor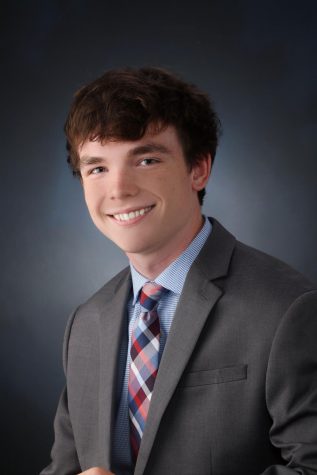 Peter Jones, Editor-in-Chief
Peter Jones ('21)  is a senior at Latin and is ecstatic to be serving as Editor-In-Chief for his second consecutive year. The Forum means everything...