Pod Learning is the Way to Go
Latin's inability to get its eldest students back into the classroom has left its high schoolers without their much needed daily dose of social interaction. These students, who may arguably suffer the most from the effects of the loneliness this pandemic has caused, are left to learn, once again, from their bedrooms and kitchens—alone. So how are teenagers combating this isolation? For some, the answer is pod learning.
Many students across grade levels have created groups, or "pods," of friends to do online school with each day. Rather than hopping off their first Zoom class at 10:20 a.m. only to sit completely alone in their rooms, students can chat with their friends, debrief their last class, or collaborate on assignments. McLaine Leik, a sophomore who is part of a six-person pod that rotates doing school at each other's homes, said, "I mean the other option, the alternative, would be sitting by yourself at a desk all day, which I think drove everybody crazy last year, including myself."
Even the simple change of scenery makes a difference in the way McLaine views her day. "Just getting out of the house and having a place to go for school and being with friends is so nice, and that's a big big benefit of doing pod learning," she said.
Jenny Stevens, one of Latin's counselors, emphasizes the importance of having a daily routine. "You're going to brush your teeth and put clothes on in a different way probably when you see (friends)," she said. "You aren't going to stay in your pajamas all day."
Lucy Norris, a junior who is part of a three-person pod, said, "It makes us feel like we're actually in real school, and we have similar classes and we just like to do homework together."
According to Ms. Stevens, a sense of grief due to this loss of normalcy is to be expected, given that students are not in a real classroom together. "This is not just having a bad day, this is a very serious landscape," she said. "You guys are not meant to be home this much!"
There is a vast amount of research backing Ms. Stevens's sentiments. According to the CDC, in late June—after the most intense part of the quarantine had passed—an estimated 40% of teens in the U.S. were either struggling with mental health or substance abuse, which is double the previous national average of 20%. And this 20% who were already experiencing difficulties struggled the most of all in the new environment. A study of 2,111 adolescents in the UK who had mental health conditions before the pandemic found that 83% of them reported that their mental health had gotten notably worse during the pandemic.
"This is not easy stuff," said Ms. Stevens, reiterating that many students are feeling some amount of sadness and stress at this time. "When kids lack peer interaction, there is a void, there is grief, there is a loss. Kids should know that this is a big, big deal."
It is important to acknowledge that not everyone can participate in pod learning, given the coronavirus. There are certainly students—for a great number of very valid and pressing reasons—who cannot learn in pods, as the coronavirus has not affected everyone equally. But it's still important for everyone to get a break from computers. "A reset could be eating a family dinner or going to Dairy Queen," said Ms. Stevens.
Those learning in pods have far from thrown caution to the wind. McLaine said her pod "decided what amount of people we thought would be safe, so that's why we set on six people. We're not planning on having any more people, just because if it gets too crowded or too high of a number then there would be more risks."
Lucy and her pod have discussed how they plan to reduce risk as well. "We usually work outside or with doors open because it's just nice out," she said. "We've also only really been seeing each other, so we've created our own 'safe pod.'"
While each student and family should make a decision based on their own situation, pod learning may be the best way to maintain a sense of normalcy and good mental health during this time of remote learning.
Leave a Comment
About the Contributor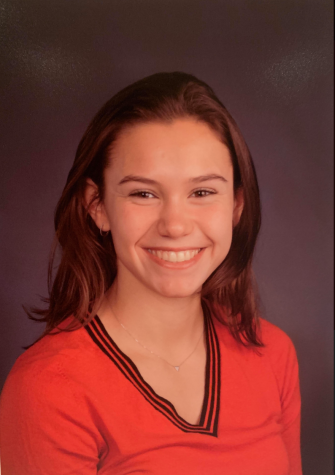 Marianne Mihas, Sports Editor





Marianne Mihas ('21) is one of ​The Forum'​ s first two Sports Editors ever. She is the captain of the cross country and track team as...