The Elmer Legacy: Latin's Largest Bequest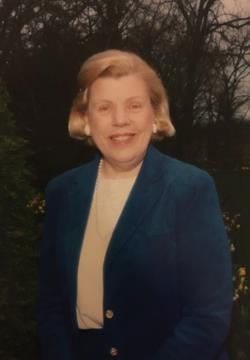 It is incredibly rare to find a teacher who devotes so much of their life to improving the lives of their students, let alone one who continues to do so even after her passing. Former fifth grade teacher Nancy Elmer left an extraordinarily generous estate gift to Latin (valued at more than 1.5 million dollars). Elmer's contributions, specifically reserved for lower school financial aid, amount to Latin's largest bequest to date.
Nancy Elmer, in every way, embodied the lower school motto: manners, kindness, and civility. Beginning her time at Latin in 1963, Elmer spent much of her adult life around the Lower School, honoring Latin's traditions while simultaneously creating her own. Many of her former fifth grade students will never forget their memory mapping project, which remained a part of Latin's curriculum long after Elmer's retirement in 1995. She never had any children but loved each of her students as though they were her own.
"Ms. Elmer was her true and authentic self at all times and made an effort to connect with each one of her students. It was always evident that she believed in their abilities and in the school's mission" said Anne Hobbs, Latin's director of development.
"I'm not a bit surprised by this gift. Nancy always wanted everyone to have the opportunity to experience Latin, regardless of their financial situation," said Jan Wilson, Elmer's longtime colleague and friend. "She was the ideal independent school teacher. I remember her needlepoint project while her students studied the colonial period. She would always schedule it around Mother's Day, so that the kids could give their finished product to their mothers. She was so thoughtful in that way," continued Wilson.
In addition to valuing her the wellbeing of her students, Elmer cared immensely for her fellow faculty members. "It was always important to her to acknowledge the lower school faculty for taking care of one another, whether it be the passing of a faculty member's loved one, making a memorial donation, and making sure holiday gifts were given to the Lower School staff and facilities team on behalf of the faculty," said lower school assistant Pauline Brakebill, who also worked alongside Elmer.
Elmer remained a Roman for the entirety of her life. "She absolutely adored working at Latin. We, of course, remained in touch after her retirement, and she would always ask about the school's new programs and developments," said Wilson.
"The Lower School will benefit greatly from Ms. Elmer's gift, which makes it possible for talented students to attend Latin who might not otherwise be able to do so," concluded Brakebill. Ms. Elmer's bequest is a true culmination of the 32 years of service that she dedicated to the lower school. Her legacy will always live on in her former students, her colleagues, and throughout the halls of Latin.