Mr. McArthur Masters the Masters Pool
Upper School math teacher Zachary McArthur has brought all grade levels and staff of the Latin community together with the annual Masters Pool.
Mr. McArthur began the tradition at his former school in Boston. "I had such a good time that I started one up here six or seven years ago," he said.
The Masters Tournament in Augusta, Georgia, is one of the four major professional golf tournaments played each year. The 2023 Masters included 89 golfers. To participate in the Latin Masters Pool, entrants picked seven of those 89 golfers that they forecasted to perform the most successfully in the tournament. The pool participants with the lowest-scoring overall teams finished at the top of the leaderboard.
The Masters Pool was available to all interested members of the Latin community, including Lower School, Middle School, and Upper School students, faculty, and alumni.
"I am all for anything that is community building at Latin," Mr. McArthur said. "Especially things that bring faculty and students together, or different grades together. Even alums have reached out over the past few years saying they want to stay involved, which I think is really fun."
"Most people know nothing about golf," he said. "When I ask students to rate their knowledge of golf from a scale of zero to 10, most people say zero. … Most people pick off fun names or the names of the countries their ancestors are from."
For example, Upper School history teacher Debbie Linder ended up winning third place in the pool. "I joined this event because I like to participate in all school activities no matter how good or bad I am at them," she said. "I've never played nine holes of golf. I have to give Mr. McArthur props for making golf fun, even for those that know nothing about it. I felt guilty that I ended up being third place, but I also thought it was hilarious."
Running the Masters Pool hasn't been a low-effort activity for Mr. McArthur. On average, he takes four to six hours to craft his emails. But it's worth the effort.
Mr. McArthur said he believes that the Masters Pool brings a spotlight to an overall underappreciated sport at Latin. "I think that golf can be really exciting because it is a very different sport than your typical gym or field sport," he said.
The overall winner of this year's Masters Pool was Torey Calvert, Latin's Director of Advancement Services. Mr. McArthur described Ms. Calvert, in contrast to Ms. Linder, as a huge golf fan who has participated in the tradition almost every year since it was established. "When she sent her picks, she said that she has a really good feeling about this year," Mr. McArthur said.
Ms. Calvert praised the contest. "Like the Masters itself, the Latin Masters Pool is a tradition unlike any other, thanks to Mr. McArthur's enthusiasm and commitment," she said. "He makes students, faculty, staff, and alumni feel welcome, included, and celebrated throughout the tournament. It's so fun, and especially fun to be in the hunt on a Sunday."
View Comments(1)
About the Contributor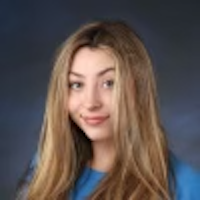 Lizzy Miller, Sports Editor
Lizzy Miller ('25) is a junior at Latin and is so excited to return to The Forum as a Sports Editor this year. This is Lizzy's second year writing for...