A Peek Behind the Curtain at Upcoming Student-Run Plays
One of the Latin community's most adored traditions is the iconic drama that takes place in the Wrigley Theatre, particularly a good ol' student-run play. And what's not to love? They've got the committed performers, talented directors, and astounding sets of any Latin play, only entirely done by students.
The most recent student-run play, a virtual performance of Clue, was directed by Frances Hutchison '21. And who can forget the equally memorable virtual performances by Brendan Myers '21 and Sophia Zubritsky '21 in Fools?
This year, the community is lucky enough to have not one, but two student-run plays to look forward to. The Actor's Nightmare is a short comedic play about an accountant named George Spelvin who is mistaken for an actor's understudy and subsequently forced to perform in a play, leaving him with no idea what to do or say—a true actor's nightmare.
The Actor's Nightmare is directed by seniors Anaitzel Franco and Cole Hanover, who said, "Anaitzel is actually one of my closest friends, and we've been talking about directing a student-run since junior year. I really feel like we speak each other's language and are a really great match for this project." After being in over 10 plays in high school alone, directing this play is nothing new for Cole.
And for some, choosing the play is half the battle. "One year, I was in Clue, which is a play that, yes, was a comedy but it still had dramatic tones throughout. That was important to me. I wanted to give the same opportunity to my actors," Cole said. Allowing for there to be complex character arcs and a deeper meaning behind the comedy gives the actors more dynamic roles and makes the play overall a more captivating experience.
But a true Latin play cannot come into action without crossing the desk of Upper School Performing Arts Director Frank Schneider. "My role is very administrative," he said. "I monitor and mentor, mainly. I sort of have conversations and try to guide them. They have a lot of autonomy in this, which they've all earned." He added, "Student-run plays differ from previous Latin plays because … they are peers working together instead of having this adult authority figure, so it's much more egalitarian."
Student-run plays allow students with busy schedules to fit in practice time regardless of outside commitments due to their small cast and crew. Senior Hugh McKee said he hasn't been in any previous Latin plays due to sports conflicts, but this year, he is part of the other student-run play, Virtual Congress. The play follows a high school civics class simulating the Senate while incorporating high school cliques and petty rivalries, ultimately derailing the Senate's agenda.
"There wasn't even a proctor in the room during rehearsals," Hugh said. "We really are allowed to run wild. I think that's why student-runs are such a fun way to connect with your peers, with your community. The cast personally is what makes it really comfortable and fun to take part in. They really care." Ultimately, the camaraderie on set keeps the actors and directors going through tiring, but fun practices.
Even though she is not in the play herself, freshman Hannah Danziger pitched in, giving her thoughts on student-run plays. "I think, for kids interested in theater, it is a huge advantage to be able to be coached professionally in school from such a young age, even if they aren't super mature," she said. "It gives kids a chance to be involved."
Whether it be high anticipation or even higher expectations, it's safe to say that across all grades, Latin Upper School students will be marking their calendars and saving the dates for these upcoming spring student-run plays to come April 13, 14, 20, and 21.
Leave a Comment
About the Contributor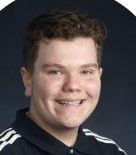 Ignatius Doherty, Staff Writer
Ignatius Doherty ('26) is a freshman and is honored to be joining The Forum staff this year. Having a lifelong interest in writing, he plans to bring a...