Plushies For Pediatrics: Junior Perry Hingsbergen's Nonprofit Organization
Plushies for Pediatrics is Latin junior Perry Hingsbergen's nonprofit organization that specializes in providing hospitalized children with comfort and joy through a special stuffed animal friend. Perry was inspired to create the organization after having spent a significant amount of time in the hospital himself.
In the summer of 2021, Perry suffered serious injuries playing soccer requiring reconstructive knee surgery. Naturally, before his operation, Perry was scared. However, Mr. Lemur, his childhood meerkat stuffed animal, came to the rescue. The support of a simple plushie helped Perry through his pain and anxiety leading up to his surgery.
Months after Perry resumed normal activities, he returned to the hospital and shadowed his doctor. Throughout the visit, Perry saw kids going through similar situations, but they lacked the comfort he had received from Mr. Lemur. This experience propelled Perry to create a nonprofit that benefited sick kids in need, particularly of a stuffed animal. Perry said he "cannot wait to see the smiles on [kids] faces when they get their new fluffy friends."
To Plushies For Pediatrics, Mr. Lemur represents everything Perry is working towards: comfort and security for hospitalized children in need.
Sophomore Valerie Mizerk-Thorrens commends Perry's mission. "I believe all children deserve comfort and support, especially when they are going through something so scary," she said.
Plushies for Pediatrics partners with La Rabida Children's Hospital, located on Chicago's South Side. As a frequent visitor of the hospital, Perry said, "La Rabida does not receive many donations or gifts for the kids, and I want to change that."
The hospital treats many children with long-term illnesses and disabilities in addition to victims of gun violence and abuse. Patients' families often cannot afford to stay with their children in the hospital, let alone pay for stuffed animals, but La Rabida takes in all patients with open arms, no matter the circumstances.
Sophomore Lia Ruiz said, "I will now remember to spread awareness and give back to people in these situations, especially since Plushies For Pediatrics makes it accessible to [do so]."
Plushies For Pediatrics hand-delivers stuffed animals to children in need. Even one stuffed animal can provide some much-needed comfort. Perry said, "It's also almost the holidays, and we can't imagine what it's like to be hospitalized and away from our family during that time, so hopefully we can give the kids plushies and some holiday cheer!"
To support La Rabida Hospital, its patients, and Perry Hingsbergen's efforts, visit https://www.perrysplushies.com/about for additional information.
Leave a Comment
About the Contributor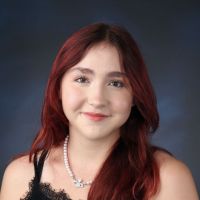 Kayley McCutcheon, Staff Writer
Kayley McCutcheon ('25) has written for The Forum since spring of her freshman year and will continue to share stories with her fellow Latin peers. The...