Entering a New Era: Latin's 2022-23 Boys Basketball Season
Ever since fall sports ended, basketball season has been around the corner and many Latin students have already signed up to play. But with a new and notably larger class of freshmen recently admitted to the Upper School and a rise of excitement around the sport in general, boys basketball has seen an increase in signups. This year alone, boys basketball had over 65 players try out. What do these signups mean for Latin's athletes, and how do these numbers affect prospective participants both new and old?
"In a way, I think basketball chose me as opposed to me choosing it," junior Ryan Mbouombouo, member of the varsity boys basketball team, said. "If it wasn't accessible to me growing up, I don't know where I'd be, so you could say seeing all of these new faces makes me happy. It shows that there's a good reputation of Latin's basketball, and it's especially exciting for me as a captain."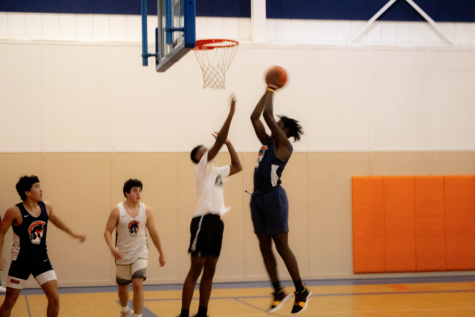 As Aidan Hart, a junior and former member of Latin's JV boys basketball team, put it, "Basketball isn't just a privilege. It's my main source of happiness, and I think it's good so many people are signing up. In past years, not everyone has been passionate about our basketball program, but now there's a clear sense of competitiveness. People want to get better because they have an understanding that they won't automatically make the team."
Similarly, freshman Josh Solovy said, "It's great that everyone wants to come out and play a sport, even kids whose first time it is playing."
Although the Athletic Department may have to create an additional team to accommodate the unusually large number of freshmen athletes, it's clear that among all these players, basketball is a passion, and it's one that they're more than happy to share.
Junior Calvin King, IV said, "It's been great to see that a lot of people want to play the sport. I hope I can help the incoming freshmen develop as players and get better so the school can continue being good even as I and other returning players leave."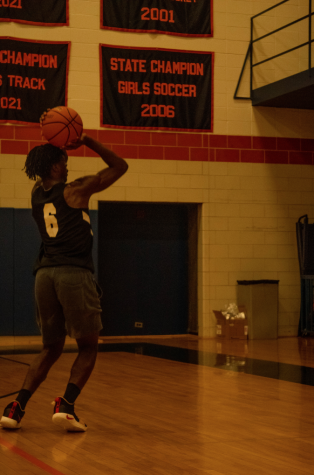 So while many returning and prospective participants may have considered the amount of signups to be worrisome, especially with the looming threat of cuts, the truth is that such an increase is welcome; the surge in applicants this year has noticeably encouraged many players to up their game and step onto the court with a new attitude.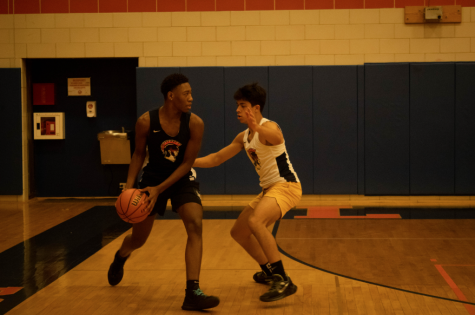 Varsity Boys Basketball Coach Aubery DeNard commented, "We are building a culture of togetherness, and players are working hard to establish a role on the team that promotes high levels of excellence, character, and integrity."
Following his message, Coach DeNard added, "To those of you who are worried about the upcoming cuts, [just] control the things you can and work hard. IHSA rules state that there are only 15 spots allowed at the end of the year, [but] we can provide different opportunities to be a part of the team if desired. In the past we have had students perform as student managers, video coordinators, and statisticians."
Aidan added, "Regardless of whoever gets cut, we are still very supportive of each other and won't let one another become discouraged by the decisions."
In the eyes of many returning players and even their coach, cuts are just a natural and necessary part of the game, but they're also preventable and far from the end of the world.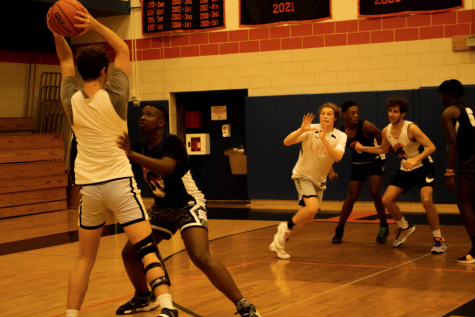 Calvin concluded with a message of inspiration. "If there's anyone who's reading this who has thought about playing any sport but is scared because of cuts, insecurities, or other requirements, I say go for it," he said. "Because while the outcome you may not want could happen, there's a possibility that the outcome you do want can happen instead. All you need is one 'yes' in your life and that one yes will blossom into something amazing."
And as Ryan put it, "Expect big things from basketball from here on out. Accessibility is the name of the game, and thanks to the coaches and players, we're undoubtedly moving in a new direction."
Leave a Comment
About the Contributor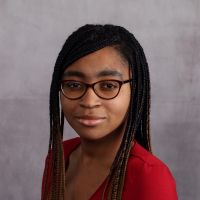 Cherish Curtis, Sports Editor
Cherish Curtis ('26) is a sophomore at Latin and is thrilled to serve as a Sports Editor this year. She understands the importance of preserving memories...