Latin Alum Douglas Diamond Wins Nobel Prize
Douglas Diamond '71 credits Latin School with helping him identify his academic interests, which ultimately led to an extraordinary career as a professor, pivotal research on banks and financial crises, and, just a few weeks ago, to his becoming a Nobel laureate.
Dr. Diamond was awarded the 2022 Sveriges Riksbank Prize in Economic Sciences in memory of Alfred Nobel by the Royal Swedish Academy of Sciences on October 10. His co-laureates were Philip Dybvig and former Fed Chair Ben Bernanke.
"I first got interested in social science from a course on constitutional law I took at Latin," Dr. Diamond said in a recent interview with The Forum. And as a part of an economics course at Latin, he read and "really enjoyed" an economics textbook by Paul Samuelson, the first American to win the Nobel Prize in Economic Sciences.
He did add, however, that he initially wanted to be a molecular biologist due the encouragement of his then-science teacher, Ellie Lambrakis, whom Latin's high school departmental award for excellence in science is named after.
But despite the best efforts of Ms. Lambrakis, a legendary biology teacher at Latin, Dr. Diamond was drawn most strongly to the social sciences. He was a leading force in establishing Latin's Economics Club, and he was also a staff member of The Forum.
Dr. Diamond recounted learning last month of his Nobel Prize, noting that he wasn't sure at first that the call was real.
"It was four and a half in the morning, and my phone suddenly rang. I picked up the phone and, after confirming that I was Douglas Diamond, was told that I had won the Nobel Prize," he said. "At first I was wary of it being a prank from a friend, but the person on the other side of the line passed the phone around to two other members of the committee, and it became all the more real."
Dr. Diamond, who earned his bachelor's degree at Brown University and master's and doctoral degrees in economics at Yale University, is currently a professor at the University of Chicago Booth School of Business. He initially joined the faculty as an assistant professor of finance in 1980, and was promoted to associate professor in 1983 and then to professor three years later. He was named the Theodore O. Yntema Professor of Finance in 1993 and the Merton H. Miller Distinguished Service Professor of Finance in 2000.
Dr. Diamond is considered a founder of modern banking theory. His research revolutionized the modern understanding of banks, especially during bank runs and other financial crises.
One of the research papers cited by the Nobel Prize committee in awarding Dr. Diamond the prize was one he co-authored with Dr. Dybvig in 1983 on "Bank Runs, Deposit Insurance and Liquidity." The paper provided a model demonstrating that bank deposit contracts can provide superior allocations to exchange houses, thereby explaining how banks subject to runs can attract deposits.
Diamond and Dybvig's model provides a framework for analyzing devices used to address bank runs and demonstrates that government-run deposit insurance can result in superior contracts. Their model demonstrates that banks issuing demand deposits can improve in a competitive market by providing better risk-sharing for customers consuming at different times.
Dr. Diamond is also recognized for his work on demonstrating how banks, as intermediaries between savers and borrowers, are best suited to assess a borrower's creditworthiness and to ensure that a loan is used for good investment.
Despite Diamond and Dybvig writing their paper in the 1980s, and Dr. Bernake's complementary paper on the Great Depression being published soon after, they were awarded the prize only this year. Diamond noted that his research became increasingly relevant after the 2008 stock market crash.
"For the last 15 years, [friends and colleagues] had told me that I was a contender, particularly after the 2008 bank crisis, as people began to increasingly prioritize bank crisis research then," Dr. Diamond said.
The Swedish Academy, in announcing the winners of the 2022 Nobel Prize in Economics, noted that "the actions taken by central banks and financial regulators around the world in confronting two recent major crises—the Great Recession and the economic downturn that was generated by the COVID-19 pandemic—were in large part motivated by the laureates' research."
When asked about how receiving the Nobel Prize might change his life, Dr. Diamond said, "I'm going to be expected to go to the awards ceremony in Sweden and write a speech for that, and having won the Nobel Prize, people are going to expect for me to talk about my research and all that." Beyond the more tangible changes, he also said that "people are going to start lending more credibility to my work, thinking that it has to be fact. It's better to have people be skeptical of your work. That way our understanding can keep on evolving."
With regard to his future research, Dr. Diamond noted that he is currently co-authoring a paper on the consequences of development in developing countries' financial systems with a fellow professor at the University of Chicago Booth School of Business.
As for what advice he would offer Latin students hoping to become as successful in their respective fields as he has been in his, Dr. Diamond said, "Try to think outside the box; don't solely spend your time extending what other people do. Don't worry about the level of success you're going to achieve. Do something you're good at and you like."
"Don't think too many steps ahead," he continued. "I honestly didn't think that I had any chance of tenure when I first became a professor at the University of Chicago, but I ended up applying, and it worked out great."
View Comments(1)
About the Contributor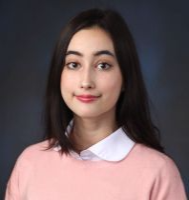 Sofia Grimm, Digital Editor & News Editor
Sofia Grimm ('25) is delighted to serve her second year as Digital Editor and her first year as News Editor. Her third year writing for The Forum, Sofia...