The Upper School Unveils Unique Additions to Its Curriculum
With the 2022-23 school year underway, Latin's hallways are bustling with excitement over new classes, teachers, and peers. In addition to the many courses offered last year, there are a variety of new classes offered to students this year spanning a wide range of subjects.
Four of the new classes are English electives, three are history, and two are science. Additionally, Advanced Topics in Math, and Visual Communications for Artists & Entrepreneurs will be offered this year after being canceled due to lack of interest last year. This year, even given the small class sizes, both courses are up and running.
Bioethics and Research in Molecular Genetics are the two new science courses. Students might recognize the latter as the Independent Study Project known as FLYSP, which ran for the first time last year and was a collaboration with a lab at Stanford. Students enrolled in the course build tools for scientists around the world to use. Upper School science teacher Geraldine Schmadeke said, "FLYSP was a way for me as a teacher to roll out the program at Latin."
In Research in Molecular Genetics, students develop their own strains of fruit flies. Certain types of flies, provided to students, must be paired together, leading to advanced genetic crosses. "The students in this class are doing authentic research, like post-graduate level research, that other scientists benefit from," Ms. Schmadeke said.
In addition to Research in Molecular Genetics, another science course rolled out this year is Bioethics. Bioethics has been previously offered at Latin through the Global Online Academy (GOA) program, but this year will be the first year it's taught in a Latin classroom. Senior Elizabeth Box, a student in Bioethics, said, "I love that my class is so diverse in opinions, and you really get that in a class like this. It makes me want to learn more about the world and everybody else's opinions."
Mexican American Lit., The Places You'll Go in Lit., and The Meaning of Life in Lit. are courses that were not taught last year but are available primarily to seniors this year. Upper School English Department Chair Kate Lorber-Crittenden said, "I usually teach [Mexican American Lit.] and was teaching Science Fiction and Social Justice, and [the English Department] thought that we were going to have to alternate what year [the classes] were offered." She added, "We made a different decision, though, and decided to run Mexican American Lit. in the fall instead of the spring, so now those can both run."
Ms. LC said, "We're thinking about what experience a student has in their English classes, freshman through senior year, and trying to make sure that we provide access to a lot of different genres, identities, and modes of engagement."
Ms. LC also mentioned that the English Department is already considering changes in the curriculum for next year. "We are thinking about looking at our 10th grade elective structure," she said. "We changed it a few years ago so it's that regional focus that it is right now, but we're going to be talking this year about whether it's doing what we were intending for it to do."
Ms. LC summed up the department's reasoning behind Latin's ever-changing curriculum. "We're trying to be really conscious about what we offer to students so that we're really giving everybody chances for windows and mirrors in their identities," she said.
For juniors, the newest English elective offered is a class entitled From Shackles to Shadows, taught by Upper School English teacher and Diversity, Equity, and Inclusion Curriculum Coordinator Brandon Woods. Mr. Woods created the elective when he first started working at Latin, but the class halted when he left. After being back at Latin for three years, Mr. Woods was eager to reintroduce the class.
Junior Payton Rice, a student in From Shackles to Shadows, appreciates the unique teaching style of the returning course. "Though we've only been in class for two weeks, I enjoy how it's very discussion based," she said. "We get to discuss the heavy and difficult topics associated with racism and slavery without fear of getting something 'wrong.'"
Payton noted the correlation between U.S. History, a course that all juniors are required to take, and From Shackles to Shadows. "It's such a large part of this country's history, and especially with how the history classes are taught now—which acknowledge the revisionist history that used to be taught—the classes work together," Payton said.
Concerning the structure of courses at Latin, Ms. LC said, "I think we like having a structure because that's one way we can gauge what a student's overall experience is and what they're engaging with by the time they graduate. But, I hope we don't have a permanent curriculum, because there's so much good stuff to read and so many great ways to engage with different stories. We continue to grow and shift and change."
Additionally, juniors and seniors have the opportunity to take Advanced Topics history credits this year. Some of the Advanced Topics courses cover the same material as previous classes offered but their names were changed to convey the difficulty of senior history electives. On the other hand, History of Schools and Society, and Drugs in History in Society are new, unique courses to Latin with a new curriculum.
History of Schools and Society is a first semester class taught by Upper School history teacher Lucie Wright. Senior Eve Drumm mentioned that of the history classes, it seemed like the one she could connect to most. "Given a lot of the disparities in public education today, I was also curious about equality (or lack thereof) in early education and how the purpose and content of that education evolved," she said.
Drugs in History and Society, which Upper School history teacher and Difficult Dialogues Coordinator Matt June teaches, will run during the second semester. "The class is based on a course I taught at Northwestern as well as my own dissertation research," Dr. June said, "and I am thrilled to finally share more of that work with Latin students! I initially proposed it before COVID, so it is great to finally have it running."
The History Department also unveiled a new sophomore elective this year. Geography: Humans, Spaces, and Places is a unique course because the department designed it to dive deeper into a concept only briefly touched on in many other history classes at Latin. Upper School History Department Chair Ernesto Cruz said, "When looking at what Latin students know, as a community, our geographic knowledge is weak."
Regarding the process behind modifying the history curriculum at Latin, Mr. Cruz said, "We're looking at what are the things we offer and what we think students need to have access and exposure to for us to feel good about what we've done in the department."
While the Upper School curriculum development is not a perfect science, one overarching idea holds true: The academic departments are always open to new ideas from students and teachers to diversify Latin's learning environment.
Leave a Comment
About the Contributors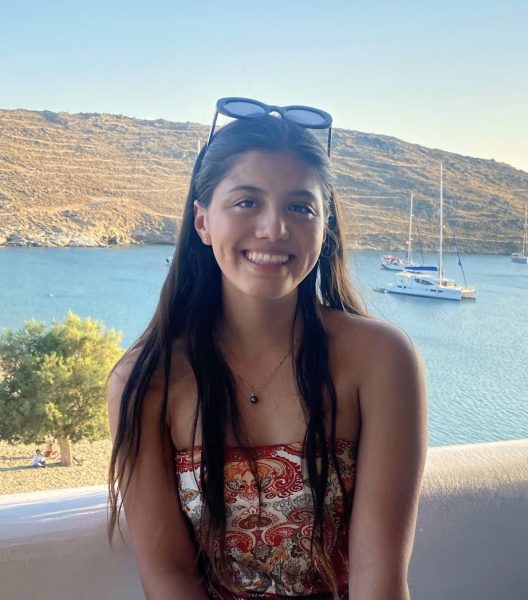 Ava Tse, Managing and Standards Editor
Ava Tse ('24) is thrilled to serve as a Managing and Standards Editor this year. Integrity and empowerment always come first in her journalism, and in...
Elro Starr, Illustrator
Elro Starr started illustrating for The Forum in her junior year and loves enhancing the work of our talented writers with creative visuals. She has been...