Boys Tennis Serves Up Another State Championship
Capping off an undefeated season, the Latin varsity boys tennis team captured the state title for the second year in a row.
All of the players who competed in sectionals qualified for the state tournament. The doubles teams that qualified included senior captains Will Benford and Sam Cutinho, as well as senior Preston Rutledge and sophomore Zuhair Alsikafi. The singles qualifiers were juniors Akshay and Kiran Garapati.
Latin won the state tournament with a total of 37 points, 10 points ahead of second place Lisle. Sam and Will won six matches to sweep the entire doubles bracket, and Preston and Zuhair won two matches. Sam and Will's final match was extremely close. With determination and perseverance, they were able to come back after dropping a set and win the doubles title.
Their victory marked the second year in a row that Latin brought home the doubles title as well as the team title. Last year, Akshay and Kiran teamed up to sweep the doubles competition.
This year, playing singles, Kiran placed fourth in the state, and Akshay placed fifth.
"Winning state ​felt even more satisfying than last year, and we are one of very few [high school] tennis teams that have ever won state in back to back years," Zuhair said. "It really is a special feeling, especially when you do it not only with your teammates but your best friends."
"We practice year round together and have chemistry like no other team," Preston added. "We even have connections with players in seventh and eighth grade, so we are constantly restocking talent. We're like a factory, constantly producing players better than any other team in the ISL, and we could even win while sitting our top three or four guys."
Senior Lucy Norris attended the state tournament to cheer on her fellow Romans. She said, "As it was my last time ever cheering on Latin as a Roman, it was a really important game for me. The energy was so incredible with everyone there, and you could feel how much everyone wanted the boys to win because we all knew how hard they worked to get to this point. And then when they won it was just so incredible!"
Lucy continued, "A bunch of people actually started tearing up seeing Will and Sam finally get what they had been working for all season, and Sam falling to the floor when they won was the icing on the cake to the raw emotion they showed the fans throughout the game."
Will said, "If COVID didn't happen, this would probably be our third year in a row, because the team was ridiculously strong during the pandemic."
"The team has been like a brotherhood almost," Sam said. "We have a really good connection during the season, and it leads to great friendships. We have great talent coming in from seventh and eighth graders, too, so we get to keep the wins rolling."
Will concluded, "Winning state was a full circle moment, because I'm not going to be playing varsity tennis in college and this was my last match and tournament ever, so to end it by winning the doubles bracket with Sam and also having a team win was a perfect ending to my career as a tennis player."
While Will and his fellow seniors will certainly be missed, the future appears bright for boys tennis. Stay tuned for their continued success next year—perhaps as the newest members of Illinois' large school 2A division.
Leave a Comment
About the Contributor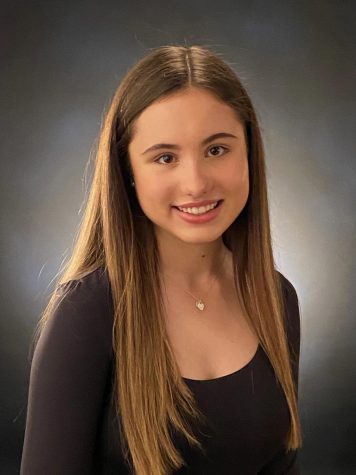 Lily Coleman, Media Editor
Lily "Pickle" Coleman (22') is a senior at Latin and is thrilled to be serving as Media Editor this year. In her time on The Forum staff, Pickle...