Violence Across the Nation Shakes Normalcy
Violent crime is soaring in cities across the United States, even in those with typically minimal amounts of crime, leaving many concerned for their safety. Violence is even reaching an all-time-high in Chicago, specifically in the Gold Coast neighborhood where Latin is located.
The Federal Bureau of Investigation (FBI) defines violent crimes as murder and nonnegligent manslaughter, forcible rape, robbery, and aggravated assault. Recently, violent crime offenses for the U.S. populace have spiked. According to the FBI, violent crimes peaked during 2010. The next surge was in 2016 before the curve steadily decreased. In 2019, though, violent crime surged again.
Senior Lily Ruiz said, "When I'm physically in the school buildings, I feel safe." Yet, she noticed the uptick in crime around the city—more specifically around Latin. "Given the amount of crime the surrounding areas are susceptible to, I'm somewhat surprised we're still allowed off-campus privileges during the school day," she said.
When asked if he feels safe on Latin's campus, sophomore James Weiss said, "Yes, I do. There is always someone at the front desk managing who goes in and out of the building. However, we haven't had a lockdown drill in an extremely long time, and I feel like those could be beneficial to recreate what students should do in case of an actual emergency."
Lisa Silverman, a private investigator and Latin parent, said, "[Violence] is in my backyard every single day. It feels risky for everyone. But, the reality for me is it feels far less risky for my kid to go to [Latin]." Ms. Silverman lives on Chicago's West Side.
Ms. Silverman proposed that Latin help increase student awareness of risks they may face outside of school. "Once a semester, bring [a speaker] in to talk about big city safety," she said. Ms. Silverman also emphasized the importance of keeping close track of who is in the building at all times.
"The answer for me isn't to walk away from [violence]," Ms. Silverman said. "It's to say, 'How can I help make things better? Safer? How do we fix those inequities?'"
According to NBC, 2021 was Chicago's deadliest year, with a total of 797 homicides, higher than any other U.S. city. Overall, violent crime has increased by about 8% as of the end of 2021.
As of 2020, nearly 1.28 million violent crimes were committed nationwide, a 5.6% increase from the previous year. Property crimes, defined as burglary, larceny-theft, motor vehicle theft, and arson, on the other hand, dropped 7.8%, perhaps due to the COVID pandemic restricting offenders from being out and about. The total number of property crimes committed in 2020 was estimated at 6.45 million, compared to 6.9 million in 2019.
One pattern across the United States as many return to school and work post-pandemic is transit crime, specifically in major metropolitan areas such as New York City, the San Francisco Bay Area, Philadelphia, and Los Angeles. Violence on the "L" in Chicago also makes for a more difficult adjustment to post-pandemic life.
Another recent scene of violence was the Columbiana Centre mall in Columbia, South Carolina. On April 16, according to police, a man opened fire at the mall, injuring 14. Among those nearby was Patrick Cobb, a man who happened to be inside a Lowe's near the mall. "I had never seen police, fire, EMT respond in such a manner of speed and number of cars," Cobb said.
Columbia was once a very safe city. Its schools were unaffected by violence, similar to schools in the safest neighborhoods of Chicago. Now, the two cities are very similar in the sense that they both have schools close to regular scenes of violence.
Further, he mentioned his feelings about being so close to a shooting, given the very few that take place in Columbia. "It was a scary feeling to see such a response."
Nikki Hutchison, a Latin aunt who also lives in Columbia, felt similarly. "I moved my family to Columbia 24 years ago because I thought it was a community to live, work, play and pray. Not anymore," she said. "The continued crime in cities like Columbia and others across the country makes me fearful on a daily basis."
Four days before the South Carolina shooting, another shooting took place, this one on a Brooklyn, New York, subway train. On April 12, a 62-year-old man released smoke grenades on the train, then opened fire on passengers, wounding 10. None of the victims were killed.
Sophomore Margaret Townsend has a family friend who moved from New York City to suburban New Jersey. "They did not move because of the violence," she said, "but I think they were definitely relieved, because they were anxious about the potential consequences of living in New York City during this [dangerous] time with a young child at home."
According to Fox 5, 40% of New York employees are considering leaving the city in response to the uptick in crime.
Similarly, recent events such as carjackings in the Lincoln Park neighborhood of Chicago have left many Latin families fearing for their safety while around the school. Adrian Castillo, one of Latin's operations staff, has firsthand experience with violence in Chicago. "I grew up in Little Village on the West Side of the city, where gang violence is still prevalent," Mr. Castillo said. "This inspired me to work in the educational field and try to help my community."
Regarding the security staff at Latin, Mr. Castillo said, "Everyone from our receptionists to our facilities teams helps us keep a better presence on campus."
The security staff has adjusted schedules to accommodate the busiest hours at Latin, which fall around lunchtime. "We have added more security, and my shift has changed from nights to the middle of the day," Mr. Castillo said. On the other hand, "Our protocols haven't changed much. Moreso, they are being implemented onto our entire operations staff. If they feel something is not addressed, they bring it up to our security team."
Overall, Latin's security measures are not implemented just to protect the school and the students—how they make the community feel is important, too. Mr. Castillo said, "My own personal philosophy that I strive to impart onto our teams is, keep our community secure but also help them feel safe."
Leave a Comment
About the Contributor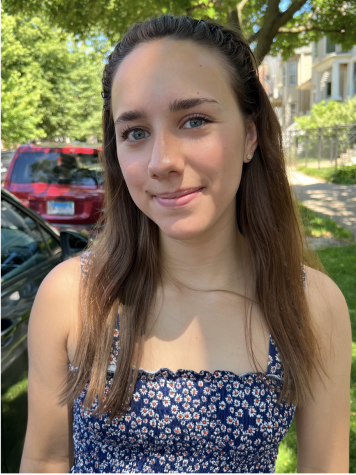 Annie Hallinan, News Editor
Annie Hallinan ('24) is a junior at Latin who is thrilled to be one of The Forum's News Editors this year. In her articles, Annie has covered the Chicago...