Scored on My Heart: 'Me Before You' Review
If you're looking for a great Valentine's Day rom-com that has a captivating, tear-jerking plot, "Me Before You" is definitely the one. The film, originally released in 2016, centers on a Welsh quadriplegic named Will Traynor (played by Sam Claflin) who falls in love with his caretaker, Louisa Clark (played by Emilia Clarke). After Will exhausts all of his previous caretakers with his witty and rigid personality, his family must find another. Coincidentally, Louisa has just been fired from her job at a café in the Welsh countryside. Soon after, Will's mother, Camilla, posts an employment opportunity, inadvertently beckoning Lousia to an interview. Once Louisa earns the job, a love story unlike any other unfolds in the fields of Pembroke.
Director Thea Sharrock crafts a beautiful cinematic representation of Jojo Moyes' 2012 novel, "Me Before You." Sharrock begins the film with Will's background story: a successful, happy-go-lucky banker with a girlfriend and a nice apartment. That is until Will jaywalks across a busy street to hail a cab to work. In the blink of an eye, a shiny motorcycle darts out from the gray, rainy scene, flooding Will's vision with a bright pair of headlights. Before he knows it, Will must acclimate to a life in and out of hospitals, completely dependent on others for care.
This is where Louisa—"Lou"—enters Will's life. She's a soft, colorful young woman who is extremely fashion-forward, with a plethora of patterned mid-length skirts, bumblebee tights, and fuzzy accessories that add warmth to her character. In addition, Clarke makes even the most difficult challenges of caring for an awkward, lonely man seem easy. But Will and Lou have a rocky start to their relationship—he doesn't take jokes well and has a hard time trusting newcomers. Ever since his girlfriend at the time of his motorbike accident, Alicia, left him, all he's had are his parents and his nurse, Nathan. Until the two begin to click, Will is convinced that Lou will abandon him.
Lou uses this opportunity to prove Will wrong. When they first meet, Will and Lou clash; Will is depressed—understandably so—and rejects care targeted at making him feel better or prolonging his life. Lou is upbeat and always smiling, though, which eventually radiates onto Will as he becomes the happiest version of himself. In short, Lou uses her cheer to bring light into Will's life, which takes away a sliver of the emotional pain he endures daily.
Claflin makes a very convincing quadriplegic. While playing Will, he limits his movement to only his pointer finger and thumb. In an interview with Uncut, Claflin acknowledged before filming that his role of Will "would be very emotionally, physically, and mentally challenging." To adopt a role as a character to which you do not relate is no easy feat, yet Claflin portrays Will with seeming ease. "Me Before You" dealt with certain subject matters "in such a fragile and lovely way," Claflin said, adding that director Sharrock really drew him into wanting to take the job.
Claflin and Clarke have great on-screen chemistry, making it easy to believe they spent hours off-screen getting to know each other, which is the case since the two were friends years before co-starring. Claflin told Grazia that what he "found most challenging was not being friends with Emilia" while filming. Because Me Before You required serious acting, Claflin and Clark weren't the perfect match since they were very friendly with each other, making it hard to commit to the solemn plot. But they strike the right notes. "Emilia and I really hit it off," Claflin said. "There was no work needed."
"Me Before You" is the perfect movie for a night at home around Valentine's Day. But come prepared to watch with tissues, because the end leaves most viewers in tears. If you're hesitant to watch because of the sad plot, just remember what Claflin had to say about it: "Despite the fact the plotline is dealing with very, very heavy subject matter, it is a love story, and it is a happy one in my eyes."
Leave a Comment
About the Contributor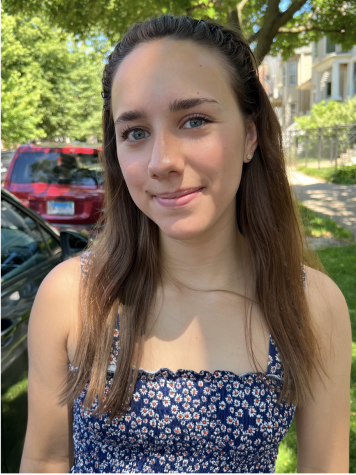 Annie Hallinan, News Editor
Annie Hallinan ('24) is a junior at Latin who is thrilled to be one of The Forum's News Editors this year. In her articles, Annie has covered the Chicago...