Abloh's Show Must Go On
Imagine finding a way to make a handbag shaped like a piece of Swiss cheese or a scarf with the word "SCARF" on it in big bolded letters into a trendy piece of fashion. Virgil Abloh, a fashion designer, musician, influencer, father, activist, and much more, was a man of many talents whose creative eye ameliorated the world around him in many ways.
Mr. Abloh, one of the few Black men to hold such a high position in the fashion world, enjoyed a remarkable journey, serving as the artistic director for Louis Vuitton's menswear collection and founding Off-White. He offered unique perspectives on fashion and art, and on November 28, at only 41 years of age, Mr. Abloh died after fighting a two-year battle against cardiac angiosarcoma, an extremely rare form of cancer.
Born in 1980, Mr. Abloh was raised by Ghanian immigrant parents in a suburb near Rockford, Illinois. Senior Lily Harris said, "Virgil was a very influential leader in the fashion community, and as a young Chicagoan aspiring to make it to the big leagues one day, I was saddened to hear that such a talented person passed away."
Shockingly, Mr. Abloh didn't seem to be headed down the road of fashion after he received his undergraduate degree in civil engineering at the University of Wisconsin-Madison. However, in 2006, Abloh obtained a master's degree in architecture from the Illinois Institute of Technology. During his time at IIT, Dutch architect Rem Koolhas designed a building which "piqued [his] interest and opened [his] gateway into fashion," Mr. Abloh once said.
Founder of VMR clothing store in Chicago, Tina Kourasis was a friend and close admirer of Abloh throughout their journeys in the fashion world. Ms. Kourasis frequently attended his fashion shows and exhibits and sold his clothing in her store. "He was a very cerebral and very, very soft-spoken person," Ms. Kourasis said, "He was always thinking."
Throughout Abloh's early years in the fashion world, a rather familiar figure, rapper and fashion designer Kanye West, stood by his side. In 2009, the two were interns at Fendi in Rome and also attended Paris Fashion Week together. As their friendship further blossomed, Abloh became the creative director at Donda, Kanye's creative agency. Abloh also directed the album "Watch the Throne" by Jay-Z and West, earning him a Grammy nomination.
In 2012, Abloh launched his first brand, Pyrex Vision—no, not the kitchenware. Abloh purchased deadstock flannel shirts from Ralph Lauren and printed "Pyrex" on them. These flannels were the first expensive and high-quality products Abloh created; they sold for $550 each.
"Abloh always talked about how he wasn't a designer, but rather he was just creative," Ms. Kourasis said. "His big thing was to find creative people, not necessarily people who are designers."
Shortly after Pyrex, Abloh founded Off-White. "He defined the area between black and white as off-white. There is no gray," Ms. Kourasis explained. "He was making a statement about Black and white people in society."
In less than 10 years, Off-White had over 26 collaborations with brands ranging from IKEA to Nike. "Off-White was a way for Virgil to revolutionize streetwear in a way that changed the way people view it," Lily said.
VMR was the first store in Chicago to carry women's Off-White wear after Abloh launched it in 2014. The women's line boomed after celebrities like Beyoncé, and Nicki Minaj publicly wore the Off-White logo. "He had his eye on the pulse and always knew what was cool and trendy," Ms. Kourasis said.
Seniors Max Wilkins and Lily Harris attended Catherine Cook School together for middle school, the same school Abloh's kids currently attend. "I had a really unique experience with Mr. Abloh as a result of his kids going to my middle school," Max said. "He genuinely liked helping us and inspiring our grade, and no matter who you were or how much you cared about fashion, he treated you the same. That's why his death is so sad to me; all his money and fame didn't alter his empathy and his efforts to inspire the youth."
Lily said, "I remember one time he came to our school when he was first getting started with Off-White. He showed us a prototype of his first Nike Collab, and it was nothing special, so it's so cool to see how much his merchandise has developed over the years."
In 2018, Abloh was named the director of Louis Vuitton's menswear collections. This title made him the first Black person to lead the Louis Vuitton's menswear line and one of the few Black designers to work for a major French fashion house.
"Before Virgil got the fame he had today, people would make fun of expensive clothes, calling them pointless and a waste of money," Max said. "He helped cultivate the mindset that you weren't buying just a material item but also a lifestyle, which is the reason Off-White and Louis Vuitton are so highly coveted despite their high prices."
Abloh's artwork made it just around the corner to the Museum of Contemporary Art in 2019. The exhibit, "Figures of Speech," offered an in-depth look at the defining highlights of Abloh's work, such as prototypes, his Louis Vuitton designs, video documentation of his previous fashion shoes, his graphic design work, and many more.
"To me, it's sad to know that he will never grow old and admire all of the amazing things he did in his life," Ms. Kourasis said.
Leave a Comment
About the Contributor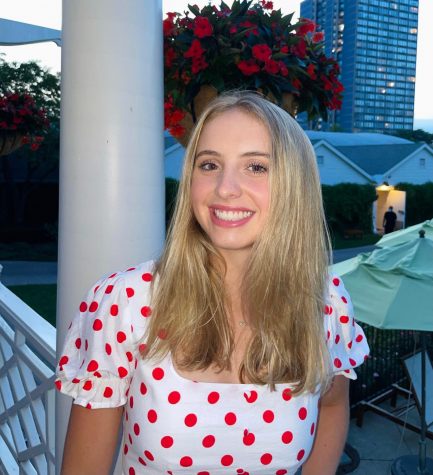 Emilia Rose, Features Editor
Emilia Rose ('22) is excited to serve her first term as a features editor this year! Since freshman year, Emilia has driven her focus on The Forum into...