The Fall Play: A Hit or Miss?
With talented actors, impressive stage sets, and inventive sound effects, this year's fall play did not disappoint. Metamorphoses' top-notch acting was enhanced by a variety of successful supporting elements, including music, makeup, costumes, staging, and set design.
Adapted from Ovid's classic poem Metamorphoses, this year's play followed eight main stories. Up first was the famous tale of King Midas, a man who gains the ability to turn everything he touches into gold but soon comes to regret this ability after turning his daughter to gold.
Midas' story was followed by the tragic tale of Alycone and Ceyx—a pair of royal lovers separated by a sea journey and subsequently by death, who ultimately have their love for one another immortalized by the gods. Next was the tale of Erysichthon, a selfish king who, for his own gain, cuts down the holy grove of the goddess Demeter and is cursed with insatiable hunger that leads to his inevitable doom as a punishment for his sin.
Following Erysichthon's tale was the tale of Orpheus and Eurydice. After his wife Eurydice dies, Orpheus strikes a deal with Hades: If he leaves the Underworld without looking back, Eurydice will follow him out of the Underworld. Sadly, Orpheus is unable to suppress his urge to look back and confirm that Eurydice is following near, much to his demise.
Orpheus and Eurydice's tale was fittingly followed by a successful love story—the tale of Vertumnus—in which the God of Springtime becomes smitten with the lovely Pomona, who is, appropriately, only interested in gardening. Vertumnus attempts to court Pomona using several amusing and comic disguises, but many of his attempts go in vain. Nonetheless, he ultimately wins her love after Pomona sees through his silly disguises and gains clarity regarding how he truly feels for her.
The sixth tale features Apollo's child, who rashly decides to follow in Apollo's footsteps and drive the sun chariot across the sky—an experience that ends in disaster and the Earth catching fire. The tale of Apollo's child was followed by that of Eros and Psyche, in which their romance prompts Zeus to turn them into stars so that they can love each other for all of eternity.
The final tale was that of Baucis and Philemon, an old married couple whose hospitality towards two of Hermes' disguised children earns them the gift of dying at the same time.
Each tale in Metamorphoses taught the audience important lessons, two of which rose above the rest. The first takeaway is that perpetual change is the only constant in nature and attempting to regulate it is pointless. The second is that we should never succumb to emotion or lust. The play ended in a heart-warming, emotion-filled reunion between King Midas, played by junior Cole Hanover, and his daughter, played by senior Claire Lee-Zacheis, after he does what Dionysus suggested might suffice to set things right.
Despite the challenge of limited emotion through facial expressions due to mask-wearing, the actors were all able to communicate their emotions and the storyline of each tale to the audience clearly through body language, tone of voice, and eye contact. The stories were executed brilliantly, using various techniques to make the performance exceed expectations. One particularly effective technique was the use of a curtain, flashlight and flat cut-out figures to create shadows. Specifically, a large white cloth was hung on an elevated platform, figures of outlines were held and moved behind it, and a flashlight shone behind to create shadows that expressed events in scenes in an effective and symbolic way. Another noteworthy technique was the use of incidental music composed by Gabriel Di Gennaro's Music Tech class, which heightened the atmosphere and accompanied impending events.
The cast also made the performance feel personal by transporting the audience into the various Greek myths. At several points, the actors walked to the stage through the aisles of the theater, making the audience feel more intimately involved in the play. The aisles were particularly well manipulated in the tale of Orpheus and Eurydice, as they were used to show Orpheus walking out of the Underworld. When Orpheus eventually glanced back just before exiting the theater and the Underworld, Eurydice was lost. The play also used a form of repetition as Eurydice walked back toward the Underworld, and Orpheus' reaction was reenacted multiple times, emphasizing how it was forever imprinted in his mind. Metamorphoses engaged the audience by relating to them, with a narrator saying, "You've dealt with people like this, I'm sure," in reference to the greedy king, played by senior Jaden Annacone, when introducing the tale of Erysichthon.
Not only was the play thoughtfully executed, but it interwove several comedic elements that helped keep the audience entertained all night long. One of the most memorable scenes of the night was when Vertumnus, played by Marco Speroni, a freshman, changed into a white frilly dress, spoke in a squeaky, high-pitched voice, and pretended to be a woman in one of his attempts to woo Pomona, played by sophomore Mikayla Smey. The laughable courting attempt made the audience roar with laughter. Another notable comedic scene was when freshman Jeremiah Wheatley, a narrator, said that he would "never do laundry again" in response to another narrator's question of, "What would you do with all the money in the world?" The comically honest answer sparked amusement in the audience.
The play was well received by the Latin community. Melissa "Mel" Butler, a freshman who attended, said she "thought the fall play was fantastic." She said, "My favorite parts of the play were Marco's portrayal of the springtime god and the Ceyx and Alcyone part. William Wichman and Anaitzel Franco's characters (Ceyx and Alcyone) were my favorite, as I really enjoyed how they played their characters, because they showed great emotion and really got into their respective roles."
Junior Isabella Mizerk-Thorrens echoed Mel's thoughts. "My favorite character has to have been Hunger, as it was fascinating how the actress portrayed such an odd character," she said. "It was very eerie, which I believe is what the actress intended."
This year's fall play will be remembered for years to come, and the Latin community looks forward to the winter musical as a second act. Mel said, "I am very excited and think that the winter musical will totally live up to the fall play and set the bar even higher. I am sure a lot of people will enjoy the musical, as music is something that connects everyone regardless of differences in identities."
Leave a Comment
About the Contributor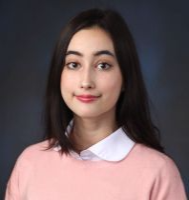 Sofia Grimm, Digital Editor
Sofia Grimm ('25) is delighted to serve her first year as The Forum's Digital Editor. Sofia knows how important it is to provide coverage of contentious...