Latin Grapples With Community Service Requirements Amid COVID
According to Muhammad Ali, "Service to others is the rent you pay for your room here on Earth." But after suspending community service requirements for ninth and tenth graders last year amid the COVID pandemic, Latin is still in the mode of encouraging these rent payments rather than mandating them.
Latin administrators Tim Cronister, Bridget Hennessy, Joe Edwards, and Karen Horvath met over the summer and determined that conditions were still not safe enough to require community service for the first semester, according to Mr. Cronister, Director of Community Engagement. They have not yet made a determination for next semester but will discuss those plans soon. Upper School Director Kristine Von Ogden and Dean of Community Learning Suzanne Callis will be part of this discussion, Mr. Cronister said.
The school is also interested in the views of the Upper School Student Service Learning Board, a group of a half dozen students working on related topics with faculty advisor Nichol Hooker, Upper School math teacher.
It's possible that the school will continue to wait to reinstate required service hours, Mr. Cronister said, but "Latin will start encouraging students to do more service in ninth and tenth grade."
As of right now, Latin may start integrating service into Advisory or Affective Ed rather than jump back into the 30-hour total requirement for ninth and tenth graders. With the departure of former Director of Community Engagement Sarah Bunger, and Mr. Cronister juggling many other responsibilities within the school, service may not be the school's primary concern, particularly amid continued COVID restrictions. "We decided she didn't really need to be replaced," Mr. Cronister said of finding a permanent successor.
The need for community service persists, and has increased throughout the pandemic, yet many organizations are not yet ready to welcome extra people into their circles. Mr. Cronister said, "Food drives are so important because although they don't necessarily need us for serving the food, they still need all those supplies."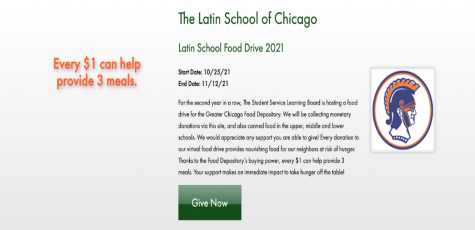 In the past, community service has made a great impact on Latin students. Senior Sean Episcope noted, "I actually appreciate the time Latin took to ensure that we serve our community." He added that the opportunities he pursued altered his perspective on service.
Even pre-COVID, Latin struggled to find ways to encourage students to participate in service without forcing it on them. Sean said, "For some of the service opportunities I did, I really disliked how boring and almost lifeless it was." While working with some organizations, Sean said, service felt more like "busywork." But he noted, "I really liked doing service for organizations such as the Special Olympics, as I was really able to connect to the community I was serving."
The requirements for service are currently suspended, but that doesn't mean that Latin's values are. Sophomore Margaret Townsend said, "I was impressed with Latin's ability to continue doing school-wide service while on Zoom." Service at Latin involves three principles: awareness, action, and empathy. COVID may have changed the service requirements, but as Mr. Cronister said, "Latin is committed to service."
[Ed. note: This article has been edited after publication to correct the misstatement that the administrators who met over the summer to discuss community service requirements are a formal Service Committee of the school.]
Leave a Comment
About the Contributor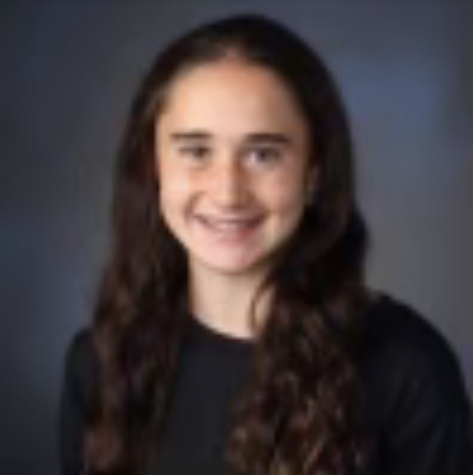 Mia Kotler, Features Editor
Mia Kotler ('25) is thrilled to be one of The Forum's Features Editors this year. She is a passionate writer who enjoys expressing her views and learning...