Tri-City: Latin's First Exchange in 20 Months
As the Upper School's halls start to fill with chatter about Project Week, a different experiential learning offering will be starting soon, albeit virtually. Through the school's Global Experience Program, which includes Project Week, foreign exchanges, and language immersion programs, students participating in the Tri-City Exchange will brainstorm solutions to pressing issues with peers in two of Chicago's sister cities: Hamburg, Germany, and Petah Tikva, Israel.
Ingrid Dorer Fitzpatrick, Director of Academic Initiatives and Upper School history and social studies teacher, is leading the Tri-City Exchange. The program has been in the works since 2019, with the help of the Chicago Sister Cities Committee and the Israeli and German Consulates. "It was the Sister Cities Committee who actually reached out to us, and with the encouragement of the German consul general," said Ms. Dorer. "He had met with students from Latin as part of a Latin's Initiative for Ethics (LIFE) program." The German consulate decided Latin would be the best fit for the program due to its flexibility and history hosting other exchange programs with Hamburg.
While the initial plan was to have an in-person exchange, according to Ms. Dorer, due to COVID, "everything derailed." She said, "We resurrected it at the end of last year, May or June." Ms. Dorer, along with the other organizers, decided to have the exchange online.
Students were selected in a variety of ways. To gauge student interest, Ms. Dorer discussed the idea with students in her International Human Rights Law class. From there, she reached out to incoming ninth-grade parents and other history teachers who could reach out to their students. As Israeli students will be participating in the exchange, Ms. Dorer said, "Middle East was a target class."
Every team—with two students from each country—will solve an issue that faces their community. This year's theme focuses on youth empowerment. While details are being finalized, Latin students participating in the exchange expect to meet for the first time late this month.
Senior Noor Ahmed said, "I'm really looking forward to connecting with students who've had different experiences than me and hearing their perspectives. I'm also really excited to see how we work together and use our varying abilities to be creative, and I think the opportunity to connect with students from around the world is just incredible!" While Noor admitted the Tri-City Exchange cannot make up for two lost Project Weeks, she said, "It's very fulfilling in a different sense."
Most fulfilling for students participating in the exchange, though, is the impact their ideas could have. Students will present their topic of choice to faculty members, Sister Cities Committee members, and diplomats. "We'll reach out, for example, to the American ambassador to Germany, the American ambassador to Israel," said Ms. Dorer. "The end product, in a way, will be publicly shared among the three schools and the diplomats who were involved in starting this idea."
Sophomore Lauren Altman shared Noor's excitement. "I think it'll be a really cool program similar to ones that I've heard about in other years," she said.
Ms. Dorer said that all three schools will accommodate for the time difference and students' busy schedules. Latin students will meet about once a month on odd-numbered days. "If you have an affinity, you'd be missing that once or twice. If you have clubs, you'll have to miss that a couple of times," Ms. Dorer said. German students will stay after school to participate in the exchange, while Israeli students will join Zoom from home.
"Of course, being remote is unfortunate," said junior and Tri-City Exchange participant Rahil Gandhi, "but doing so can have an advantage such as convenience for everyone."
Despite the exchange being online, junior Brandon Shiffman is excited for a new space of diverse, like-minded students. "I believe it will be a great opportunity for everyone involved to learn from and collaborate with others," he said.
Rahil said, "The goals we are working towards with these students to attack global issues alongside actual politicians from different countries' consulates seems like a unique experience." He views this year's exchange as a catalyst for future programs. "I think it will be good preparation and a great setup for an actual in-person exchange next year, hopefully."
When asked if the Tri-City exchange will be incorporated into Project Week programming next year, Ms. Dorer said, "That is not determined at this point." She also noted there could be "a follow-up exchange which would be in-person" sometime next year. After nearly two years of missing out on opportunities like the Tri-City exchange, students can only hope this program and other global initiatives will return in-person soon.
Leave a Comment
About the Contributor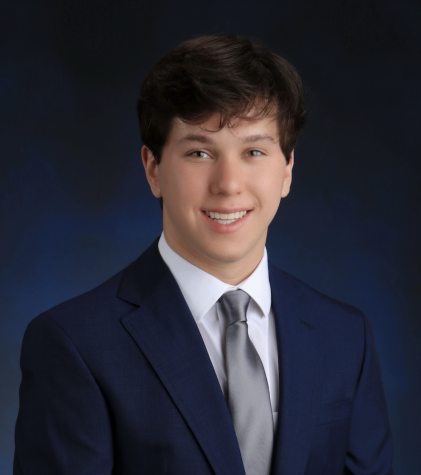 Ryan Rose, Media Editor
Ryan Rose ('23) is a senior at Latin and is thrilled to serve as Media Editor. Starting his sophomore year, Ryan has loved writing a variety of local...