Nora Goodwillie Joins Team USA to Compete at the World Championships, and Wins
On August 11, senior Nora Goodwillie flew halfway across the world to Plovdiv, Bulgaria, to represent the United States at the World Rowing Junior Championships. Not only did Nora have the momentous opportunity to compete, but she took home the gold.
"I started rowing before high school at a summer camp with my current home team, the Chicago Rowing Foundation, and I honestly hated the sport in the beginning," Nora said. But she didn't quit. Once she got to high school, she made some of her best friends through rowing and enjoyed it much more. "I actually wasn't very good freshman year," she said, "but I progressively started getting a lot faster, which made the sport a lot more fun and more rewarding, which kind of made me fall in love with it."
"Rowing is the hardest sport I think I have ever done," Nora said. Although rowing is very team-oriented, Nora said it's just as much an individual sport. "You are the only one who can make yourself better, and you have to be driven to do so," she said. In the summer, Nora's training schedule consists of multiple two-and-a-half-hour practices a day. In the colder months, Nora trains inside on rowing machines which, she says, "most rowers actually hate because of how hard they are."
Last spring, Nora was selected with roughly 65 other girls from all over the nation to attend a Selection Camp during the summer. There, 20 rowers were selected to make the National Team. "The selection process took about a month of really intense training and racing, and at the end of the month, I was selected to be in one of the National Team boats that they would send to Bulgaria," Nora said.
But the intensity didn't stop in the weeks leading up to the World Championship. Her boat had two races: a preliminary race and a final. "The final was so surreal, and it honestly feels like a dream now," Nora said. "It was just crazy being on the starting line hearing five-plus different languages being spoken."
"Crossing the finish line, I didn't really comprehend that we had won, but when we pulled into the dock to get our medal, words cannot describe how happy I was," she said.
Beyond this honor, Nora was also named varsity girls MVP for the Chicago Rowing Foundation in 2021 and varsity girls most improved in 2020, along with several other accomplishments.
Nora has officially announced that she will continue her rowing career next fall at Stanford University. She is looking forward to competing at a top-tier institution both academically and athletically.
"My advice for any rowers at Latin, and other athletes," she said, "is to stay focused, determined, open-minded, try new things, and push past your limits."
Leave a Comment
About the Contributor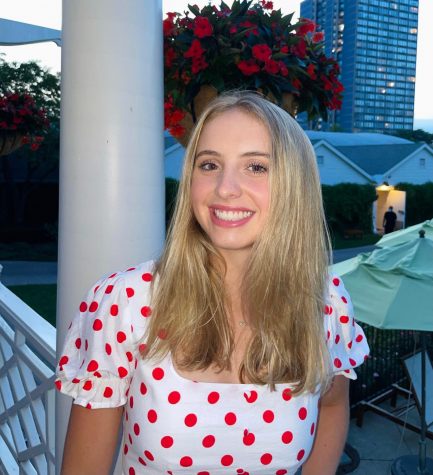 Emilia Rose, Features Editor
Emilia Rose ('22) is excited to serve her first term as a features editor this year! Since freshman year, Emilia has driven her focus on The Forum into...