The First Week of School!
School is back in session! The energy of the classroom and the joy of peers reconnecting has made a return after disappearing for nearly 18 months. While being back to a normal school schedule is exciting, and gives students and faculty a chance of returning to normalcy, members of the Latin community are still getting used to life back at in-person school.
Senior Sam Cutinho said, "It's strange being a senior after missing almost my entire junior year because we never got to really experience junior year in person, so it just feels kind of like going straight from being sophomores to being seniors."
Many juniors agree with Sam. Going straight from freshmen—the newbies in the building—to upperclassmen feels strange and awkward. However, for junior Alice Mihas, the most challenging part is a return to the old schedule. "It is definitely weird being back with the 8 a.m. start and long blocks. I struggle to get up that early and then having to sit through an hour and a half class is quite a challenge," she said.
The 9 a.m. start time last year allowed students to get an extra hour of sleep and, of course, freedom from dreaded long blocks. Despite the early start, Alice says, "I am glad that we are back, and I understand why we moved back to the earlier schedule." Still, Alice would like a little bit more time in the mornings. She said, "I wish we could find a way to have every day start at 8:25. Those extra minutes make the early morning much more manageable and school more enjoyable."
Freshmen also appreciate being back in-person to start their experience at the Upper School. "I feel like it has been relatively easy for me to acclimate to high school because of the fact that my friends are going through the same thing with me, while actually being physically together," freshman Ben Gibson said.
Additionally, being together in one place, instead of split up over Zoom, has had a great impact on students and faculty alike. "Every day I get to meet a new person in the hallways," freshman Jackson Darke said.
The hallways and stairwells are now bustling with noise and chatter as students move swiftly throughout the building. Last year's separation is finally in the past, and for the first time in a year and a half, Latin is once again coming together as a community.
Busy hallways after gathering
However, Sam wishes for "a little bit more school spirit for sports, just going and watching like we used to do before COVID."
Alice also has some critiques after the first week of the year. "I am not a fan of the long lunch lines," she said. "Earlier this week the line took me so long to get through that I only had five minutes to eat lunch and then rush off to class." The line stretches far beyond the cafeteria and is without a doubt much longer than two years ago. Still, a return to the action station, sandwich bar, and pit kiosk is much appreciated, compared to the pre-made, boxed lunches last year during the three-week stint of in-person learning.
Lunch line stretching well past fourth floor water fountain and doorway
There have also been many new additions to the Latin faculty this year. After a disrupted year, it may be easier for new teachers to get adjusted to school compared to the past. Michelle Neely, a new Upper School math teacher, said, "I have been trying to talk to anyone and everyone to get acclimated to Latin. Between the new faculty orientation and the Math Department, I feel very well supported and ready for the year ahead. Everyone at Latin has been so welcoming, sincere, and engaging."
Ms. Neely also said she is happy to be back in the classroom. "I enjoy the energy of being together working on problems in person," she said. "What the last year taught me is that I will never be an online educator."
Leave a Comment
About the Writer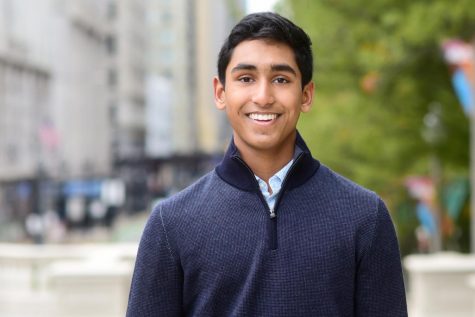 Akshay Garapati, Sports Editor
Akshay Garapati ('23) is excited to be serving his first term as the Sports Editor for The Forum. Previously, he served as the Opinions Editor. Editing...