Recognizing Juneteenth: A Small Step Towards Achieving Social Justice
On Thursday, June 17, President Biden signed a bill recognizing Juneteenth as a federal holiday, but students recognize that more needs to be done to achieve true social justice.
Juneteenth—short for June Nineteenth—is a significant day in U.S. history. On June 19, 1865, federal troops arrived in Galveston, Texas, to enforce the new laws of the Emancipation Proclamation, freeing enslaved people. Although President Lincoln signed the Emancipation Proclamation in 1863, it took two and a half years for enslaved people in Texas to be freed, because they were under Union control at the time of the signing, and the Emancipation applied only to Confederate states in rebellion against the Union. The annual celebration of Juneteenth, also known as Emancipation Day or Black Independence Day, was originally started by freedmen in 1866.
Juneteenth is the first national holiday to be acknowledged by the federal government since President Reagan signed a bill in 1983 declaring Martin Luther King Jr. Day a federal holiday.
Reactions among Latin students and faculty to the federal recognition of Juneteenth were overwhelmingly positive. "It is gratifying to see that Juneteenth will be a federal holiday, because the recognition signals an expanded and more accurate understanding of U.S. history," said Upper School English teacher and Diversity, Equity and Inclusion (DEI) Curriculum Coordinator Brandon Woods.
Rising sophomore Sheba Davis said, "It's an amazing thing." However, she added that the moment was "bittersweet" because "it took the [Black Lives Matter] movement gaining more attention for Juneteenth to be recognized."
"Juneteenth should have been a holiday from the very beginning," Sheba said.
Rising sophomore McKennzie Boyd agreed, saying, "Juneteenth becoming a national holiday felt like a small step to hear and understand the silenced, black voice."
Thousands of people online agreed that Juneteenth is a small step, but nevertheless an important one.
Activist and educator Liz Kleinrock, who runs the Instagram account @teachandtransform, posted an image of a child walking up a staircase but skipping many steps. The image is meant to exemplify actions the government neglected in the bill such as reparations, putting an end to police violence, and solidifying voting rights when jumping to "making Juneteenth a national holiday." Her post went viral.
Social media is often criticized for spreading as much misinformation as accurate information regarding social issues and news stories. However, for Juneteenth, it has played a remarkable role in spreading awareness. "I think it's a great way to teach our youth about how special of a day this is," Sheba said.
In fact, rising senior Lauren Valentin learned about Juneteenth through a YouTube documentary. It was "informative, but it also led me to do some of my own research on the day as well," she said.
In addition to educating youth, social media is also a powerful outlet for those looking to empower themselves. The Instagram hashtag #Juneteenth has 1.4 million posts that showcase Black-owned businesses, Black solidarity marches, and a variety of other content by Black creators.
There were a number of public Juneteenth celebrations in Chicago this year, including festivals, bike rides, and marches. And many families plan their own annual celebrations. "For Juneteenth, I get together with my family," McKennzie said. "We acknowledge our troubles, tragedies, and most importantly, perseverance."
"It is important that students recognize it, because acknowledging the holiday will help us understand that historical narratives are far more complex than the simple narratives that have been passed down," said Mr. Woods.
Rising senior Kazi Stanton-Thomas said that while this holiday "becomes the celebration of black excellence and progression," it is important for "us to recognize that there's still so much to do for liberation of black people."
"Juneteenth helps me with my self-love," McKennzie said. "I can be proud of myself." Juneteenth "inspires me to continue on the path of change."
Sheba said that Juneteenth "shows me that we survived something."
"For society to recognize Juneteenth as a holiday allows for the acknowledgement of the trials and trauma and successes Black people have experienced," Kazi said.
Middle School history teacher Jeff Nichols said he is optimistic about the possible impact that Juneteenth could have on Latin's history curriculum. "Over the past three years, the fifth and sixth-grade history teachers at Latin have tirelessly revised the history curriculum by including more American history in general, and colonial history in particular," he said.
Mr. Nichols is a strong advocate for more conversations surrounding Juneteenth, saying that "discussions about Juneteenth can help students understand the legacy of slavery, and the impact that it has today." He added that recognizing Juneteenth "provides an excellent opportunity to unpack the notion of the great American experiment," which is "granting freedom, liberty, and justice for all."
Juneteenth gives McKennzie hope. "Hopefully people of other races, cultures, and backgrounds can look deep into themselves and learn the spectrum of black history, from slaves to Dr. King." The federal recognition of the holiday gives her hope because "bringing recognition is a key role to social change."
Mr. Woods hopes that "this celebration will mark a transition to a more inclusive and intersectional telling of American history."
Kazi said, "It's important to remember that the recognition of this holiday does not equal reparations. The American government still needs to work to make all of its institutions equitable. Because if some of us aren't free, none of us are free."
Leave a Comment
About the Contributor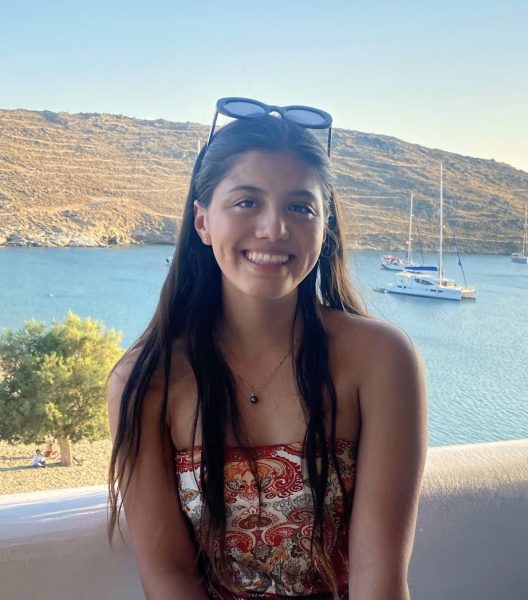 Ava Tse, Managing and Standards Editor
Ava Tse ('24) is thrilled to serve as a Managing and Standards Editor this year. Integrity and empowerment always come first in her journalism, and in...