Students Support Corporatization of Activism Around Voter Suppression: Here's Why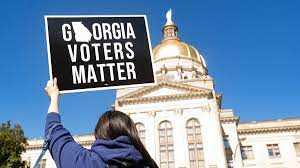 At the end of March, Republican lawmakers in Georgia passed a controversial voting law that voting-rights activists such as Stacey Abrams labeled "Jim Crow 2.0." The new legislation makes it more difficult to vote in absentia or cast a ballot through drop boxes, and it outlaws giving those standing in line to vote water or food; simply put, the law makes it harder for Georgians to vote. On the other hand, Republicans responsible affirm that it will prevent potential voter fraud in upcoming elections.
Many Americans believe it's no coincidence that GOP legislators passed such a law after narrowly losing both the Presidential and Senate runoff elections in the past year. Considering the United States' history of voter suppression laws—designed primarily to exclude the votes of people of color—citizens demanded that Georgia-based corporations, as well as others, take a stand against efforts that they assume were intended to silence the voices that turned the state blue.
Most notably, Major League Baseball relocated its All-Star game scheduled to take place in Atlanta later this year as a sign of protest. Starbucks, Amazon, Coca-Cola, and hundreds of other major corporations have also publicly disapproved of Georgia's new voting law, releasing statements condemning the GOP's "attack on democracy."
Republican Senate Minority Leader Mitch McConnell offered some tongue-in-cheek advice to the corporate detractors. Despite relying on several big-name corporations for campaign funding, McConnell said, "My warning to corporate America is to stay out of politics. … Republicans drink Coca-Cola, too."
Although there are definitely arguments circulating in support of the law, Latin students appear to overwhelmingly oppose the law on ideological grounds. When asked his opinions regarding Georgia's new restrictive voting law, junior Charlie Cohen said, "It's wrong to take away the right to vote from anyone, and making it unnecessarily hard to vote is unacceptable." Even so, he did acknowledge the complexities associated with corporations taking a stand in polarizing political matters such as this one. He said, "In cases where issues are Democratic or Republican, companies should not intervene because those issues should be up to the voters." However, Charlie emphasized voter suppression laws should not be a partisan issue. "In situations where Constitutional rights—that should be agreed upon by all—are being infringed on, it's important for everyone to speak up, especially companies, because they can have the largest influence on political changes."
Like Charlie, fellow junior Jonah Hart shared his disdain for Georgia's new voting law. "This is an act of retaliation from Republicans in the form of democratic voter suppression. It's completely ridiculous. If Trump had won, this would not have been passed or even created," he said. Unlike Charlie, however, Jonah expressed no concern for corporations entering political controversies. He said, "I definitely stand with companies that are speaking out against, and boycotting, Georgia's corrupt voting law. We need leaders with large audiences to voice their disapproval." As for what this new wave of antidemocratic legislation might mean for the Latin community, Jonah added, "Although this may not seem like an issue that will affect Latin, ultimately, it will affect everyone. This law change could lead to another president like Trump, running our country into the ground."
After bearing witness to the corporate response, many students feel companies should be doing more in politics in the future. Zoe Larsen, a freshman, said, "Bringing awareness and showing disapproval to protest [such] laws is something more companies should do."
Although this law has been passed only in Georgia, similar voting laws are being introduced in states across the country. Thus, the Latin community will undoubtedly live the consequences of the GOP's attempts to "guarantee safer elections." Until then, students seem as though they will maintain their support for corporate activism, as they feel inaction is far too dangerous. As Zoe said, "If these voter suppression laws would ever come into effect in Illinois, faculty and students that have parents who work—who don't have scheduling flexibility or their neighborhood doesn't have easy access to voting places—would have a hard time voting."
Leave a Comment
About the Contributor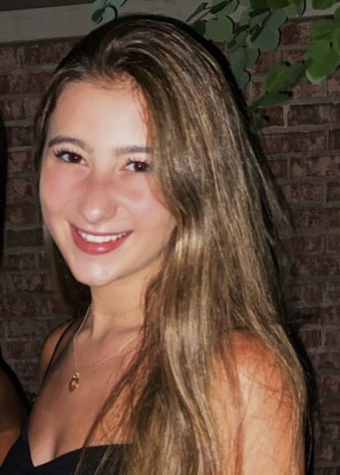 Nina Burik, Managing and Standards Editor
Nina Burik ('22) is a senior at Latin and is looking forward to serving as Standards Editor this year. In her time on The Forum staff, she has covered...