Play It Back: A Time Travel Comedy in Preview… or Review?
During the dreary winter months, Latin's theater department always casts, rehearses, and perfects a sensational comedy to lift the community's spirit; this year is no exception. Set in the fictional town of Mendora, Ohio, Play it Back follows the world's first successful time traveler, Ada Alvaro, played by senior Angela Gil, alongside her father Walt, played by junior Peter Cahillane, as they fight to prevent the science of time travel from falling into the wrong hands—all while confronting the regrets of their pasts.
Although the summary may sound grim, the play is actually a comedy, and one that the cast is ecstatic to present. What's more, despite the numerous hurdles standing in the way of theater this year, the cast and crew have crafted Play it Back to fit within a fully virtual setting, Latin's first winter play to be staged as such.
However, the production was not initially scripted for the computer screen. "The play was originally written by a sketch comedian and playwright that I know named Matt Trupia," said director Nick Baer. "He had written it for the stage, but once I knew that we were going to be producing another remote show, I asked if he and I could rewrite it with that in mind."
Even after rewriting the production, though, Mr. Baer and the cast found adapting a number of scenes to the screen—the green screen, to be precise—difficult. "There are some scenes that became huge technical design challenges through the Zoom program that we use, as we tried to balance upwards of 20 people 'on stage' at a time," Mr. Baer said.
Junior Sophia Matchett, Play it Back's stage manager, agreed with Mr. Baer's assessment, stating that "the technical aspects of this play have definitely been a challenge." But Sophia added that with two virtual shows already under their belt this school year, the theater department has been better able to "work out any major issues with the technology that we are using."
Despite the technical roadblocks standing in its way, Play it Back has attracted as many thespians as any other school production, including a number of first-timers to take the stage. "I am a bit nervous, since this is my first time ever acting in any production," said freshman Payton Rice, who plays Rick Hennessy and Jude, the Audio Goon. However, she acknowledged a silver lining. "I feel like the fact that it's virtual helps, as I won't have to deal with possible stage fright," she said.
Peter Cahillane is also making his debut in a Latin production, and as a lead, a moralist time-travel pioneer, at that. Peter said he is "somewhat nervous for the show" but also "somewhat familiar with acting" after taking two improv classes. He said he chose this production to make his acting debut "mainly because I had friends in it who convinced me to, but also because I felt that I didn't have much going on during school."
Perhaps this desire to be active during remote learning has offset the potentially detrimental effects of a virtual production. As Mr. Baer noted, "Student participation has stayed about the same" between Play it Back and any production put on in person. Another explanation for this could be that the theater department managed to fit the casting, rehearsal, and performance process between shortened athletic seasons. In previous years, production and sports schedules coincided, which Mr. Baer acknowledges was "never a good idea."
Regardless, the cast of Play it Back seems enthralled to be staging the production, even virtually. Senior Hailey Hurd, who plays Musgrave, a greedy department head who seeks to exploit time travel, said that putting on a play "with people across grades is a great way to build community in a time where many of us are isolated for much of the day."
Senior Sebastian Valenzuela, a first-time actor who plays both Dan Haber and Coach Frantz, remarked that "our small crew and production team has tackled Play it Back with grace. They have really given life to the production in ways that in-person technology couldn't achieve."
Not only does the cast see the play as a fantastic way to connect with fellow students, but they also note the potential to reach the extended Latin community. "One benefit of doing a virtual play is that it can reach more people than an in-person production typically would," Hailey said. "In the Advanced Acting Show, cast members had extended family members in different states watching the performance. My grandparents live in New York, and they were excited to get to see the show."
Perhaps a play that brings together every facet of the community is precisely what Latin needs at this moment.
"This show will provide people with the opportunity to relax and enjoy a production that was written to make you laugh," said Sophia.
"This year especially, we all need to laugh a little bit more," Mr. Baer added.
Hailey approached even the setting of Play it Back with an optimistic eye, stating, "The show, being set 15 years in the future, may also remind us that this pandemic will be over eventually and that things are going to get better."
Sebastian resoundingly agreed: "This production will emphasize that, no matter how unfortunate the past has been, the future is for us to determine ourselves."
Play it Back will hold its opening night at 7 p.m. this coming Wednesday, February 3, via Zoom.
View Comments (1)
About the Contributor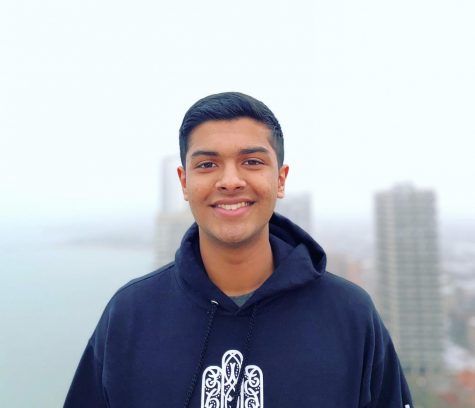 Tejas Vadali, Managing Editor
Tejas Vadali ('21) is eager to serve his second year as Managing Editor. He enjoys writing about sports and current events, but his favorite pieces are...