Justice System Fails Ahmaud Arbery, Latin Responds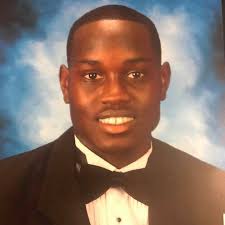 On February 23, two white men, Travis and Gregory McMichael, fatally shot Ahmaud Arbery, a 25-year-old unarmed black man in Satilla Shores, Georgia. As an avid football player, Mr. Arbery frequently ran through his predominantly white neighborhood of Satilla Shores to stay active amidst the COVID-19 pandemic. During one of his runs on a Sunday afternoon, he passed 230 Satilla Drive, the home of the McMichaels. Gregory, a former Glynn county police officer, and his son Travis pursued and fatally shot Arbery. The McMichaels believed Arbery resembled a suspect tied to a recent string of burglaries, however, there was just one burglary since the month of January. No charges were pressed for 74 days; the McMichaels were free men.
Ms. Maajid, Latin's Director of Diversity, Equity, and Inclusion, says, "I think that Arbery's murder gained attention months after the incident because the details of the incident remained unknown to the general public for a very long time. However, once those details were revealed, the inequity of the situation became apparent and therefore caused people to begin to advocate for justice." 
District attorney George E. Barnhill continually justified Arbery's death by laying out the legal justification for why there was not sufficient probable cause to issue arrest warrants. "It appears their intent was to stop and hold this criminal suspect until law enforcement arrived. Under Georgia Law this is perfectly legal," says Barnhill. The justice system perpetuated this case until Barnhill recused himself because his son previously worked with Greg McMichael in a county police office.
Corrupt justice systems across the nation and deep-rooted racism in the South have been ongoing causes of outrage. A senior head of Latin's Black Student Union, Jacksyn Sallay, says, "It is 2020 now, and I thought the justice system would have finally learned that the random murders of black men are not okay, and their murderers should be punished. But apparently, our nation's criminal justice system still has a long way to go." 
Consider Georgia's Citizen's Arrest Law, the piece of legislation that D.A Barnhill used to argue the McMichaels' innocence. It has simply allowed residents to arrest one another. Georgia state law states, "A private person may arrest an offender if the offense is committed in his presence or within his immediate knowledge." Georgians have had this right since 1863, a law that was passed during the Civil War under Confederate rule. The "offense" Mr. Arbery allegedly committed was burglary at a house under construction. Entering private property for a matter of minutes should not be a death sentence to an unarmed man who was found with no stolen property or goods.
The McMichaels were finally arrested on May 7, two days after a graphic video of Arbery's death surfaced on the internet. For weeks prosecutors reviewed written police reports and 911 call records of the incident—sadly leading to no arrests—whereas the heart-rending video changed the trajectory of the case. Ms. Lorber-Crittenden, Latin's Upper School Diversity Coordinator, says, "Videos always amplify these conversations; not only do they shock us with the absolute horror of the event, but they give a voice to the silenced. Until the release of the video, the voices who were given the most weight were those of Arbery's attackers—they had claimed citizen's arrest and self defense and those in power gave them the benefit of the doubt, something white folks in this country are almost always afforded; people of color, almost never." 
After prosecutors and millions over social media viewed the viral video, the case of Ahmaud Arbery's death expanded from a local story to a global one, resonating widely with people across the globe. Zemzem Mohammed, a member of Latin's Student Diversity and Equity Committee, explains, "It took one person to publicize the story before it was seen on everyone's feed. It's sad there are so many inequalities in our country, and often it's hard to keep track of obvious inhumane acts that continually go without penalty." There are over 151 thousand posts honoring Mr. Arbery, with #IRunWithMaud, on Instagram alone. Thousands took part in a 2.23 (the date of Arbery's death) mile run in solidarity to honor his life.
The nation must remember, however, that Ahmaud Arbery is not just a hashtag. The president of UChicago Lab School's Young Men of Color group, Danny Han, adds, "Ahmaud Arbery's murder is a tragic event that represents the injustice in America. While some people believe that racism is declining in America, this event is a wake-up call to the rest of the nation. If some people believe that the murder of an innocent man is how to protect their community, then we, as a society, must reassess how justice should be served from all racial perspectives."