Spotlight on Shane Enderle's Storied Past
Latin's Maker Space was established in 2018 as a part of the Learning Commons renovation, and Shane Enderle has led it since its conception. Often seen assisting individuals and classes in utilizing the space's multiple 3-D printers, Shane has become an invaluable asset to the Latin community. "Whatever project I'm working on, he is there to help me," said sophomore Charlie Cohen. "Shane always has an idea to push my projects even further." But Shane's passion for community and hands-on education is not a new development.
Shane grew up in Chicago's northern suburbs with an inclination towards engineering and mechanics. His father, an electrician, gave him a passion for craftsmanship and a desire to explore machines, an interest he would pursue in school as well. "I leaned towards hands-on learning because I grew up with a lot of power tools in my house," Shane said, "so in high school, I decided to take Shop class and Auto Shop class to pursue these interests." It was in these classes that Shane found a particular passion for machines.
Throughout high school, he worked at a motorcycle shop. "I helped the mechanics put together new motorcycles when they came in crates," Shane said. His aptitude for engineering was unmistakable, but by the time he graduated high school, Shane had not yet figured out how he would put his skills to use. "I didn't have a career plan in high school," he said, "so I ended up, about six months after graduating, going into the Air Force."
It was a decision Shane considers impulsive but worthwhile. "A few of my friends joined the military, and that kind of led me towards doing the same," he said. "I was a freshman when 9/11 happened, and that influenced me as well. I've never been that patriotic, though; it was more about the hands-on experience." 
While actively serving, Shane decided to become an aircraft mechanic. Working on aircrafts, taking them apart, and examining the intricacies and mechanisms of their engines all gave Shane the opportunity to pursue the hands-on experience that he yearned for. He kept the job for five years.
After serving, Shane transferred to the Air Force reserves, where he became a welder and machinist and where he would remain for seven more years. It was while working in the reserves that Shane developed a passion for education. "In the military, you always have new people coming in: people sign up for three or four years or get transferred," Shane said. "Learning to be patient and working with [people of] different skill levels were skills that I definitely took with me to Latin." Inspired by the educational skills he'd picked up, Shane decided, while still in the Air Force reserves, to focus on his own education, attending DePaul University for Information Insurance and Security Engineering.
And it was after pursuing his degree that Shane realized, if given the opportunity to combine his love for machines with his passion for technology, he'd jump on it. "I learned from my time at DePaul that working on computers all day wasn't exactly something that I was interested in doing," Shane said. "Now, I do a lot of things that are similar to what I did in the Air Force, but I also still use some of my degree in cybersecurity and networking. Latin offered me a nice mix of the two, a good balance." Since Shane accepted the job as Latin's manager of the Upper School Innovation Studio, the school has grown to love him.
Sophomore Eliana Moreno summed up what Shane means to the Latin community by stating, "He's helpful to anyone who comes by the Maker Space, and he just makes the community more interesting." With his love for machines and his penchant for assisting students with their passion projects, it's no surprise how beloved Shane is. And this appreciation is certainly reciprocated.
Having trained countless recruits in the Air Force—working with individuals at all skill levels and all interest levels—Shane commented, "Kids at Latin take their own initiative in developing ideas for projects; the community really is one of the best parts of this school."
About the Writer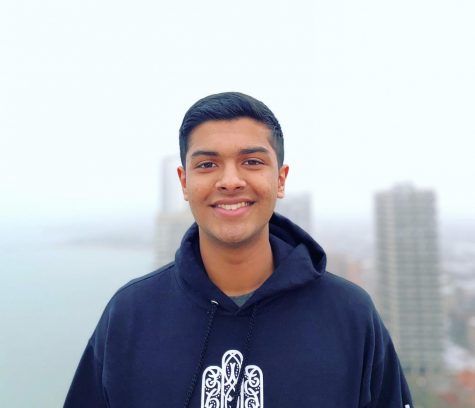 Tejas Vadali, Managing Editor
Tejas Vadali ('21) is eager to serve his second year as Managing Editor. He enjoys writing about sports and current events, but his favorite pieces are...