Computer Science for Girls or Computer Science for All?
Computer science has long been—and still is—a male-dominated field. Female involvement has been variable over the last century. In the 1960s, roughly 50% of computer programmers were female. However, by the '70s, that number had dropped to 13.6% and has not risen much since then, with a mere 18% of computer scientists being women today. Programs such as The Hopper Celebration of Women in Computing and Girls Who Code have been constructed to ameliorate this disparity. But does having special clubs for girls distract from the fact that they don't want to be treated differently?
In recent years, Girls Who Code has become a popular club among girls from different grade levels at Latin. According to their website, "Girls Who Code is on a mission to close the gender gap in technology and to change the image of what a programmer looks like and does."
Encompassing the central dogma around Girls Who Code, freshman Madison Vanderbilt, a frequent attendee of the morning meetings explains why she joined the club: "Since, seventh grade, I had always been into HTML (HyperText Markup Language)and CSS (Cascading Style Sheets). There was something about having a physical representation of good coding that has satisfied me. I like knowing that I am able to take what I might've learned here and there and then to take that knowledge and make it my own and individual." Pamela Cameron, a co-head of Girls Who Code also explains what drew her in: "I initially joined Girls Who Code because I knew I could be a beginner and have exposure to computer science, and also felt that Girls Who Code would be a welcoming environment for me to do so." 
In 2016, however, programming at Latin saw advancement in a new way. Vedant Pathak, class of 2018, started Latin's first co-Ed computer science club. Current co-head Caroline Creamer said, "Vedant, the founder of CS Club, consistently expressed that he created the club to give everyone the opportunity to become interested in CS, and he hoped to get more girls involved through the club." With an all-encompassing computer science club standing alongside another club directly designed to create an inclusive space for girls to learn programming, what makes girls pick one club over the other? Elain Sarazen, the other co-head of Girls Who Code said, "I know the computer science club is great, but I believe it may not be super welcoming to newcomers. It is, however, fantastic for anyone who is super passionate and may already have more experience." 
Caroline, a now senior who began programming her sophomore year said that the club having more experienced members is what attracted her to it: "I was drawn more to computer science club than to Girls Who Code because many of the members of Girls Who Code were newer to computer science, whereas in computer science club, I was surrounded by people who were much more experienced programmers than I was, and I really looked up to them and aspired to be like them." She goes into further detail about the intensity of the club: "that year, we worked on programs that I never would've dreamed of in my CSP 1 and 2 classes, like creating linear regression models. I really enjoyed the challenge of the computer science club and the pursuit of wanting to be like the programmers I admired had me coming back."
In regards to gender diversity within the club, Caroline said, "looking back, I was the only girl who would regularly attend meetings at that point. I didn't really notice it at the time, and I don't mind being the only girl in the room too much, but I definitely have noticed girls saying that the thought of being in a male-dominated environment terrifies them, which is why they didn't attend CS Club in the past." 
Caroline attributes her comfort in CS Club to three things. Firstly, "Ms. Hansberry was always a major role model for me in computer science when I first started, and she still is to this day. She really made me feel like I could succeed in computer science even if I don't fit the typical programmer stereotype." Secondly, "even when I am the only girl in the room, the guys in my computer science classes never treated me differently or thought of me as lesser." Lastly, "I'm really extroverted, which made entering an unfamiliar space a lot easier. I think a lot of girls are afraid of entering that unfamiliar space, but I think getting your foot in the door is the hardest part about being a girl in computer science at Latin."
She also expressed her thoughts on Girls Who Code, "my interpretation of the mission of Girls Who Code as a national organization is to expose as many girls to computer science as possible, which is very important in reducing the gender disparity in computer science." She also notes that because Girls Who Code is a national organization, "they have to stick to the overall mission of the club, which I think they do a really great job of doing. They definitely are succeeding in exposing computer science to a lot of girls at Latin."
She compared this with the mission of CS Club, "to give people who are interested in programming, whether they have years of experience in CS or none, an environment where they can delve deeper into CS with their peers." She adds, "because of these different missions, the two clubs focus on different things. In Girls Who Code, a lot of different topics are introduced throughout the year so that people get a little bit of exposure to all different aspects of computing. Computer Science Club is very project-based and we typically focus on a couple of projects each year to delve more deeply into." 
Junior Hailey Hurd, a passionate programmer who chooses not to be in either club said, "I do think that there's generally a difference in the complexity of the computer science topics covered by Girls Who Code Club versus the Computer Science Club. I think that it's crucial to have a safe space for female computer science students to share their experiences, but in my opinion, a co-ed learning environment ensures equal opportunities to learn and showcase the STEM work that students of all genders are doing." 
Caroline speaks to the potential misconceptions that stem from having two separate clubs. "I think that the label of 'Girls Who Code' could give people the impression that CS Club is a space for boys, but that's definitely not the case. I don't think that this ideology stems from the club itself—I think it stems from the influence of hyper-masculinity within the technology industry that conveys the notion that computer science is only meant for a certain type of person," said Caroline.
While focusing on integrating men and women together in the world of programming or having more welcoming spaces for girls to learn programming are not mutually exclusive ways to combat inequality, it is important to take a step back and think about how gender inequality in the workplace should be dealt with. In regards to exclusively "female" programs, Kunal Patnaik, who graduated from the University of Illinois Computer Science program in 2019, and now works for Airbnb, said, "some say they perpetuate the misguided notion that women require a special infrastructure in place to succeed. We don't want to put women in a box and label them as 'female engineers' instead of 'engineers' because it detracts the focus away from what these clubs serve to do: love and practice the subject of computer science." 
Having women in all facets of the workforce is undoubtedly important. The computer science industry is realizing how instrumental women engineers can be for businesses to succeed: "if you want to build a product that's representative of your end-user population (that probably includes women), you need the perspectives of women engineers," said Kunal. While there is no perfect solution, it is worth pondering how labeling a woman with titles such as  "female engineer," "female doctor," or "female investment banker," is more beneficial than just calling them an "engineer," "doctor," or "investment banker." 
While there is no perfect solution to addressing gender inequality in STEM, Caroline encourages girls to get involved in computer science regardless. "Especially as a female in computer science, I really hope that other girls become interested in pursuing computer science because, in order to break the barrier of sexism in the technology industry, girls need to work together to lift each other up and help each other to find their voices within a male-dominated space, and also to help each other to not let fear of failure to hold them back from being brave."
SOURCES:
https://girlswhocode.com/about-us/
https://www.computerscience.org/resources/women-in-computer-science/
About the Writer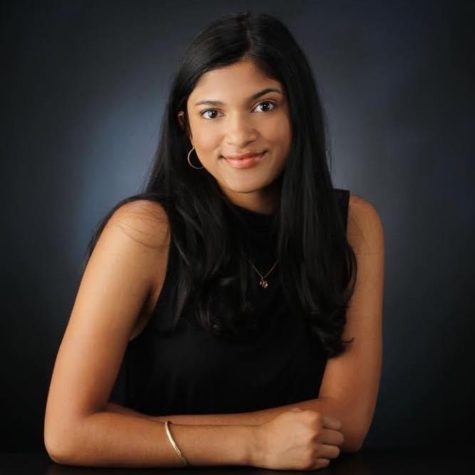 Ashna Satpathy, Standards Editor





Ashna has been writing for ​The Forum​ since freshman year, and it remains one of her favorite activities. She also enjoys working out, making...