LASO Talent Show Empowers Latinx Community
For the last three years, at the start of October, the members of the Latin American Student Organization (LASO) have held a Talent Show to kick off National Hispanic Heritage Month. The show is an opportunity for Latinx performers to share their talents and culture with Latin's community and, as in previous years, Latin students shared the stage with Latinx performers from all around the city. The show is the product of nearly two months of organization and diligence from both faculty and student members of the Latinx affinity group.
The heads of LASO pride themselves on the fact that the show was truly a variety show, displaying talents from all across Latin America; singing, dancing, and even storytelling are examples of some of the many talents presented at the show. Madison Seda, a junior member of LASO who has sung at the show every year, said, "I decided to perform because it's just such a fun and positive show to be in. Everyone is just there to support you, no matter what you do—whether it's a short thing or a big performance."
Creating a holistic display of Latin American talent is crucial to the show's success, and LASO members began reaching out to other LASO groups and Latin American performers throughout the city as soon as the school year commenced. "Even though a lot of our performers end up being Latin students, it is important that we have out of school performers, said Bianca Arriaga, the Junior Head of LASO. "That is the entire point of the talent show: getting to showcase the entire Latinx community and the unique talents of the people that make it up."
It was a privilege for LASO to have the Mariachi Sirenas, Chicago's first all-female mariachi group, perform at the show. "We were able to book a professional act to start us off which is the first time we've ever done that," said Sebastian Valenzuela, this year's Talent Show Director who was in charge of the show's logistics and promotion. "We really relied on the hard work of LASO's members to get the word out because this group is amazing and groups like this never perform at places like Latin," said Valenzuela. "Sharing them with the community was truly an amazing opportunity and is an example of what makes the show so special."
But the Mariachi Sirenas were only one of many reasons behind the show's enormous success. Junior, Tara Walsh, who attended the show said, "One of the highlights of the show, for me, was the Mexican Folkloric dance group because it was something I'd never seen before, but I loved it." Ella Reese-Clauson, a sophomore, agreed but also noted "The student singers were amazing. And the storyteller was hilarious—I could barely stay in my seat!"
Members of LASO agree that the Talent Show not only gives the stage to a culture that is rarely represented in a setting like Latin but also unites the community. "We are always excited to host the talent show because it is a wonderful way to give back to the Latin community in a meaningful way while still celebrating Hispanic Heritage Month and showcasing our incredibly talented Latinx community in Chicago," said Sebastian. Valeria Ceron, a junior and fellow LASO member concurred. "Watching my friends put on such a wonderful show makes me feel proud of who I am and where I come from," she said. "The talent show brings so many members of our school together. It's an opportunity for us to share parts of our culture with those in our community so that they can continue to share it with their friends and family."
About the Writer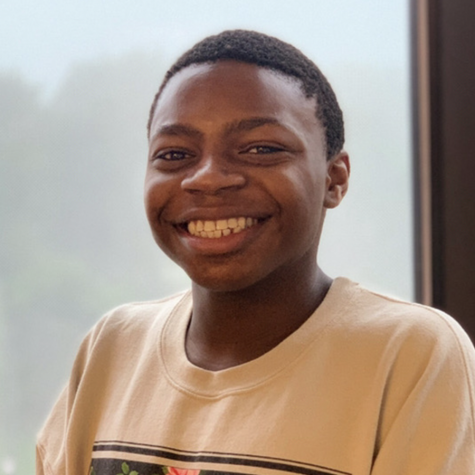 Robert Igbokwe, Editor-in-Chief
Robert Igbokwe ('21)  is a senior at Latin and is overjoyed about serving his second year as an Editor-in-Chief for The Forum. He joined The Forum freshman...