New Beginnings: The Union's First Steps
As the 2021-22 school year began, nostalgia filled the halls. After two years, Latin is finally back to normal but with one major change: the Latin School Union (LSU).
While the faculty union's work has not yet kicked into full gear, they are currently in the early stages of finalizing their bylaws and constitution. Over the summer, 10 union members volunteered to collaborate on the document. There were representatives from the Lower, Middle, and Upper Schools.
In the spring, when the union was first proposed, they faced initial pushback from the administration, specifically Head of School Randall Dunn. The faculty in support of the union did not accept this rejection, and they rallied for a vote, which took place on June 2. Ultimately, the pro-union faculty won by a vote of 88-60.
Elissabeth Legendre, Upper School Latin teacher and union spokesperson, explained what the union's constitution aims to accomplish. "Just like the United States Constitution, it puts out the rules by which we're going to elect officers. What do we stand for? What's our mission statement? It puts in writing what our goals for the union are."
The mission statement centers around what educators can do to enhance student and community life at Latin. It reads, "We're a strong, member-driven union of educators who advocate for our students, their learning, and their well-being. Grounded in anti-bias, we use our voice to support families, faculty, staff, and community."
Members of the union who did not serve on the bylaws and constitution drafting committee will be allotted time for review on the document later this fall, and there will be an enactment vote. Documents will not be released to the community beyond the union for a few months.
"The group working on the bylaws has prioritized making them as democratic as possible and using them to advance anti-racism both within the union and the wider Latin community," said Upper School English teacher Brandon Woods.
Once the bylaws are ratified, elections will be held for executive positions. After officers are elected, the bargaining committee will be selected, and they will begin working closely with the administration.
Ms. Legendre said, "[The administration has] been really respectful about the fact that we voted and that we are kind of in this time in that we don't have a bargained contract yet and we don't have an executive board. It's a little uncertain right now, and they have been really respectful."
Mr. Woods emphasized Ms. Legendre's point. "We look forward to working with the administration, as we believe that they share the goal of improving the learning conditions for students at Latin."
Members of the administrative team declined to comment as they did not know of any updates about the union's work thus far.
In the spring, many teachers who were not in support of the union signed a petition urging a delay in voting on unionization. Since then, however, some of these individuals have signed a membership card.
"We have had faculty members reach out and say, 'Now that we voted yes, can you talk to me more about the union? Can you explain to me why I would want to be joining?'" said Ms. Legendre. She added that, "Only the union members have a say in the bylaws, and only union members can serve on the bargaining committee to work with the administration to get a contract together."
As for why new members may be joining the union, she said, "I think a lot of faculty members [initially thought] 'I don't think this is the right thing for us right now, but in order to have a voice, I need to join and even if I don't agree with everything the union stands for, I can voice my opinion then.'"
The current statistic of the percentage of faculty on board with the union was not specified by union members.
One issue that was brought up after the vote was that the union would not agree to a no strike clause. Both Upper School English teacher Molly Lemieux and Ms. Legendre said they had not even thought about the clause since then.
"That is something again that will have to come through that fact-finding part of the bargaining committee's constitution," said Ms. Lemieux.
While the bargaining process has yet to begin, Ms. Legendre shared her expectations of what it may look like. "We would say we have our current contract, and these are the ways we would like changes to our current contract. The administration says, 'Well here are some ways we would like to change the current contract.' We work back and forth to come up with something that is great for everybody. That's my understanding of how it goes."
Aside from bargaining and bylaws, the members of the union seem to share similar hopes for what it may entail this year and in the future.
Ms. Lemieux said, "I am most looking forward to really understanding how the school makes decisions, what the process is, being part of that process, and also ensuring that our school really makes progress on our diversity equity and inclusion goals."
Ms. Legendre agreed, saying, "I am really looking forward to getting together with my colleagues and talking about the ways that we think we can make Latin a better place for our students and ourselves. I think really having a voice in how those changes happen is going to be really exciting."
The union might not be in full throttle yet, but they are headed in that direction and will be working closely with the administration to enforce their expectations. "I think the last few years have shown us that there are so many amazing things about Latin. There are so many fantastic parts of this community," said Ms. Lemieux.
Leave a Comment
About the Contributor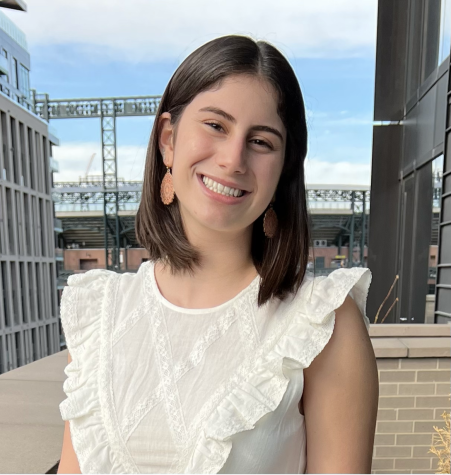 Eliza Lampert, Editor-in-Chief
Eliza Lampert ('24) is a junior at Latin and is looking forward to serving as one of this year's Editors-in-Chief. During her time writing for The...