Latin Graduation to Take Place at Soldier Field
The class of 2021 will graduate at Soldier Field on June 10 after just one month of fully in-person classes this year. Upon discussing the initial event-planning process, Upper School Dean of Students Joe Edwards said, "We knew early on that the overwhelming preference was to have some sort of in-person ceremony." So, after reaching out to several venues, Latin settled on Soldier Field. It was one of the few locations that would both allow guests to attend the event and provide a camera crew to broadcast it live for those at home (and on the jumbotron for those on the field).
Senior Eli Aronson said he's grateful that the Park District offered the venue. "I think it's hard to compare anything to a pre-COVID world, but Soldier Field is definitely as nice as it gets in the world we're in right now." While in past years Latin held graduation at indoor locations, such as the Arie Crown Theater, Soldier Field's vast space will enable proper social distancing as well as follow CDC, CDPH, IDPH, and ISBE regulations.
Students also used to take photos together after the ceremony but won't be allowed to do so this year. Senior Nick Buday said, "The venue is really cool, and the idea of the tunnel and the jumbotron is awesome, but not being able to take pictures with my friends on the field after kind of sucks." He is still looking forward to the event, however, and said, "I've always wanted to go on the grass of Soldier Field since I was young and saw the Bears for the first time."
Senior Liza Ampong said, "I think having a graduation at Soldier Field is something I would have never even dreamed of. Though it won't be like a typical graduation, I certainly hope that we will still get to enjoy it as much."
Last year, the class of 2020 had a virtual commencement ceremony. Students had to pick up their diplomas at staggered times over a two-day period, with only their parents by their sides (save for some siblings that snuck in at the last minute). So, the four-guest-per-graduate limit—which Mr. Edwards later changed to eight—on top of an in-person graduation felt more reasonable to the current seniors. Sebastian Valenzuela said, "I really didn't want a virtual graduation, so, for me, we're just lucky to be able to have this opportunity."
Beyond the allure of the venue, the seniors eagerly anticipate a traditional faculty speech, delivered this year by Upper School history teacher Matthew June. In reaction to learning that he will give the faculty commencement speech, Dr. June said, "I was honored that the seniors picked me to do it—probably a little nervous because it feels like I wanna do a great job for them." As an Eagles fan, Dr. June promised to try his best not to make any jokes while on the Bears' home turf.
Liza, who took a class with Dr. June during her junior year, said, "I am extremely happy with the people that were chosen for our senior event speakers." In addition to Dr. June, the seniors nominated senior prefect Tejas Vadali—who also spoke at his eighth grade graduation—as this year's senior speaker.
"I personally voted for Tejas to speak for our class at graduation," Nick said. "He did a great job in Middle School, and I'm curious to see what he has to say about our class now."
"He has had a very unique experience at the school and is a very thoughtful person who I think will represent our class very well up there," Sebastian added.
With an exciting venue (which perhaps compensates for Latin's lack of a football team) and an amazing lineup of speakers, the seniors appear optimistic about their graduation. Liza concluded, "I am excited for graduation, regardless of the fact that it will look a little different this year—because the class of 2021 has worked hard, and we deserve a huge celebration."
Leave a Comment
About the Contributor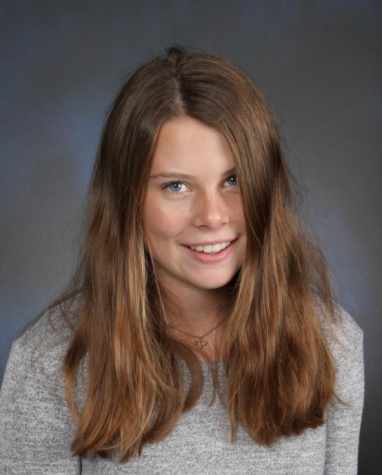 Marin Creamer, Editor-in-Chief





Marin Creamer ('22) can't wait to serve her first year as an Editor-In-Chief for The Forum. Writing and editing for the publication has been...