Faculty & Staff Vaccinations: Is Normalcy Just Around the Corner?
Educators in Chicago are members of phase 1B, which means Latin's teachers and staff have been able to get the COVID-19 vaccine since January 25. But, according to Latin's senior medical consultant, Dr. Leslie Cordes, as of February 9 approximately 300 of Latin's more than 400 faculty and staff had not received the vaccine.
Upper School French teacher Julie Cousin received her vaccine within a week of January 25. She said, "It was kind of hard, really hard, to get an appointment." When phase 1B started, she explained, she set up a date using the Chicago platform. "Three days later, we got an email from the vaccination center saying that the code was only for at-home first responders, or something like that. So they canceled our appointment," Mme. Cousin said. She resorted to checking the vaccination sign-up platforms multiple times per day, to no avail. Finally, fellow French teacher Benjamin Bourlange, whom she asked to keep an eye out for possible vaccination opportunities, helped her get an appointment at Hy-Vee. "It's like a pharmacy out in the middle of Illinois. And I had an appointment, so I drove to Sycamore, Illinois, which is an hour-and-a-half drive, to get vaccinated there."
Tim Kendrick, an Upper School math teacher, was vaccinated on February 1. He explained that, similarly to Mme. Cousin's experience, the trickiest part was getting an appointment. "The demand is much greater than supply. There is, shall we say, a shortage of vaccines. So I just got lucky a week or two prior and found one slot at a Walmart pharmacy." On the day of the appointment, he said, "I got a call from the pharmacy. They're like, 'Hey, can you come in earlier? We need to get through this supply that we have.' And I immediately started panicking because I had classes that afternoon. I'm like, 'My gosh, I can't get there until four.'" Fortunately, Mr. Kendrick was able to visit the Walmart later that day where he stayed for "probably 40 minutes total."
Soon enough, news spread that Walmart was offering vaccines, and the following day Upper School math teacher Zach McArthur
went there to get vaccinated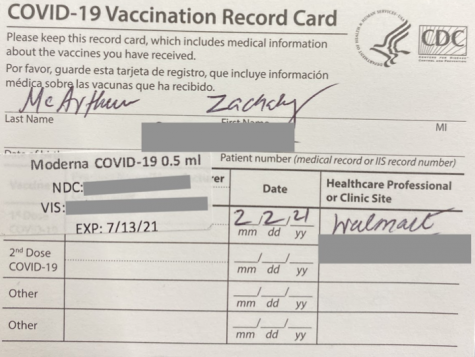 . "Walmart cleared up their whole garden section and turned it into a vaccination center," he said.." It was just cool to walk in there and to see so many people waiting to get their shot. It was really efficient, and people seemed excited to be there." In contrast to Mr. Kendrick's experience, where he was one of a handful of people getting vaccinated, Mr. McArthur was part of a much bigger group, mostly made up of elderly people. "My experience felt much more like community," he said. "A lot of people are getting vaccinated. This is working so well."
On February 3, the day after Mr. McArthur's visit to Walmart, Latin learning specialist Jen Hayman arrived at the same address to receive her vaccination. "The signing up was stressful," she said. "As soon as 1B became eligible for the vaccination, I knew I wanted it as soon as possible. Especially because I'm in the building every day, and my husband is immunocompromised. My husband and I, three nights in a row, set the alarm for 11:55 to get online at midnight. He went on Walmart on his computer. I went on Walgreens on mine." After two nights of vigilance, she said, "I was able to get an appointment in a small farming community outside of Champaign, Illinois, Walgreens." Due to the long drive, they tried to find a better appointment the next night. "And, that's when I was able to get it at the Walmart on the South side of Chicago, so I canceled the Walgreens appointment," she said.
It was no coincidence that so many members of the Math Department got vaccinated so soon after each other. Mr. McArthur said, "We have a Math Department text chain where people are giving tips like, 'Oh, Walgreens has appointments right now. Get online.' And so, I think about half of our department's been vaccinated so far, and the school has said that educators are going to be prioritized as a group starting February 15th."
In comparison to some other schools, Latin is somewhat behind on that front. Mme. Cousin's husband, who works at the University of Chicago, received an email stating that University of Chicago Laboratory School teachers had had the option to come in on January 31 and February 7 to get vaccinated. So why did Latin wait? Dr. Cordes, who is heading the vaccination task force, said, "Shortly after that January 25th start date for phase 1B, the Chicago Department of Public Health really set out a plan to try to shift the vaccination process to certain areas of the city that had a very high need—that were overburdened by COVID cases in the past." In an effort to encourage equitable vaccine distribution, the city asked that educators wait until February 15 to start the vaccination process if possible. "At least, as far as arranging large groups," she said. "We wanted to follow that."
The parameters of who counts as an "educator," and therefore qualifies for 1B phase vaccination, is up to the individual schools to decide. "Each school defines who they think is part of their community and part of their educational mission. What do they need to keep the school functioning?" Dr. Cordes explained. "Latin has taken a good broad view of faculty and staff, and really included any Latin employee. And, then extended that, as well, to some of the coaches or other service members that are interacting and performing services at the school."
And yet, the degree of control that Latin has over the vaccination process is unclear. When asked if faculty and staff vaccination would become a requirement, Dr. Cordes said, "We will be engaging in that discussion and considering the pros and cons of that decision, but we have not come to a conclusion yet."
Overwhelmingly, the faculty members who spoke with The Forum expressed that the most important thing for Latin community members right now is to be aware and educated about the effectiveness of the vaccine. "I definitely felt like it was a really safe process and have had no odd side effects and hope that people do their due diligence to make sure they understand what the vaccine can do for them and, more importantly, for the community and the globe as a whole," Mr. Kendrick said.
Mr. McArthur added, "The vaccines are like 80% effective and 94% effective, and I think it's important to realize, that's against any form of COVID."
In the trials, Dr. Cordes said, "The vaccine protected against all serious cases of COVID." She explained that vaccines are never 100% protective. Dr. Cordes said, "When the studies were designed, they were hoping for maybe 50% protection, so this was just mind-blowing—to be able to get into this 90% range."
In the coming months, more and more members of the Latin community will have access to the vaccine, leading to what would effectively be a schoolwide immunity to the virus. However, experts are still unsure about the effectiveness of the Moderna and Pfizer vaccines on children under 16, a fact that is becoming a growing concern for schools. Mme. Cousin said, "The problem is that the vaccination is not accessible, yet, to people under 16. So then, what does it mean about our community? What is going to happen in September? Like, are we still going to be in masks? Social distancing? Is that still going to be our reality?" It would be unwise to assume anyone has a confident answer to these questions considering the incalculable nature of the pandemic so far, but there are some certainties that may be able to guide predictions.
As Ms Hayman said, "You can't run a school without teachers, and so if we have teachers positioned to feel safe in the classroom day in and day out, I think the student piece becomes a lot easier." She continued, "I think what we've really learned over the last few months is that schools, if they're run correctly, are typically not a source of community spread. We are really lucky and privileged at Latin to have resources that go into some pretty remarkable protocols to keep everyone safe."
Certainly, for at least the rest of the current school year, Latin will enforce mask wearing and social distancing protocols. "All of those measures will continue for the rest of the school year," Dr. Cordes said. "But, we just want everybody to know that we are doing everything we can to provide education about the vaccine and, we're reaching out to all the proper sources to get the vaccine."
Leave a Comment
About the Contributor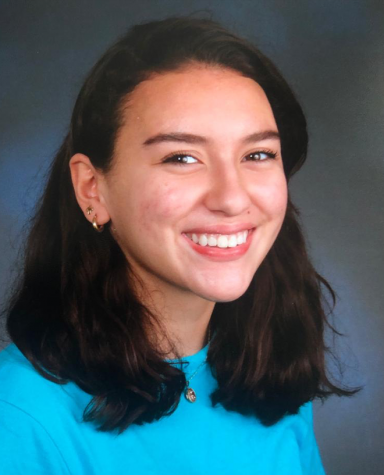 Angela Gil, Features Editor





Angela Gil ('21) is a senior at Latin and is honored to be serving as ​The Forum​'s Features Editor. She has written for ​The Forum​...