The Magic That is HandCut Foods
Food is a critical part of the daily Latin experience. Why else would teachers let class out five minutes early in the middle of the day? Where would students take refuge during their long block breaks without the fourth floor kiosk? Certainly, the HandCut Foods staff put a lot of effort into the food that the Latin community enjoys.
One chef at Handcut Foods, Chris Hernandez, described the complicated process of serving Latin's large community. Hernadez is not only a chef but manages lunch in the Lower, Middle, and Upper Schools. "[It takes] a lot of planning, a lot of production, a lot of communication," he said, adding, "It's a process, that's for sure. … There's 25 of us or so split up between three kitchens."
"For the most part, it's having the right people," Mr. Hernandez said. There are a lot of moving parts involved in Latin's lunch service. HandCut Foods' staff is in charge of not only making the food but also serving it and washing the countless dishes produced by the community each day.
The Latin School kiosks are yet more locations where the community benefits from HandCut Foods' hard work. With bagels, coffee, and cookies, the popular menu attracts students and faculty alike. "We have an executive pastry chef that is pretty much making all the pastries every day," Mr. Hernandez said.
"I actually really enjoy the sushi at the kiosk," sophomore Diego Delira said when asked about his favorite Latin food. He added, "I also like the chicken Milanese sandwich."
Students interact with HandCut staff at various times throughout the day, such as at the kiosks or in the lunch line. "[The HandCut Foods' staff] are very nice," Diego said.
"It's an awesome team, great people, hard workers across the board," Mr. Hernandez said. "It's a team effort. When people call off, I have to shuffle people around, so it's really important that I cross-train everybody to do other people's jobs, because at any given point, especially now, two, three, sometimes four people call off."
In the wake of the flu and cold season, more HandCut staff are out each day. In spite of potential setbacks, the hard-working HandCut team always provides students and faculty with superb meals. After all, Mr. Hernandez said, "You guys still have to eat."
While Latin students are still fast asleep, perhaps dreaming of wonderful food, the HandCut Foods staff comes in at 6 a.m. to prepare meals for all three school divisions. At that early time, Mr. Hernandez said, "It's just go, go, go … and by 9:45 a.m. or so, everything is more or less done." He added, "It's not just producing the food. It's all the catering and little events that teachers or whoever are having throughout the day."
Unfortunately, this hard work can go unappreciated. Upper School Librarian Gretchen Metzler, often found in the school's cafeteria, commented on disrespectful behavior she has witnessed. "Students do not clean up after themselves," she said, adding, "HandCut staff tend to eat lunch pretty late, and if our tables were cleaner, they could probably enjoy their meals at the end of their long lunch shift."
"I appreciate them so much—I'm so grateful for the food they provide us and their thoughtful menu choice," Ms. Metzler said.
Upper School students, in particular, benefit from the plentiful meal options. "The Upper School, they have their own separate menu," Mr. Hernandez said. A larger school means more options. Mr. Hernandez added, "Upper School has pizza, two soups, vegetarian, pasta, action station, the big salad bar. Downstairs and across the street at the Lower School, it's less options."
Despite various choices, HandCut staff prepares most food in the same busy kitchens. "The vegetarian option and the pasta option that [Upper School students] have gets produced downstairs," Mr. Hernandez said, "The Middle School [also] does the production for [both] Middle and Lower."
Latin community members can be oblivious to the magic that is Handcut Foods. "You guys don't see what happens in the back," Mr. Hernandez said. "It just appears when you guys show up, but it's a lot of moving pieces."
Leave a Comment
About the Contributor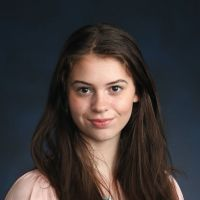 Caroline McHugh, Staff Writer
Caroline McHugh ('25) is excited to be returning for another year of writing for The Forum. She enjoys reaching out to the Latin community through her...